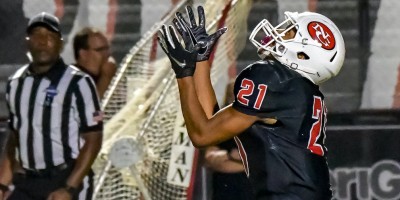 National Signing Day is just around the corner and Georgia's Class of 2019 is set to add another enormous haul of signees to colleges around the country. The state's presence on the college football landscape was seen in its entirety earlier this month with the release of the Georgia High School Football Historians Association's annual report. In it, the Association's research concluded that a total of 4,331 former Peach State products were on college rosters in 2018.
Within the accrual of Georgia's most recent recruiting classes that amounted to the 4,331 sum, a noticeable and significant trend was revealed: The link between Georgia high school football and the Ivy League is in the midst of a major growth spurt.
The prestigious eight-team league of academic powerhouses had 49 former Georgia high school football players on rosters last season (See list below). North Gwinnett didn't account for any of the 49 this past season, but its program is proudly sending three players to the Ivy League this year to bolster the statewide trend.
"I think it speaks volumes to our school," said North Gwinnett assistant coach Jeff Carlberg. "We've got a great faculty and staff here at North Gwinnett and the expectations in our hallways and in our school is that we are here for business. And on the football side of it, we completely support that and everything that goes through our football program is about academics first."
Wide receivers Garrison Manor and Javonni Cunningham are going to Harvard and Cornell, respectively. Will Hamilton, a center and guard, is heading to Columbia. Once there, they will enter into the world of famed academic prestige, inimitable traditions and historic rivalries that make playing football in the Ivy League an experience unique to any other league.
American Football originated in the Ivy League, but the commitment to academic excellence far exceeds it in rank. To this day, football is the only Ivy league sport that declines to compete in postseason play, and it is done specifically to keep the month of December geared to academic pursuits.
"Those three guys are going to get to go play in a really unique environment," said Carlberg. "The Ivy League has been playing football since the 1870's and it's just a whole different deal. Anyone that goes on to play college football is going to be working hard in the classroom, but those guys are put on a different level in terms of the work load. Anytime kids in the recruiting process talk to me about what I think about certain school, I always tell them, 'make a decision that is about the next 40 years, not the next 4.' I find that a lot of these kids that are going to the Ivy League or the military institutes, and those kinds of schools, for the most part have their career picked out. Manor, Cunningham and Hamilton are definitely driven for their next 40 years. They know what they want to do and they are laser focused on getting to that."
IVY LEAGUE ROSTERS IN 2018
BROWN
Tucker Barnes (Lowndes)
Ryan Kopec (Alpharetta)
Nathan Brown (Sandy Creek)
Spencer Hemmingway (Pace Academy)
COLUMBIA
Devin Hart (McEachern)
Cameron Carter (Duluth)
Hank White (Buford)
Parker Lefton (King's Ridge)
CORNELL
S.K. Howard (Forsyth Central)
Richie Kenney (Lambert)
Dez'mond Brinson (Savannah)
Zach Strong (Mt. Paran)
Hunter Nourzad (Walker)
DARTMOUTH
Michael Gordon (Wheeler)
Ryan Roegge (Walton)
D.J. Avery (Douglas County)
Seth Simmer (Harrison)
Miles Smith (Alpharetta)
Caleb Martin (Wayne County)
Mick Reese (Buford)
HARVARD
Bennett Bay (Wheeler)
Joey Goodman (Walton)
Cameron Kline (South Forsyth)
Solomon Egbe (Grayson)
Garrett Rigby (Tucker)
Matt Jones (Pope)
Michael Burrell (Dacula)
Thomas Reeder (Westminster)
Truman Jones (Westminster)
PENN
Karekin Brooks (Walton)
Jacob Martin (Buford)
Ryan Glover (Woodward Academy)
Trevor Cefalu (Pace Academy)
Cortez Alston (Westminster)
Ian Ude (Westminster)
Isaiah Malcome (Westminster)
Malcom Strickland (Westminster)
William Long (Calhoun)
Rory Starkey Jr. (Hapeville Charter)
PRINCETON
Matthew Winston (Mill Creek)
Samuel Wright (Archer)
Christian Sullivan (Walton)
Sultaan Shabazz (Woodward Academy)
Chase Williams (Westminster)
Ford Roberts (Greater Atlanta Christian)
Jay Rolader (Holy Innocents')
YALE
Jaylan Sandifer (Northside-Warner Robins)
Julian Fraser (Valdosta)
Caden Herring (Centennial)
Kyle Ellis (Greater Atlanta Christian)