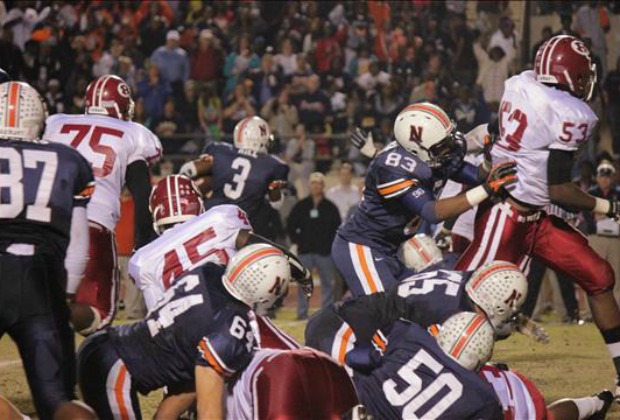 www.13wmaz.com/news/photo-gallery.aspx?storyid=202624
Forty-nine years of last-second touchdowns, broken hearts and jubilant cheers from both fanbases. These are the ingredients for one of the most intense high school football rivalries in the south, Northside against Warner Robins. Warner Robins (the Demons) holds the upper hand in the all time series 33-22, but haven't knocked the Eagles from their perch since the fall of 2009. Between the two, they've combined for six state titles 36 region titles, and 879 total victories.
"I've been on both ends off it," Northside coach Kevin Kinsler said. "I remember as a player, beating them 21-20 my senior year in front of a huge crowd. Starting off as a coach, Warner Robins got the best of us for several years; it just kind of flipped flopped. … When people talk about bragging rights, it's even more magnified because 15 years from now, most of our graduates are going to be working alongside someone who graduated from Warner Robins or Northside," Kinsler said.
Kinsler went on to praise the town and the buzz surrounding the matchup each year. Both schools hold a spirit week, which include decorative signs, pep rallies and massive participation from both student bodies.
"It's a long event," said Kinsler. "We'll have people that will come in from out of town who won't come to any other game even in the playoffs, but they'll come to the Warner Robins-Northside game."
Northside lost 38 seniors, but Kinsler pointed out that quarterback Glenn Smith and defenders A.J. Banks and Darius Holmes will be key leaders in motivating their teammates for this game.
From a Demons' perspective, they look to break the streak of heartbreak stretching back to 2009.
"We have to find a way to get it done, we have been relatively close the past couple of years," Demons coach Brian Way said. "We have to find a way to win more than anything else. I played in the game and coached here for 30 years, so I've seen a little bit of everything. I know it will match up against anybody's, anywhere."
Way pointed out that players like linemen Jermaine Abron and Jacob Jammerson will be big keys on the defensive side of the ball to help quash the Eagles' air attack.
Way and Kinsler have been deeply ingrained in this epic rivalry for years. Many ghosts of joy and heartbreak still cover the grass of McConnell Talbert Stadium.
"That's one of the things about this rivalry I wish every kid playing high school football could have," Kinsler said. "When you're down on the field, and there are 15,000 fans, it's a really awesome for a 15-to-16-year-old kid to be the focal point of that crowd. As a coach, and I think Coach Way will agree, you are excited about the week but you are really glad when it's over with, so much goes into it emotionally. It's hard to pick out one game, because I promise you there haven't been very many blowouts… It's a great experience to be on the field for that level of competition and that much on the line."
The great tale will be retold again Nov. 1 when the Demons host the Eagles at 7 p.m.