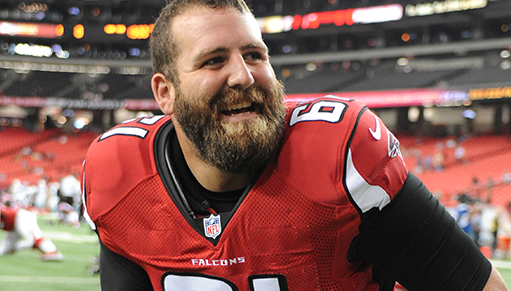 AtlantaFalcons.com
Not very much good came out of the Falcons 41-28 loss on the road to the Minnesota Vikings this past Sunday. The defense ended up surrendering 241 rushing yards and three offensive linemen left the game with injury.
Falcons head coach Mike Smith didn't sugar coat how he felt about the loss on Monday when he addressed the media.
"Obviously it was not our best performance in Minnesota," Smith said. "(There is) a lot of things that need to get corrected (and) we're working on that as we speak."
This Falcons loss comes two weeks after their defense was blistered on the ground by the Cincinnati Bengals running attack to the tune of 170 yards and two touchdowns.
The defense still had some questions coming into this season, even though the Falcons did talk about being a "bigger/stronger" football team that wanted to win the point of attack on the line. So far, the defense has not done that. They are second to last in the NFL for total defense, giving up about 430 yards per game. They are 28th in the league against the run with teams averaging 153.5 yards a game. All of this being the case, rookie inside linebacker Prince Shembo says he and other guys have had enough.
"I couldn't tell you what it is," Shembo said. "It's a mentality especially when they're rushing for that many yards on us that you've got to have some kind of pride and some kind of greed to get to the ball and stop the rock. That's really what it is."
Shembo says that the mood Monday in Flowery Branch in the defensive meeting rooms was "mad, but calm." He says that calm is wearing a little thin.
"The Bengals pretty much ran on us a little bit too (and) we can't let that happen anymore," Shembo said. "We've got to put our foot down and stop it. If I've got to go ahead and freaking scream at everybody I will. I was kind of P'd off myself, just even being a part of that."
If a rookie on this defense feels this way, then you have to believe the veterans feel the same way. Outside linebacker Kroy Biermann says Shembo's "mad, but calm" mantra for this defense following the loss is accurate. However, he says they still believe they can be a much improved defense.
"We're not going to accept what's been happening," Biermann said. "We're going to fix it and we're going to go about it the right way. You can't go off the reservation per say, but you know it's going to get fixed. We're going to keep fighting until it does get fixed."
The defense is trying to fix their issues, whereas the offensive line is now trying to pick up the pieces from the loss in Minnesota that had three offensive linemen leave the game with injuries. Starting left guard Justin Blalock, center Joe Hawley, and right tackle Lamar Holmes all had to leave the game with injuries. It got so bad that the Falcons didn't have enough active offensive linemen and had to use tight end Levine Toilolo as the defacto right tackle for the remainder of the game.
The Falcons did confirm a short time ago that Joe Hawley and Lamar Holmes are done for the year with injuries. Hawley has a season ending knee injury, while Holmes has a foot injury.
This means that players like second year offensive tackle Ryan Schraeder will likely see more playing time and active Sunday's in his future. Even before the news became official, he knew this would be the case.
"They said I'll be dressing out," Schraeder said. "Whether it's jumbo tight end or special teams I'll be out there giving it my best."
Now that Hawley is done for the year, it means we'll be seeing a lot of Peter Konz at center. Konz voiced his desire to be the starting center during training camp this summer. Now, it looks like he might get his wish.
"I've done it before," Konz said. "I know I can go in there and do a great job. I'm going to have a lot of teammates to help me, we've got a great ball club. Matt's (Ryan) better than he's ever been. We've got a lot of guys to help out, so it's not just going to be me. We've got a great O-Line."
In addition to Schraeder and Konz getting more playing time, the Falcons added tackle Cameron Bradfield and guard Harland Gunn to the active roster. In addition to the injuries on the offensive line, the Falcons also put safety William Moore on the IR-designated to return list with a shoulder issue. This means that he can return to the practice field in six weeks and then come off IR in eight weeks. To take his place on the roster, the Falcons have signed safety Sean Baker from the practice squad.