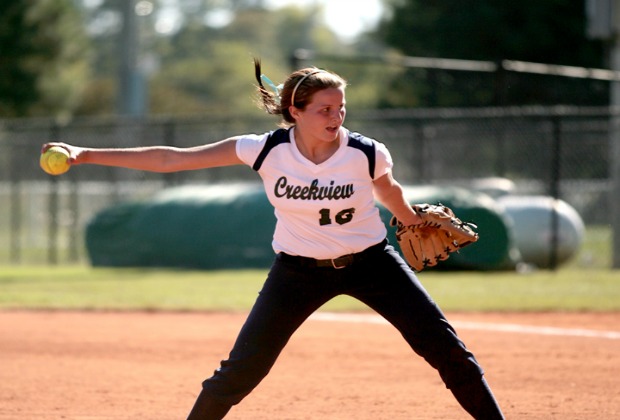 Creekview High School
Several new teams played their way into the latest rankings as there was plenty of movement in each poll. Kennesaw Mountain, Whitewater, Northwest Whitfield, Buford, Wesleyan and Gordon Lee all remained No. 1 in their respective polls, but Allatoona took over the No. 2 spot in Class AAAAA, flipping with Northgate. Heritage-Conyers also moved up a spot and Ola moved up two spots after beating Class AAAAAA No. 2 Collins Hill. Tift County is the newest addition to the Class AAAAAA poll. Lassiter also jumped up a few spots.
Arabia Mountain is the new No. 10 team in Class AAAAA poll, taking Lakeside-DeKalb's spot. Columbus moved up a spot in Class AAAA as Locust Grove dropped down two positions to No. 10. Walnut Grove and Madison County are primed to move up should Northwest Whitfield or Heritage-Catoosa stumble.
Central-Carroll is the new No. 10 in Class AAA after two huge victories in an tournament over the weekend. Rockmart moved up as did Franklin County. Tattnall County checks in at No. 8 and Southeast Bulloch sits at No. 9.
In Class AA, Jeff Davis moves into the poll after beating No. 7 Cook and No. 4 Bacon County this week. Earlier this season, Jeff Davis defeated Vidalia, who fell from last week's poll.
In Class A, Hawkinsville takes the spot of Brookstone, but Miller County is the biggest mover, jumping up to No. 3. Johnson County and Seminole County round out the top five after Gordon Lee and Mt. Pisgah at No. 1 and No. 2, respectively.
Class AAAAAA
1. Kennesaw Mountain
2. Collins Hill
3. Archer
4. Lassiter
5. Mill Creek
6. Peachtree Ridge
7. Parkview
8. East Coweta
9. Alcovy
10. Tift County
Class AAAAA
1. Whitewater
2. Allatoona
3. Northgate
4. Greenbrier
5. Union Grove
6. Heritage-Conyers
7. Ola
8. South Paulding
9. Starr's Mill
10. Arabia Mountain
Class AAAA
1. NW Whitfield
2. Heritage-Catoosa
3. Walnut Grove
4. Madison County
5. West Laurens
6. LaGrange
7. Carrollton
8. Columbus
9. Lumpkin County
10. Locust Grove
Class AAA
1. Buford
2. Blessed Trinity
3. Ringgold
4. Jackson
5. Dawson County
6. Rockmart
7. Franklin County
8. Tattnall County
9. SE Bulloch
10. Central-Carroll
Class AA
1. Wesleyan
2. Heard County
3. Crawford County
4. Bacon County
5. Chattooga
6. Berrien
7. Cook
8. Union County
9. GAC
10. Jeff Davis
Class A
1. Gordon Lee
2. Mt. Pisgah
3. Miller County
4. Johnson County
5. Seminole County
6. George Walton Academy
7. Hawkinsville
8. Calvary Day
9. Telfair County
10. Schley County