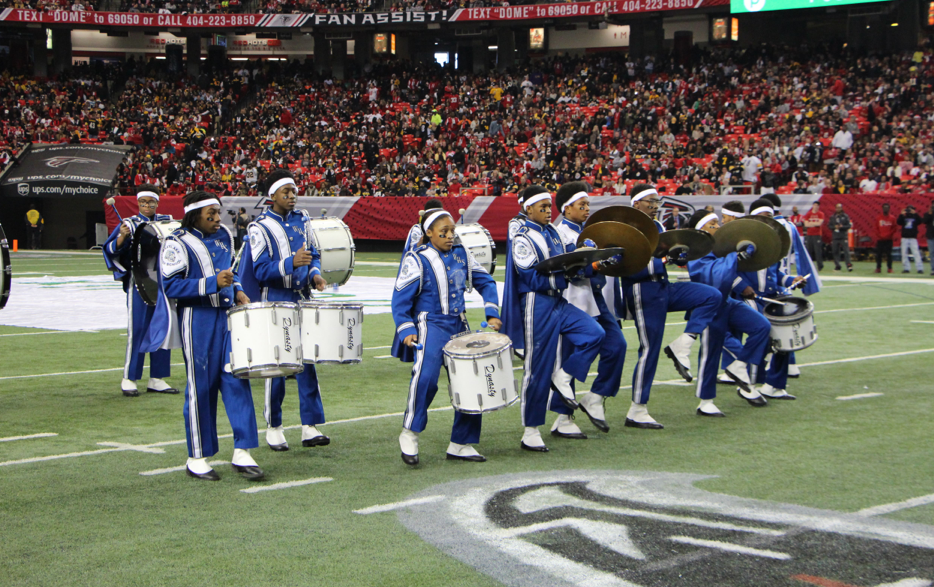 AtlantaFalcons.com
On December 14, 2014, the Atlanta Falcons partnered with Publix Super Markets to host the inaugural Publix Drumline Competition. Several schools entered to be part of the head to head on-field drumline competition during halftime of the Atlanta vs. Pittsburgh game. Two schools were selected to compete, while a third school was selected to perform at State Farm Falcons Landing. Cobb County's Hillgrove High School came in third place. They were awarded $1,500 in Pulix gift cards to go towards their band program. All three schools selected got the opportunity to perform at Centennial Olympic Park and parade in the Falcons March prior to kickoff to rally up fans.
Westlake High School and Stephenson High School were selected as the top two contestants to battle one another for first place. While both schools brought fierce performances to thrill the sold out Week 14 clash with Pittsburgh, the Westlake High School drumline was crowned as this year's Publix Drumline Competition champion.
Formally known as "The Sonic Boom" and led by Ahmad Worthy, Lynel Goodwin and Cedric Young, the Westlake Drumline includes some of Atlanta's finest young percussionists. The Westlake High School Drumline received $3,000 while 2nd place runner-up Stephenson High School received $2,500 in Publix gift cards.
The Atlanta Falcons' first drumline competition was a huge hit as fans were thoroughly engaged while cheering on both schools throughout the entire halftime show. This competition provided the exciting opportunity for high school students to perform in an NFL halftime show along with the contribution of funds to benefit the band programs. The Atlanta Falcons and Publix Super Markets look forward to repeating this new tradition in the upcoming years.