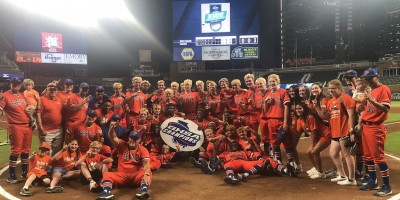 The Parkview Panthers captured their third-straight, and ninth all-time, GHSA baseball state title with a (4-0, 3-2) sweep over North Paulding in Monday night's double-header at Truist Park. Parkview entered the finals with a 16-game winning streak and had outscored its previous four rounds of postseason competition 79-23. North Paulding was able to limit the Panthers' explosive lineup through the first four innings of the series, but clutch hitting from Tennessee—commit Ryan Spikes put Parkview up 1-0 in the top of the fifth inning following his sacrifice fly. Spikes, who has been phenomenal throughout this postseason, continued making an impact to close the door on Parkview's Game 1 victory. The Panthers led 1-0 with two outs left in the top of the seventh inning when Spikes tripled to right field—driving in Sam Smith to increase the lead to 2-0. Teammate Colin Houck singled to drive in Spikes and then Houck scored later on an unearned run that made it 4-0. Spikes relieved Mason Brown of his pitching duties and recorded the final three outs to solidify the 4-0 victory. Brown earned the win and recorded six strikeouts, while allowing just two hits.
Game 2 saw a scoreless first inning and Parkview capitalized off one of North Paulding's four errors—Cade Sadler singled and later scored after a dropped pop fly to right field. The Wolfpack scored their first run of the series in the top of the fifth inning with a Mitchell Heer RBI double. Parkview answered in the bottom of the frame after Spikes got on base with a double and was driven home on following a fielder's choice that advanced him to third and a fielding error that pushed the lead to 2-1. North Paulding's Grayson Taylor hit a solo home run to tie it up 6-6 in the sixth inning, but Parkview answered right back with the go-ahead run that proved to be the final margin in the bottom of the frame. Parkview loaded the bases and Smith crossed the plate following a fielding error. The inning ended with a fly ball to right field and then Spikes returned to the mound to close out the series in the top of the seventh.
Parkview and North Paulding both finish their seasons with 30-10 overall records. North Paulding had eight hits to Parkview's six hits in Game 2, but Parkview left the series with a 16-10 advantage in total hits.