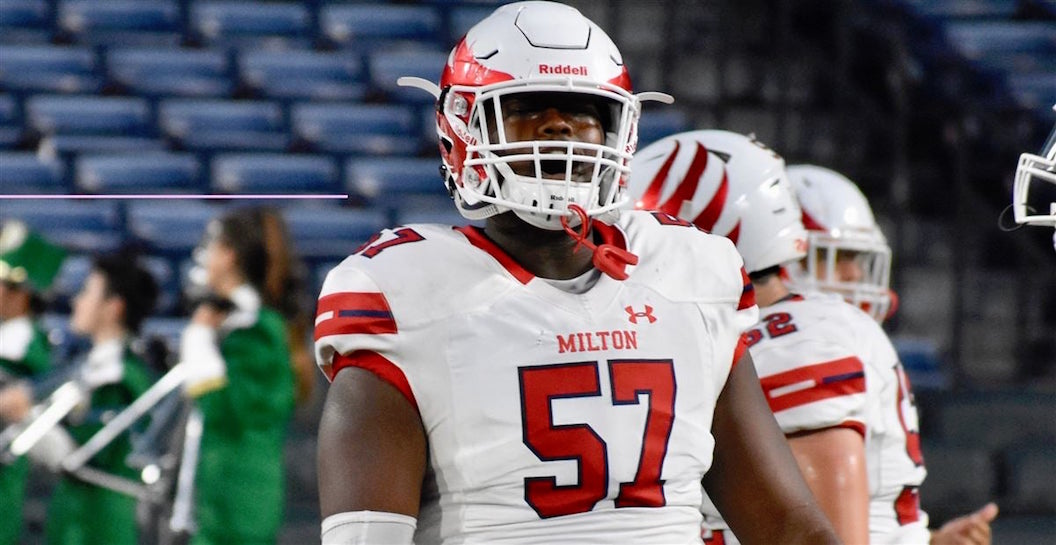 The 28th annual Metro by T-Mobile Corky Kell Classic is kicking off the 2019 GHSA football season beginning in Rome on Aug. 22 but for Milton's 6-foot-5, 299-pound four-star offensive guard Paul Tchio, the season begins on Friday, Aug. 23 at CoolRay Field against Buford. Tchio, who committed to Clemson in November, will be the marquee player for Milton as the program seeks its first title defense after its 14-13 win over Colquitt County in the AAAAAAA state championship game last year.
The storylines and expectations surrounding Milton's 2019 season are varied after it graduated quarterback Jordan Yates, who contributed heroic play after heroic play during its title run, including his three touchdowns in Milton's 21-19 victory over Archer in the 2018 Corky Kell. However, this is a new season, a new team and according to head coach Adam Clack, Tchio is leading the way.
"He wants to be there out front," said Clack. "He leads by example. To say he has been an integral part of our team's success would be an understatement."
Clack took over the Milton job two years ago after coaching at West Forsyth where he first laid eyes on Tchio during his freshman year. The memory was, let's say, unforgettable.
"I remember seeing Paul as a freshman when I was on the sidelines when I coached at West Forsyth," Clack said. "I remember seeing just a freak of an athlete. He's 6-4, he's 280 as a freshman and he moved like a linebacker. He's just a mountain, but the first thing that jumps out about him is his personality. He's always in a great mood. He is just one of those guys who lights up a room. He just loves hanging out with the guys."
What sets Tchio apart from other linemen is his discipline, technique and his undeniable coachability. These three things, according to Clack, are several of the keys to Tchio's success as an individual and teammate. He's rated by 247Sports as the No. 4 offensive guard in the nation for the Class of 2020 and No. 13 recruit in Georgia.
"What was really cool in Paul versus what you see with a lot of linemen, you know, the guys who are always the biggest kid, always just on the line of scrimmage, they're not coming out, it doesn't matter if they go the right way or not. A lot of times those guys are hard to coach," Clack said. "Just because they never had to necessarily worry about how they hit things because they were just going to knock someone around in any game they've played in. In our league, that's just not going to cut it. You have to be able to fit in to schemes and play with great technique. You know, even though he was big when he was a sophomore playing AAAAAAA ball, he wasn't always the biggest, strongest guy on the field anymore. He really bought in and allowed the coaches to coach him and allowed the seniors of that group to really lead him. It's really been awesome to watch his progression."
The 2018 season wasn't simply a breakout for Milton when it won its first-ever football championship. It was an awakening for Tchio as he really learned to lead. But in that process, he also built a desire to spend more time on the field. His solution? Play both ways. But, of course, there were physical hurdles for Tchio and, as any great competitor would, he cleared them despite the demands.
"Last year, he started to lead as a junior," Clack said. "He was very adamant and interested in playing both sides of the ball but he had to get into better shape. At the beginning of his junior year he weighed in at 340 pounds. So we told him that if he wanted to play on both sides of the ball, he needed to be able to go and not wear down. He took that as a challenge and he's lost over 50 pounds since then. So, last year, not only did he play nearly every snap on the offensive side, but he also played 20 or so snaps on the defensive side in big games in critical situations."
In early July, Tchio attended The Opening Finals in Frisco, Texas to compete against some of the best players in the nation and form early bonds with his future Clemson teammates. He even did some recruiting for coach Dabo Swinney while there.
"I was recruiting E.J. Williams and Arik Gilbert pretty heavy," Tchio told the Clemson Insider. "We got everything we want in this recruiting class but some receivers."
Despite the distractions — as a senior who could go on to play anywhere in the nation and could coast through a senior season with grand visions of superstardom clouding the mind — Clack is confident that his four-star lineman is living in the moment.
"It's really cool to see someone like that, I mean, he has Clemson locked up. He could have his eyes set 12 months down the road, but he's living in the moment to be there for his team and lead his team," Clack said. "It's important to him. Whether it be a leadership council that we are doing or a service activity that we are doing, he wants to be there out front. If we are doing conditioning, he's out front leading."
And he will be out front as Milton takes on Buford at 8:30 p.m. on Friday, Aug. 23. See the full Corky Kell schedule below.
2019 Corky Kell Schedule 
Thursday, Aug. 22 at ROME HIGH SCHOOL
5:30 p.m. Calhoun vs. Ridgeland
8:30 p.m. Marietta vs. Rome
Friday, Aug. 23, at COOLRAY FIELD
5:30 p.m. Tucker vs. Archer
8:30 p.m. Milton vs. Buford
Saturday, Aug. 24, at MERCEDES-BENZ STADIUM
9 a.m. Mays vs. Kell
11:45 a.m. Walton vs. Norcross
2:45 p.m. North Gwinnett vs. Colquitt County
5:45 p.m. McEachern vs. Brookwood
8:45 p.m. East Coweta vs. Mill Creek