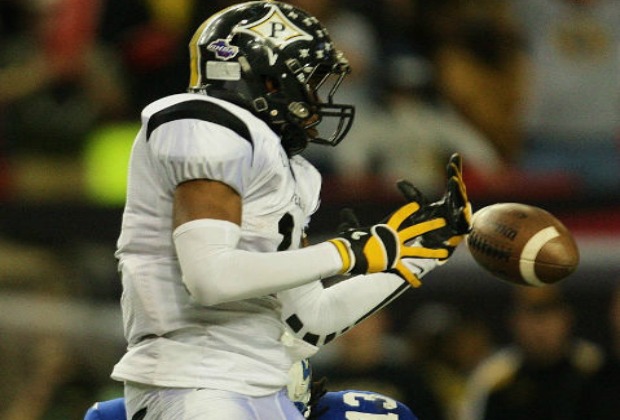 Rob Saye
Peach County dropped a heartbreaker to Carver-Columbus Friday night as the former No. 1 team fell to No. 5 after the Tigers' 26-17 win. Thomson moved up to No. 1 despite a bye week and Carver-Columbus moved up to No. 2. No. 9 North Oconee moved up one spot after coasting past Oconee County. North Hall moved into the AAA poll as Bob Christmas' Trojans are averaging 45 points per game. Callaway sits just outside the top ten after posting an eighth straight win.
In Class AAAAAA No. 1 Camden County handed No. 7 Lowndes its first loss of the year. No. 4 Norcross, No. 5 Lovejoy and No. 6 North Gwinnett each moved up a spot as a result. No. 8 McEachern has won seven straight region games and claimed the Region 4-AAAAAA title with a win over Harrison Friday night.
Northside-Warner Robins knocked Warner Robins out of the rankings with a victory Friday. No. 3 ML King also dealt former Class AAAAA No. 1 Tucker its second loss of the year, dropping the Tigers out of the poll from No. 6 last week. No. 8 Flowery Branch and No. 9 Ware County moved back into the poll while Gainesville fell to No. 10 after losing to Loganville.
Class AAAA features four new teams with No. 7 Carver-Atlanta beating former No. 5 Grady, and Cairo, Stockbridge and Westside-Macon rounding out the top 10. Chamblee, Carrollton and Statesboro fell out of the poll.
In Class A, Landmark Christian moved into the poll at No. 10 after Wilkinson County lost to No. 2 Lincoln County.
Class AAAAAA
1. Camden County
2. Lassiter
3. Grayson
4. Norcross
5. Lovejoy
6. North Gwinnett
7. Lowndes
8. McEachern
9. West Forsyth
10. Langston Hughes
Class AAAAA
1. Northside-WR
2. East Paulding
3. ML King
4. Thomas County Central
5. Kell
6. Allatoona
7. Whitewater
8. Flowery Branch
9. Ware County
10. Gainesville
Class AAAA
1. Sandy Creek
2. Marist
3. Burke County
4. Monroe Area
5. Griffin
6. Jonesboro
7. Carver-Atlanta
8. Cairo
9. Stockbridge
10. Westside-Macon
Class AAA
1. Thomson
2. Carver-Columbus
3. Cartersville
4. Buford
5. Peach County
6. Pierce County
7. Washington County
8. St. Pius X
9. North Oconee
10. North Hall
Class AA
1. Calhoun
2. Brooks County
3. Vidalia
4. Lamar County
5. Jefferson
6. Heard County
7. Fitzgerald
8. Cook
9. Screven County
10. Washington-Wilkes
Class A
1. ELCA
2. Lincoln County
3. ECI
4. Athens Academy
5. Prince Avenue Christian
6. Calvary Day
7. Wilcox County
8. Walker
9. Savannah Christian
10. Landmark Christian