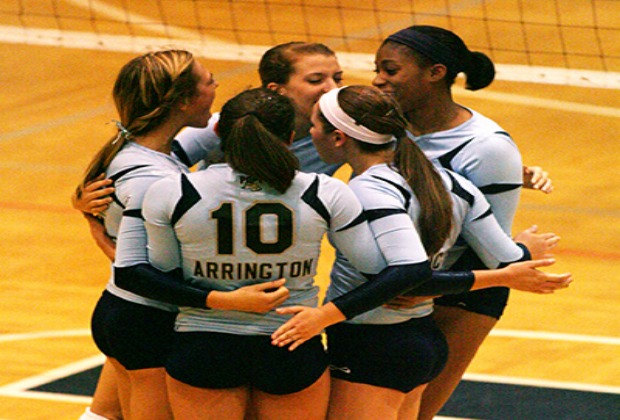 GHSA
Class AAA No. 3 St. Pius X opened Area 5-AAA play by defeating No. 9 East Hall and Buford. Over the weekend, the Golden Lions hosted a play date and beat Starr's Mill, Class AA No. 2 Westminster and Lassiter. Class AAAAA No. 2 McIntosh beat St. Pius X and merged undefeated in four matches at the St. Pius X playdate.
Class AAAA No. 3 Sandy Creek has won seven of its past eight matches since coach Paul Collins won his 500th career win against East Coweta on Aug. 30. The Patriots have defeated De La Salle (La.), Class A No. 6 Eagle's Landing Christian, Class AAAAA No. 5 Northgate, Troup, Class AAAA No. 10 Shaw, Banneker and Class AAAA No. 7 Locust Grove while dropping a rematch with Northgate on Thursday. Senior outside hitter Allie Davenport is leading the state with a kills-per-game average of 5.1 while totaling 137 kills this season. The Patriots as a team are ninth in Georgia with a hitting percentage of .199, while ranking third with 11.5 kills per game. Davenport is also tops on Sandy Creek in service aces with 29. Freshman Alexis Broadwater leads the Patriots with 7.8 assists per game and 195 total.
Class AA No. 1 Blessed Trinity improved its school-record start to 25-0 with wins over Cambridge and Dunwoody on Thursday. The Titans lead the state in kill percentage at 42.7 percent, assists with 11.2 per game and are second in hitting percentage at .301. Blessed Trinity travels to Hoover, Ala., for the Over the Mountain Tournament.
Class AAA No. 4 Sonoraville took third place in the silver bracket of the Tennessee Tandem tournament with four wins and three losses against teams from Georgia and Tennessee. Carrie Cheeks led the Phoenix with 76 kills, 11 blocks and 79 digs in the seven-game tournament. Kristi Vaughn was tops on Sonoraville with 92 assists while contributing 77 digs. The Phoenix defeated Cleveland (Tenn.), Class AAAA No. 5 Southeast Whitfield, Signal Mountain (Tenn.) and Karns (Tenn.). Sonoraville dropped matches to Brentwood Academy (Tenn.), Blackman (Tenn.) and St. Agnes (Tenn.). On Monday, Sonoraville beat Christian Heritage and Murray County to improve to 25-9.