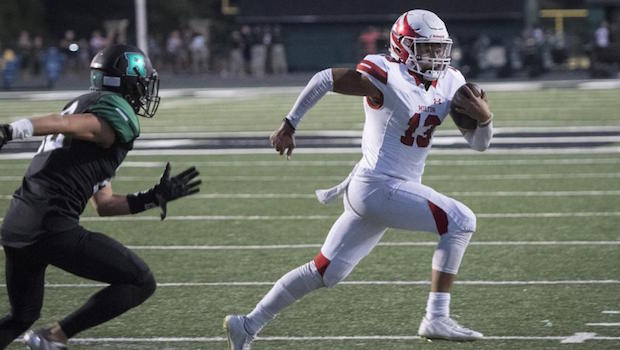 The first-ever Freedom Bowl kicks off Friday at Milton High School and features six matchups with some of the most talented teams and players in the country. The six games are divided into a Friday night doubleheader and a four-game Saturday lineup. Three reigning state champions headline the field and Florida, Georgia, Alabama, New Jersey and Canada are all represented in the event's first-year lineup. Like the matchups, the facilities at Milton are topnotch, and bringing communities to it to share a weekend of outstanding football, while honoring those who serve and have served this country is the Freedom Bowl's central foundation.
FRIDAY, AUG. 31
GAME 1 | Mainland (FL) vs. Bob Jones (AL) 5:00 P.M.
Class 6A Mainland (FL) finished with a 9-5 record last season and possesses tremendous size in the trenches, especially with senior guard Travis Robinson, a 6-foot-4, 335-pound 3-star prospect. The Buccaneers should come into this matchup motivated after opening the 2018 season last weekend with a 30-24 loss to DeLand (FL). Bob Jones (AL) finished 8-4 last season and fell 22-21 to Mountain Brook in the Alabama Class 7A playoffs. The Patriots feature the No. 10 ranked prospect in the state in 4-star cornerback Jaydon Hill and opened their season last weekend with a 17-16 victory over Christian Brothers (TN). Running back Khail Griffin punched in the game-winning touchdown from the 1-yard line with just 1.5 left.

GAME 2 | Cardinal Gibbons (FL) vs. Milton (GA) 8:30 P.M.
Cardinal Gibbons (Fla.) comes off an 11-2 season that ended in a 58-57 overtime loss to American Heritage-Plantation. The Chiefs opened their season last week against Miami Central and fell 48-21 after getting outscored 34-7 in the second half. The defense features 4-star defensive end Khris Bogle and 3-star linebacker Yahweh Jeudy. Offensively, Nik Scalzo is a 3-star dual threat quarterback who has 6-foot-5 tight end Nikolas Ognenovic, 3-star running back Vincent Davis and 3-star offensive guard Jamari Williams supplementing group that averaged 36.6 points per game last season. The Freedom Bowl's host team, Milton, is coming off a 9-3 season in what marked head coach Adam Clack's first year at the school. The Eagles return a trio of highly ranked Class of 2019 prospects, including Georgia Tech commit and dual threat quarterback Jordan Yates, 3-star linebacker, Louisiana Tech-commit and linebacker Allen Walker and Clemson commit Joseph Charleston, a 6-foot-2 safety. Rising junior Paul Tchio is a 4-star offensive tackle who stands 6-foot-5 and weighs 325 pounds. The Eagles are off to a hot start this season with wins over Archer (21-19) and Alpharetta (37-27), both ranked opponents in their respective classifications.
SATURDAY, SEPT. 1
GAME 3 | Chaminade-Madonna (FL) vs. Muscle Shoals (AL) 10:00 A.M.
Chaminade-Madonna (Fla.) was 11-2 last season, but the nationally-ranked and defending Class 3A state champion Lions were defeated 13-10 by Deerfield Beach last weekend to open their season. Muscle Shoals produced a 9-3 record in Alabama's Class 6A last season and opened this year with a dominant 31-0 win over Deshler. Defensively, junior middle linebacker Jackson Bratton leads the way and is committed to Alabama.
GAME 4 | American-Heritage-Plantation (FL) vs. St. Josephs (NJ) 1:30 P.M.
American Heritage (FL) captured back-to-back Class 5A state titles and recorded back-to-back perfect seasons under All-Pro and retired NFL cornerback Patrick Surtain. This season, however, started off much differently as Carol City used its 20-6 scoring advantage in the second half to hand American-Heritage a 34-16 loss last weekend. This will be the season opener for the Patriots' opponent St. Joseph Regional (N.J.), a Garden State powerhouse that finished 8-4 last season. The Green Knights boast 4-star offensive tackle John Olmstead (6-foot-6, 290 pounds), 4-star defensive end Howard Cross (6-foot-2, 240 pounds) and 3-star safety Connor Grieco (6-foot-3, 198 pounds) in the Class of 2019, as well as the state's No. 1-rated Class of 2020 prospect in 6-foot-4, 270-pound guard Luke Wypler.
GAME 5 | Stoneman Douglas (FL) vs. St. Matthews (Ontario, Canada) 5:00 P.M.
Stoneman Douglas (Fla.) is coming off back-to-back 6-4 seasons, and the Eagles program has never experienced a losing season since head coach Willis May's arrival in 2013. The offensive line could be the strength of this year's team, and Ryan Kavanaugh is a returning starter at quarterback that provided the offense with a spark when he took over the position midway through last season. The St. Matthews Catholic (Ottawa, Canada) Tigers are coached by Jean Guillaume and will be representing "The Land of 10 Provinces" in the inaugural Freedom Bowl. Tiger teammates Xavier Gervais (QB) and Alex Ross (OL) are players to watch and both competed in the 8th annual International Bowl in Arlington, Texas, this past January as members of Team Ontario.
GAME 6 | North Gwinnett (GA) vs. Wekiva (FL) 8:30 P.M.
Last season, North Gwinnett head coach Bill Stewart led the Bulldogs to a 14-1 finish and state title (the first in program history) on his first year on the job. Plenty of talent and championship experience is back leading the Bulldogs and they opened this season two weekends ago at Mercedes-Benz Stadium with a 37-2 win over Brookwood in the MetroPCS Corky Kell Classic.  The Wekiva (Fla.) Mustangs went 12-2 in Class 8A last season and have a star-studded senior class leading them this season, especially defensively. Four-star linebacker Rian Davis and 4-star defensive tackle Tyler Davis are joined by 3-star cornerback Renardo Green and 3-star safety Brandon Hill. Last week, Wekiva opened its season with a 17-3 win over Orlando-based Jones (FL).
Tickets are available by Clicking Here and you can also watch the games on FloFootball by Clicking Here.