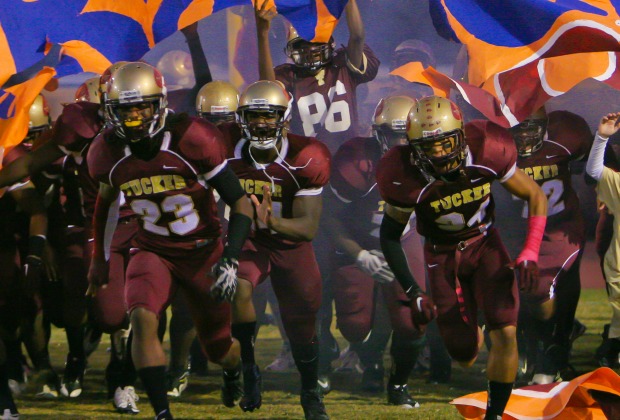 Photo by David Sibley
Class AAAAAA saw movement as three previously-ranked teams returned to the top 10 for the first time since September. Mill Creek re-entered the poll for the first time in nine weeks at No. 7 and Tucker took over at No. 10 for the first time since Week 1. Archer, the preseason No. 1, finished its year with seven straight wins and returned to the poll at No. 9.
In Class AAAAA, Creekside jumped Harris County for No. 8 after topping Stephenson for a second time this season on Friday. In Class AAAA, Mary Persons dropped from No. 3 to No. 8.
Westside-Macon debuts in Class AAA and replaces Cook. Class AAA's, Hart County dropped to No. 9 after suffering its first loss of the season to Jefferson on Friday. In Class AA, Lamar County dropped from No. 6 to No. 9 and Macon County debuted at No. 7. Class A-Private Mount Pisgah and Class A-Public Dooly County each leapt from No. 8 to No. 5 in their respective polls. Undefeated Mount Paran edged unbeaten Aquinas for No. 1 in Class A-Private.
Class AAAAAA
1. Colquitt County
2. Grayson
3. Valdosta
4. Dacula
5. North Gwinnett
6. Milton
7. Mill Creek
8. Lee County
9. Archer
10. Tucker
Class AAAAA
1. Ware County
2. Coffee
3. Allatoona
4. Kell
5. Northside-Warner Robins
6. Lanier
7. Houston County
8. Creekside
9. Harris County
10. Mays
Class AAAA
1. Buford
2. Griffin
3. Marist
4. Sandy Creek
5. Woodward Academy
6. St. Pius
7. Cartersville
8. Mary Persons
9. Cairo
10. Whitewater
Class AAA
1. Washington County
2. Calhoun
3. Blessed Trinity
4. Peach County
5. Jefferson
6. Central-Carroll
7. Westminster
8. Westside-Macon
9. Hart County
10. Cook
Class AA
1. Greater Atlanta Christian
2. Vidalia
3. Lovett
4. Benedictine
5. Fitzgerald
6. Brooks County
7. Macon County
8. Darlington
9. Lamar County
10. Thomasville
Class A-Private
1. Mount Paran
2. Aquinas
3. Calvary Day
4. Savannah Christian
5. Mount Pisgah
6. Landmark Christian
7. Prince Avenue Christian
8. Tattnall Square
9. Pacelli
10. ELCA
Class A-Public
1. Marion County
2. Irwin County
3. Hawkinsville
4. Charlton County
5. Dooly County
6. Lincoln County
7. Commerce
8. Clinch County
9. Emanuel County Institute
10. Claxton