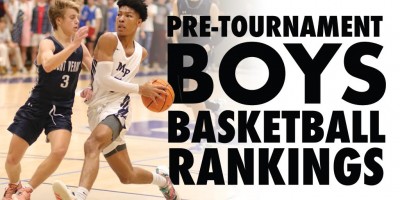 Wheeler closed out the regular season as the No. 1 team in Class 7A and perhaps the state after completing its schedule and region tournament without an in-state loss. McEachern comes in at No. 2 and Grayson used its recent victories over Newton to ascend to No. 3 ahead of No. 4 Norcross and No. 5 Newton. Buford leapt from No. 9 to No. 6 after the region tournaments and South Gwinnett caps the poll at No. 10 in place of Archer—who was defeated in the region tournament and failed to earn a playoff berth. Defending state champion Grovetown returned to No. 1 in Class 6A and is red-hot after a slow start to the season. St. Pius moved up from No. 8 to No. 6 and South Paulding improved from No. 10 to No. 7 after a strong push in the region tournament.
In Class 5A, Tri-Cities slid from No. 4 to No. 7 after earning the No. 3 seed and Chapel Hill moved up from No. 8 to No. 4. McDonough remains No. 1 in Class 4A, despite its recent loss to Lovett. The Lions also defeated No. 2 Pace Academy 62-60 to earn the top seed, but comes in at No. 3 after splitting its previous meetings to the Warhawks and Knights.
Dougherty moved up from No. 9 to No. 5 in Class 3A and Class 2A saw Butler make a sizeable leap from No. 10 to No. 6. Mt. Vernon maintained its status at the top of the Class A Division I poll and the Class A Division II poll did not shift following the region tournament with Greenforest Christian at No. 1.
Class 7A
1. Wheeler
2. McEachern
3. Grayson
4. Norcross
5. Newton
6. Buford
7. Carrollton
8. Cherokee
9. Pebblebrook
10. South Gwinnett
Class 6A
1. Grovetown
2. Alexander
3. Lanier
4. Jonesboro
5. Etowah
6. St. Pius
7. South Paulding
8. Hughes
9. Marist
10. Lee County
Class 5A
1. Kell
2. Eagle's Landing
3. Hiram
4. Chapel Hill
5. Mays
6. Dutchtown
7. Tri-Cities
8. Decatur
9. Winder-Barrow
10. Tucker
Class 4A
1. McDonough
2. Pace Academy
3. Lovett
4. Southwest DeKalb
5. Bainbridge
6. Madison County
7. Fayette County
8. Westover
9. North Oconee
10. Walnut Grove
Class 3A
1. Johnson-Savannah
2. Sandy Creek
3. Monroe Area
4. Cross Creek
5. Dougherty
6. Beach
7. Monroe
8. Cedar Grove
9. White County
10. Groves
Class 2A
1. Westside-Augusta
2. Columbia
3. Spencer
4. Putnam County
5. Providence Christian
6. Butler
7. Windsor Forest
8. North Cobb Christian
9. Drew Charter
10. Thomson
Class A Division I
1. Mt. Vernon
2. Mt. Pisgah
3. Mt. Bethel
4. King's Ridge
5. Social Circle
6. Darlington
7. Woodville-Thompkins
8. Savannah
9. Chattooga
10. Athens Christian
Class A Division II
1. Greenforest Christian
2. Christian Heritage
3. Portal
4. Wilkinson County
5. Macon County
6. Calhoun County
7. Macnhester
8. Mitchell County
9. Charlton County
10. Chattahoochee County