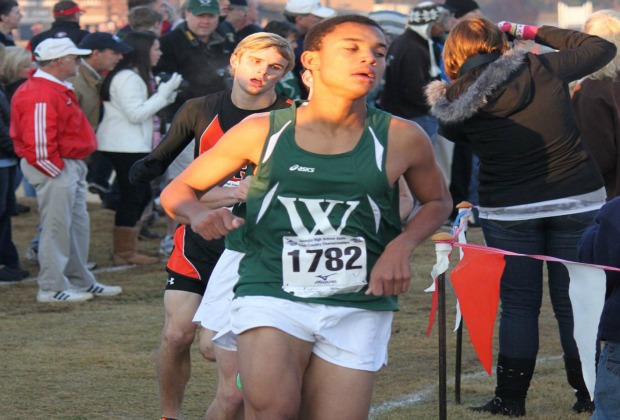 Photo by Tami McQueen
Last year's state champions top the preseason cross country rankings while multiple ranked teams moved classifications in the offseason.
Brookwood tops the boys AAAAAA rankings after their fourth state title in five years while Flowery Branch tops the AAAAA poll. Marist tops the Class AAAA rankings while arch-rival St. Pius, which just moved up to AAAA, comes in at No. 2.
Westminster moved up to a depleted Class AAA and is ranked at the top there while Wesleyan is No. 1 in AA.
Northview moved from AAAAA to AAAAAA and is ranked No. 3 after winning thee state title last season. Peachtree Ridge retains its No. 1 ranking in the state's largest classification.
Lakeside-Evans took over at No. 1 in AAAAA while Marist is No. 1 in AAAA followed by St. Pius.
Class AAA should have quite the dual this year between Blessed Trinity, which claimed No. 1 last year, and Westminster, which won AA last year.
Wesleyan is No. 1 in AA last after splitting the title with Westminster last year.
In the vacancy left by last year's state champ, Pace Academy, Providence Christian ascended to No. 1.
Boys
Class AAAAAA
1. Brookwood
2. Peachtree Ridge
3. Harrison
4. Marietta
5. Collins Hill
6. Parkview
7. Mill Creek
8. Walton
9. Northview
10. Etowah
Class AAAAA
1. Flowery Branch
2. Greenbrier
3. Clarkston
5. Lakeside-Evans
6. LaGrange
7. Starr's Mill
8. Sequoyah
9. McIntosh
10. Alexander
Class AAAA
1. Marist
2. St. Pius
3. Pickens County
4. Perry
5. North Hall
6. Woodward Academy
7. Chestatee
8. Carrollton
9. Whitewater
10. North Oconee
Class AAA
1. Westminster
2. Blessed Trinity
3. Jefferson
4. Oconee County
5. East Jackson
6. Calhoun
7. Savannah Arts
8. Pepperell
9. Murray County
10. West Hall
Class AA
1. Wesleyan
2. Lovett
3. Bleckley County
4. Benedictine
5. Darlington
6. Holy Innocents'
7. Thomasville
8. Pace Academy
9. GAC
10. Gordon Lee
Class A
1. Landmark Christian
2. Athens Christian
3. First Presbyterian Day
4. Lakeview Academy
5. Athens Academy
6. Galloway
7. Hebron Christian
8. Aquinas
9. Savannah Christian
10. George Walton Aca.
Girls
Class AAAAAA
1. Peachtree Ridge
2. Brookwood
3. Northview
4. Etowah
5. Walton
6. Marietta
7. Collins Hill
8. Harrison
9. Mill Creek
10. West Forsyth
Class AAAAA
1. Lakeside-Evans
2. Dunwoody
3. Alexander
4. Starr's Mill
5. Flowery Branch
6. McIntosh
7. LaGrange
8. North Atlanta
9. Creekview
10. Sequoyah
Class AAAA
1. Marist
2. St. Pius
3. White County
4. Woodward Academy
5. Buford
6. Chestatee
7. Pickens County
8. Heritage-Catoosa
9. Veterans
10. North Oconee
Class AAA
1. Blessed Trinity
2. Westminster
3. Calhoun
4. Jefferson
5. Savannah Arts
6. Jackson County
7. Savannah Arts Academy
8. Oconee County
9. Callaway
10. Murray County
Class AA
1. Wesleyan
2. Lovett
3. Pace Academy
4. St. Vincent's Academy
5. Darlington
6. Lamar County
7. Holy Innocents'
8. GAC
9. Model
10. Coosa
Class A
1. Providence Christian
2. First Presbyterian Day
3. Landmark Christian
4. Hebron Christian
5. Athens Christian
6. Walker
7. Athens Academy
8. Paideia
9. ELCA
10. St. Francis