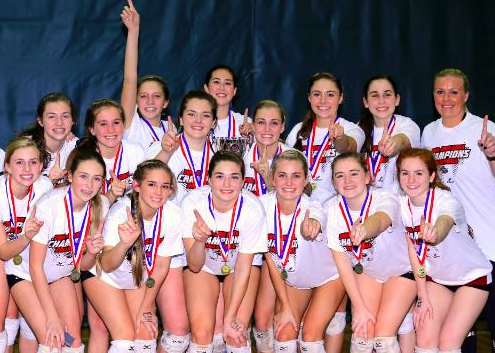 Holy Innocents' Athletics
Defending Class 6A state champion North Cobb debuts at No. 3 after losing last year's seniors Savanna Gonzalez and Christina Matacotta. Matacotta led the Warriors with a season-high 78 aces and 778 digs and Gonzalez posted 442 kills in 2014. Returning for the Warriors will be junior Jenna Woodruff and senior Elizabeth Daniel, who combined for 217 of the team's blocks last season.
Class 5A state champion Sequoyah remains No. 1 and will bring back attack specialists Kelley Hartman and Kali Jones. Jones led with a team-high 359 kills last season and Hartman finished with 340 kills with a team-high 38.2 hit percentage.
Buford returns 11 players from last year's second-place team and has a returning cast of underclassmen that should keep the Wolves at the top of Class AAAA for at least three more years. Tatum Shipes notched 340 kills as a freshman last season and Gabby Curry is back after a 388-kill sophomore campaign in 2014. State champion Marist debuts at No. 2, despite its five-set victory over the Wolves in last year's finals.
Class AAA state champion Blessed Trinity graduated Maggie Rick and Amber MacDonald, but a returning cast with sophomore Alyssa Kuroski and senior Sarah Parker return plenty of firepower. The Titans return as the preseason No. 1 in Class AAA ahead of Westminster, which lost Mason Rooney to graduation. Rooney, now at Davidson College, helped lead the Wildcats to three straight finals appearances.
Reclassification forced Holy Innocents' into Class AA last season, but the Golden Bears defended their Class A state championship by winning the Class AA crown. Head coach Taylor Noland has taken the top-ranked Golden Bears to new heights and her success has not gone unnoticed. This offseason, Noland was named to the American Volleyball Coaches Association's 30 under 30 awards. The list of the nation's top coaches under 30 years old consists primarily of college-level coaches and Noland is the only female high school coach to make the list. The 2013 championship also made Noland the first person in state history to win state titles as a player and coach. Noland starred at Woodward Academy where she took home three state titles (2001, 2002, 2003) before graduating and heading to the University of Tennessee.
Savannah Christian takes No. 1 in Class A over defending champion Hebron Christian. The Raiders return Madison Cooler (329) and London Jones (335), who combined for 664 kills as sophomores last season. Savannah Christian compiled a 45-9 record last season with a roster that boasted seven sophomores and just two seniors.
Class AAAAA
1. Walton
2. Harrison
3. North Cobb
4. Johns Creek
5. North Gwinnett
6. Roswell
7. East Coweta
8. Etowah
9. South Forsyth
10. Lassiter
Class AAAAA
1. Sequoyah
2. Columbus
3. Dunwoody
4. Cambridge
5. Ola
6. McIntosh
7. River Ridge
8. Northside-Columbus
9. Camden County
10. Starr's Mill
Class AAAA
1. Buford
2. Marist
3. St. Pius
4. Sandy Creek
5. North Hall
6. North Oconee
7. Northwest Whitfield
8. Ridgeland
9. Carrollton
10. Veterans
Class AAA
1. Blessed Trinity
2. Westminster
3. Oconee County
4. Decatur
5. Sonoraville
6. Jefferson
7. Morgan County
8. Rockmart
9. Savannah Arts
10. East Hall
Class AA
1. Holy Innocents'
2. Wesleyan
3. Lovett
4. Greater Atlanta Christian
5. Gordon Lee
6. St. Vincent's Academy
7. Pace Academy
8. Coosa
9. Darlington
10. Lamar County
Class A
1. Savannah Christian
2. Hebron Christian
3. Fellowship Christian
4. Eagle's Landing Christian
5. Athens Academy
6. Walker
7. Landmark Christian
8. Mt. Paran
9. Prince Avenue Christian
10. Calvary Day