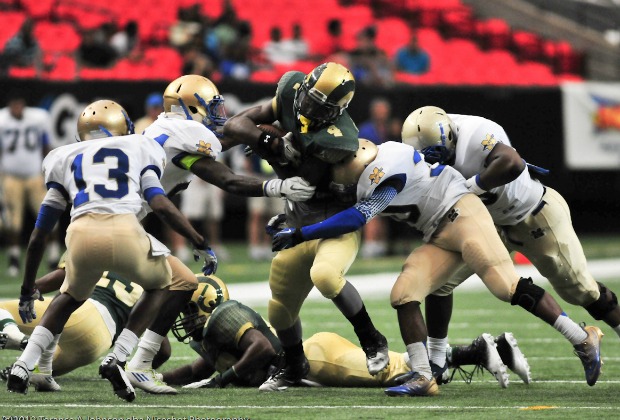 Sonny Kennedy
The Battle of the Big Chicken enters its second year as an event in which two of the best programs in east Cobb meet two of the best from west Cobb.
In 2012, Lassiter held off Hillgrove 37-29 while Walton outlasted McEachern 37-35. This year, the matchups are swapped as host McEachern faces Lassiter while Hillgrove plays Walton.
Going by wins and losses, the top two Class AAAAAA programs in Cobb County since 2009 have been Lassiter and McEachern. While the Indians have been on the warpath under coach Kyle Hockman in winning 38 of 46 games during that span, the Trojans have posted 37 wins over that same 4-year period.
So it only made sense when the Battle of the Big Chicken pitted the two cross-county foes together for the nightcap of the event.
McEachern, ranked No. 3 in the state, is coming off a rousing 31-10 drubbing of perennial-power Brookwood at the Metro PCS Corky Kell Classic in the Georgia Dome. Despite the big win, the Indians were a bit pre- occupied with recovering with less than six days rest before tonight. Their game, which kicked off Saturday night, actually ended on Sunday. But Hockman was encouraged by the fact that his team already got their first game out of the way while their opponent has yet to play.
"Lassiter hasn't played a game yet," said Hockman. "So we'll be a little tired and banged up, but they haven't played and will have their first-game jitters. So I think it will offset."
Hockman's tribe battered and bloodied their adversaries last week with a series of blows from skill position players on offense and a big and fast front seven on defense. Brookwood entered with a reputation of "ground and pound" football, but McEachern left knowing it can run the ball and stop the run.
Running back Taj Griffin and quarterback Ty Clemons combined to rush for 263 yards while the team as a whole produced 323 yards rushing. Meanwhile, defensive ends Henry Famurewa and McKenzie Billingslea led a strong Indians defense that held Brookwood to a paltry 70 rushing yards.
Lassiter, meanwhile, likes to throw the ball often out of its spread offense. After quarterback Eddie Printz graduated and left for the University of Missouri, the Trojans were in need of a signal-caller with experience. On the other side of the coin, former Wesleyan starter Will Anderson was look- ing for exposure to college scouts to fulfill his dream of earning a scholarship to a big-time football program. So the Anderson family moved to east Cobb and Will enrolled at Lassiter. In two years at Wesleyan, Anderson set school records in career passing yards (4,260), completions (341) and passing touchdowns in a game (6). He competed with Russ Aarons, Lassiter's JV starter last year.
"Russ has done a great job for us," said Lassiter coach Jep Irwin. "The JV team went 6-1 last year. He got to play a little bit last year as a sophomore and he's certainly got experience in the system. Will has some starting experience at Wesleyan for two years, and is a senior."
Despite being from the same county, the two power programs have met just one time on the gridiron, a 20-17 Lassiter win in the second round of the 2011 playoffs. While McEachern is one of the favorites to win the state title this year, Lassiter could earn a lot of respect by upsetting the Indians on their home field.