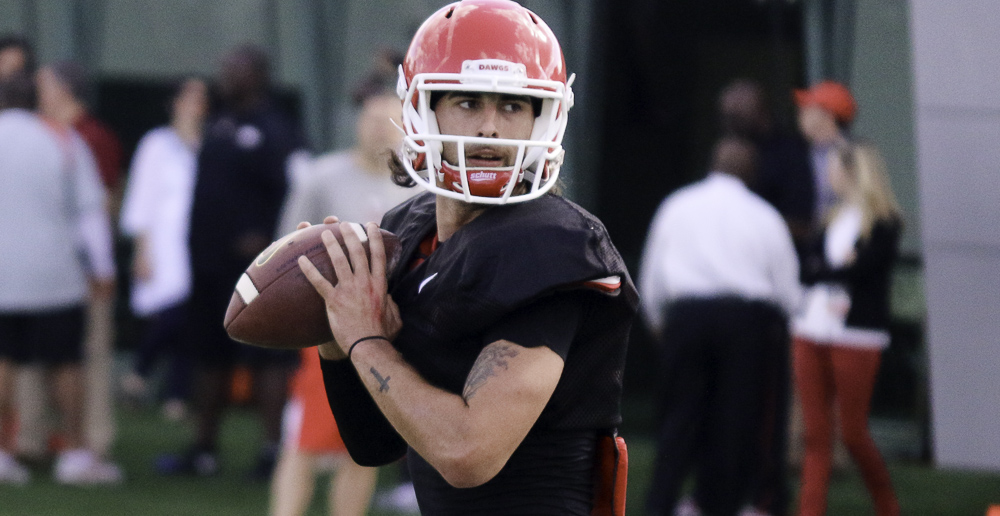 Jake Rowe/ Dawgs247.com
Since 2010, the Bulldogs football program hasn't needed to concern themselves much with filling this position on the field. For four years it belonged to Aaron Murray and last year to Hutson Mason.
This spring, that is no longer the case. Head coach Mark Richt and staff gets to decide between three choices. Whether it is redshirt sophomore Brice Ramsey, junior Faton Bauta, or redshirt freshman Jacon Park? That competition continues to unfold.
During practice over the next few weeks, all three quarterbacks will get plenty of opportunities to work with the first team offense. Yesterday, those reps went to Ramsey.
He comes into this year, with the most playing experience between the three options. He had relief appearances in the regular season and then had to come on to play the entire second half against Louisville in the Belk Bowl.
Even with the past working in his favor, Ramsey isn't resting on his experience.
"Yeah I have playing experience, but that means nothing now," Ramsey said. "I'm back to square one trying to work hard and do everything I can."
Ramsey was also referencing the fact that new offensive coaches are in Athens, with former offensive coordinator Mike Bobo at Colorado State as their head coach. Most of last year's offensive staff has moved on to other opportunities as well.
So there's a new offensive coordinator/quarterbacks coach in town, with Brian Schottenheimer coming down from the NFL to take over. With that, comes a fresh prospective on the competition.
Mark Richt thought that could be a possibility back when Schottenheimer was hired earlier this offseason. He even compared it to when Jeremy Pruitt took over the defense and how it allowed for guys to seize the opportunity for playing time.
If that does play out, the one who could stand to benefit the most is Bauta. Ramsey was the primary backup last season and Faton was behind him on the depth chart.
To Bauta, even if that could happen, he says he will not look at it that way.
"It's always an unbiased competition," Bauta said. "We're just out there playing ball. If he's the better man, alright whatever. I was telling myself that I'm going to keep getting better as a quarterback, I'm going to keep improving, and go as far as I can."
Bauta knows that whoever is the team's starting quarterback, is in for a tough time in one way or another. Even the most successful quarterbacks will go through their struggles some time during his career. That is just the way football goes.
"This job is not for everybody," Bauta said. "This kind of job that we have open here. A quarterback's job disturbs his mind, body, and soul. (It) disturbs his peace all the time. However you handle that, is up to the quarterback as an individual."
Bauta credits the way Mason handled his struggles last season, as an example of how mental toughness is so important.
All three quarterbacks say the competition has stayed on the field and is all in the betterment of the team. They maintain there is no and will be no animosity between them when a starter is named.
Jacob Park is one of the players in this competition and surely wants to be named the starter. That said, he's not letting himself get consumed in the battle.
"I've got so much other stuff to think about man," Park said. "It's really not as hard as it sounds. You've got to take one day at a time around here as far as school and football. Life in general around here is rough. We just take it one day at a time, what comes tomorrow comes tomorrow. I'm not worried about the day after."
Park is used to dealing with tough task's being thrown at him. He came to Athens last year during the spring out of Goose Creek, South Carolina. He made a name for himself during his redshirt campaign as the scout team quarterback. That was an experience that he feels is an asset for him right now.
"It was just go out there have fun and throw the ball on scout team," Park said. "Now, I've actually got to make reads, sit in the pocket, and pick up blitzes. Not run around and chuck the ball all the time, make good decisions, and throw completions. Now I'm playing actual fundamental football and not backyard football."
Park called his style of quarterbacking in the "backyard football" as "chuck and duck" in 2014. He's talking about facing the first team defense, with backup protection upfront.
When Georgia hired Brian Schottenheimer in January, his track record with young quarterbacks in the NFL was brought up. He was worked with the likes of Drew Brees/Phillip Rivers in San Diego. He mentored Mark Sanchez during his time with the New York Jets. Most recently he worked with Sam Bradford in St. Louis. Plus during his time with the Rams, he had to work with other quarterbacks when Bradford went down with season ending injuries.
Both Park and Ramsey were asked about Schottenheimer's coaching style and whether or not the past is brought up much. It is indeed talked about and shown on film.
Ramsey says he'd like to translate a few things on film from one of those quarterbacks mentioned, Drew Brees.
"He can get out of there from under center on a seven step drop and throw the ball downfield," Ramsey said. "I feel like I need to work on my seven step drops. It's just something I haven't done here in the past. I really haven't even done them in my whole life. This is like the first time I have been taking seven step drops. So I just need to work on my footwork. So, I would model my footwork after Brees or someone like that."
Ramsey and the rest of the quarterbacks will have a chance to put this practice to use on Saturday, when they go through their first team scrimmage of the spring. Who starts? That remains to be seen.