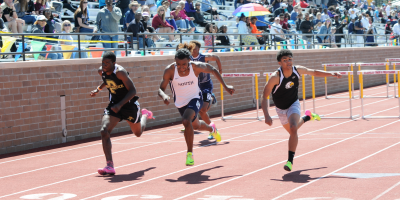 After hosting the Georgia Olympics every year since 1972, Jefferson's Memorial Stadium passed the torch to three separate venues this year while it undergoes renovations. As a result, the newly reclassified landscape will make its championship debut across the state of Georgia in Albany (A Public, 2A & 3A), Rome (A Private, 4A & 7A) and Carrollton (5A, 6A & Wheelchair).
In Georgia's highest classification, the boys field remains both wide open and hotly contested by a long list of title contenders. Newton took the team title last season with 48 points, while South Gwinnett (45), Campbell (43) and Lakeside-DeKalb (43) narrowly missed out on the state crown. This year, Lakeside-DeKalb will be led by sophomore sensation Brian Herron, who cruised to a first place finish in the 400 meter sectionals with a time of 46.15. Herron clocked his first-place finish with more than two seconds separating him from the nearest finisher in his heat. The sectionals also showed that Herron will have plenty of competition in the 200 meter dash as Newton's Elija Godwin (21.46), Parkview's Amir Harris (21.47) and Pebblebrook's Kibren Moore (21.57) were just quicker than Herron's 21.58 finish. A total of 10 runners posted sub-22 second times in the 200 meter Sectionals.
The McEachern girls outscored Westlake 69-56 for the Class 6A title last year and ended the Lions' run of three-straight state titles in the process. Both schools will compete in Class 7A this year as Campbell, Brookwood and Westlake are coming off strong showings at sectionals.
CHANGING THE GAME…
In Class 6A, the backdrop has dramatically shifted with the reclassification and there will be no title defense in this new field of contenders. The North Spring girls aim for a third-straight title in Class 5A and the Southwest DeKalb boys will look for their own three-peat in Class 5A. The Warner Robins girls and the Allatoona boys are among the teams that now headline Class 6A.
The Eastside boys are back in Class 4A after capturing the program's first state title at last year's meet. Eastside outscored second-place Marist 71-44 and will return last year's 100 meter and 200 meter dash state champion Eric Stokes. Stokes is a safety committed to the University of Georgia. He posted a 10.48 in the 100 meter finals last season to take home the state title. In last weekend's Sectionals, Stokes clocked a 10.39 to win the heat.
PROTECT THE CROWN
The Monroe-Albany girls cruised past Marist for last year's state title, which resulted in the program's fifth state title in eight years. Now, Marist is left in Class 4A while Monroe-Albany headlines the Class 3A field. Last year's girls' Class 3A state champion was Jackson-Atlanta, but the Jaguars are in the Class 5A field this year with two-time defending state champion North Springs. The Cedar Grove boys will compete for their third-straight title in Class 3A after demolishing last year's field with 74 points.
Class 2A saw a mass exodus of the private schools that have won the past five girls' 2A titles and the past two boys 2A titles. This new hierarchy cleared a path to the podium that has not been there in previous years.
POWER PLAY
In Class A-Private, the defending state champion Landmark Christian boys are competing for their program's 10th all-time title. Defending Class 2A boys state champion Wesleyan now resides in Class A-Private and will highlight the same field. The Athens Academy girls edged ELCA 80-73 for its first state title last year, but will have to contend with the Wesleyan girls after they finished second in last year's strong Class 2A field.
In Class A-Public, the Georgia Military girls aim for their third-straight state title while the Commerce boys compete for their third title in five seasons.
Photos courtesy Pinion Photography