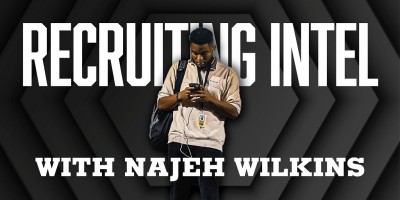 DL Eddrick Houston is a five-star prospect and checks off a lot of the boxes for college coaches. He has a relentless pursuit and loves coming over and making a big hit and causing havoc for opposing offensive linemen. Houston talked about where that pursuit comes from and how it helps his game.
"Just knowing that anything can happen so I run to the ball every play and just try and help my team out," said Houston. "It really just comes from wanting to make plays. At the same time, I want to let my teammates shine too."
As far as his recruitment stands, Houston is still deciding which are his top schools. Houston talked about the key things he looks for in schools and also unveiled at the Corky Kell Luncheon on Monday a looming commitment decision for the end of the month.
"I look for the culture that is built around the school and the development as a player and a man," said Houston. "You can't go wrong with any of them and definitely blessed for the opportunity and they have shownme the different things they have. At the same time you know wherever I go I want to improve. The main thing I like is that they are making me focus on my senior season and accepting whichever college I choose."
In addition to Houston, he also highlighted another special player on the Buford defense line. Bryce Perry-Wright is a highly touted prospect in the 2026 class. Houston talked about mentoring him and passing on the torch to the younger kids on the defensive line. He also talked about what separates Perry-Wright from the rest.
"Bryce Perry-Wright is already ready to grind and he is coachable. You can tell him hey Bryce you need to work on this and that and he will say yes sir and no sir," said Houston. "He will go out there and try and if it doesn't work he will keep trying until it does. Coaches and I will never steer them wrong. He is a great person outside of football and tries to be the best version of himself every day."
Houston also has a great relationship with fellow teammate KJ Bolden (Florida State commit) and talked about matching up with him in his youth football days and now being his teammate in high school and the bond that they have.
"It was great back then just playing football for fun. A lot has changed over the years," said Houston. "I feel like back then the biggest moment was playing against KJ and now in high school we are on the same team. "It's great playing with him. That trust and bond that we have that really helps us on the field."
As a junior last season, Houston earned MaxPreps Junior All-American second-team honors after racking up 64 tackles, 10 sacks, and 15 quarterback pressures continuing his disruptiveness and making plays on the defensive side of the ball. Houston has offers from Alabama, Georgia, Florida State, Clemson, Ohio State, USC, Oklahoma, Auburn, and many others. Despite the high ranking and all the accolades, Houston remains focused and humble knowing it can be taken away at any time. He remains thankful to God for all his accomplishments and continues to put his head down and work.
"For me, I just thank God. All that number one stuff I like to see but it doesn't matter to me because I know all that stuff can be taken away," said Houston. A wrong move or blowing out your knee is all it takes. Anything can go wrong so really just being thankful to God."
Eddrick Houston enters his senior season and certainly has a bright future ahead of him. Whichever college lands his services, they will be better off going forward.