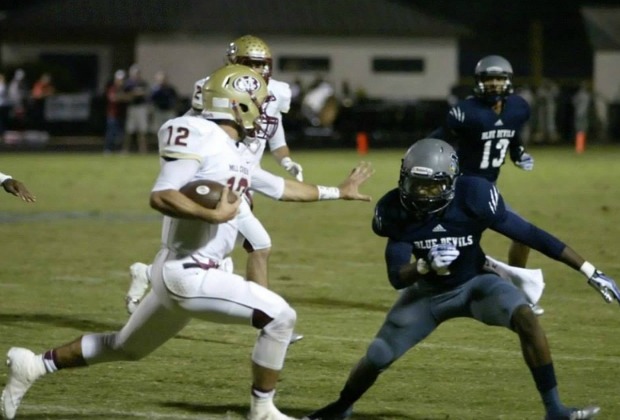 Photo by Mill Creek HS
One of the state's top running backs, Eric Swinney of Sandy Creek, committed to Ole Miss over Auburn and Tennessee, among others, on May 16.
Mill Creek quarterback Daniel David committed to Appalachian State on June 18. The 6-foot-1, 185-pounder also reported offers from Mercer, Navy and Georgia State among others. His father, Drew David, was a quarterback at Cairo High School and played on special teams for UGA from 1991-94.
Ex-Alabama RB and Norcross High School standout Alvin Kamara recently committed to Tennessee via his Twitter account. Kamara is currently enrolled at Hutchinson Junior College and will be able to play at Tennessee for the 2015 season. Kamara signed with Alabama out of high school, but transferred after the 2013 season.
Wheeler WR Harland Howell committed to Georgia Tech over Boston College, Memphis and Marshall. Harland chose Georgia Tech because of the location, education and the chance for his family to watch him play.
Wide receiver Keyston Fuller of Griffin recently committed to Duke. The 6-foot-1, 175-pound athlete chose Duke over Auburn, Clemson, Georgia and Georgia State, amongst others.
Athlete Julian Jones of Westlake committed to Arkansas State. The multi-positional athlete plays quarterback, linebacker and tight end. He chose Arkansas State over Georgia Southern, Georgia State, Jacksonville State and Louisville, amongst others.
Six-foot-1, 225-pound linebacker from Greater Atlanta Christian, Paul Carothers, recently committed to play collegiate football for the Navy.
TJ Rahming, a 3-star wide receiver, has committed to Duke. Rahming is a part of a loaded McEachern squad that has a lot of talented players.
Rising Harrison senior Lorenzo Nunez recently committed to South Carolina. The 6-foot-2, 180-pound quarterback is ranked as the state's top prospect at his position.
Dual-threat quarterback Jakobi Meyers of Arabia Mountain committed to play collegiate football at Kent State.
Offensive Tackle Jeremiah Theus of Bolles (Fla.) committed to Georgia Southern recently. He chose Georgia Southern over offers from Charlotte, Cincinnati, FIU and Georgia State, amongst others.
Mays Tight End Aaron Cochran committed to Louisville. The 6-foot-3 inch 250-pound tight end chose Louisville over Memphis, Tennessee State, Western Kentucky, and Hampton, amongst others.
Alexander running back Mikell Lands-Davis committed to Georgia Tech recently. He chose Tech over UNC, N.C. State, and Clemson. Lands-Davis preferred Georgia Tech due to its location and his relationships with some current Yellow Jackets.
Sage Hardin, a 6-foot-6, 260-pound offensive lineman is commit number 14 for UGA's 2015 recruiting class. The 3-star recruit from Marist chose UGA over UVA, Tennessee, Miami, and Georgia Tech, among others.