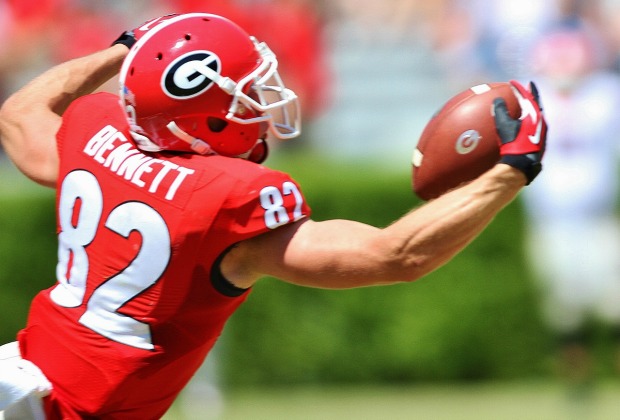 Rob Saye
The Georgia Bulldogs held their annual spring game on Saturday at Sanford Stadium. The Bulldogs were split between the Red team and the Black team. The Red team featured the first team offense and the second team defense while the Black team was led by the first team defense and the second team offense. And it was the Red team that came out on top 27-24.
With the spring game it's not about which teams wins or loses, it's all about getting better before the regular season begins.
One player that looks like he has gotten better since the end of the 2013 season is Hutson Mason. He was flawless in the first half and had no issues taking complete control of the offense. He finished the day with 241 yards and one touchdown pass to Reggie Davis in the second quarter.
"Hutson did a nice job like he's been doing all spring long," Head coach Mark Richt said. "I thought he stood in the pocket and delivered it well and bought some time back there. I thought he did a nice job overall."
Another player that looks like he's in midseason form is Todd Gurley. He had six carries for 32 yards along with three catches for 38 yards. He also had one rushing touchdown for the Red team.
On the other side, quarterback Faton Bauta was the key player for the Black team as he threw for two touchdowns passes in the fourth quarter and finished with 232 yards along with 35 yards on the ground.
"We threw the ball a lot, so I had to stay in the pocket," Bauta said. We had good protection and the guys up front did a good job."
One of his favorite targets was Clay Johnson, a sophomore wide receiver that caught five passes for 75 yards.
"It was fun, and I'm glad to play in a game atmosphere," Johnson said. It was hot out there do it was tough playing no-huddle."
Running back A.J. Turman was also strong as he rushed for 32 yards on nine carries had two total touchdowns. He also had two receptions for 20 yards.
Another player that did some good things on the Black team was Leonard Floyd. He was able to constantly apply pressure and run over offensive lineman in the process. He finished the day with six tackles and two pass breakups. Cornerback Aaron Davis was another defensive player that made an impact as he picked off a Brice Ramsey pass in the fourth quarter and forced a fumble.
One of the things fans wanted to see is what the offensive line will look like. The first team consisted of David Andrews, Greg Pyke, John Theus, Brandon Kublanow and Kolton Houston. However, Mark Beard would rotate in at guard and tackle, which would led to different looks on the line.
Another position that garnered interest is backup quarterback. In the second half, Ramsey took some snaps with the red team while Bauta was still working with the Black team. And while Bauta had the better numbers, there is still plenty of time for Ramsey to get back in the mix.
"[Faton] showed what he can do athletically, and I thought he did a nice job," Richt said. "Brice struggled a little bit today with his accuracy. He threw a couple of balls that shouldn't have been thrown."
Ramsey was 2-of-13 for 78 yards and one interception.
The most notable defensive player was Amarlo Herrera. The senior linebacker tallied six tackles, two tackles for loss and two sacks for the Black team. Ramik Wilson, who led the SEC in tackles last season, finished with three tackles and one pass breakup.
The end of the spring game does not mean practice is over. The Bulldogs will have a few more practices next week and will break until August for the start of preseason camp. And while there is still a lot of work to do, Richt was glad over 46,000 fans came to see the Bulldogs scrimmage and he was also glad to see the outcome of a competitive spring game.
"I thought it was a great day for Georgia football and the University of Georgia," Richt said. "I thought it was a pretty clean played game."