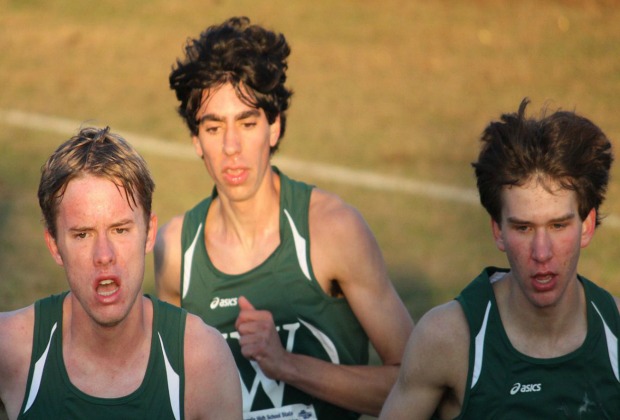 GHSA
Peachtree Ridge, ranked No. 7 in the boys Class AAAAAA rankings, won the UGA Bulldog Invite on Sept. 1 in Athens. The Lions edged Class AAAA No. 1 Marist by one point in the event. Peachtree Ridge runner Josh Brickell clocked a time of 14:53.77 to win the race, while Marist harrier Michael Thurston came in second. Class AAAAAA No. 3 Norcross finished in third place, Class AAAAA No. 4 Flowery Branch took fourth and Class AAAAA No. 3 Pope took fifth place.
On the girls side of the UGA Bulldog Invite, Class AAAAAA No. 1 Walton won as four individual runners finished in the top 19 overall in the 23-team race. Norcross runner Katherine Yost finished in first place individually, more than 30 seconds ahead of second-place finisher Leanne Zimmer of Lambert. Class AAAAAA No. 4 Peachtree Ridge came in second in the race and Class AAAA No. 1 Marist came in third.
In the Landmark Cross Country Invitational, the Class A No. 5 Mt. Paran boys took first place ahead of South Paulding, McEachern, Our Lady of Mercy and Class A No. 2 Landmark Christian. Mt. Paran's Joey Carr won the individual title and was followed by John Raville of Our Lady of Mercy, Cory Nichols of McEachern, Caleb Teachout of Pike County and Michael Williams of South Paulding.
In the girls meet at Landmark, the top-ranked hosts took first place behind individual winner Kathryn Foreman and three total racers in the top six. Class A No. 10 Our Lady of Mercy took second, Mt. Paran took third and South Paulding took fourth.
The Class AAAAAA No. 6 Harrison girls finished fifth in the Brooks Memphis Twilight Classic on Saturday. The Hoyas were led by Elyse Bray, who came in 28th. At the same meet, the Harrison boys came in sixth. Adam Watt paced the Hoyas in finishing 28th.
Cross Keys swept the DeKalb Schools Cross Country Meet at Druid Hills Middle School Thursday. The Indians edged Clarkston, Arabia Mountain, M.L. King and Stephenson on the boys side and Arabia Mountain in the girls race. Hussen Sadik of Clarkston won the boys race ahead of Juan Garcia of Cross Keys, Leiso Tumbo of Clarkston and Muhozi Aimable of Clarkston. Sophomore Patricia Alvarez of Cross Keys won the girls race.
In volleyball action, Class AAA No. 1 Blessed Trinity is off to a school-best 20-0 start. The Titans won the Choo-Choo Classic in Chattanooga this weekend in winning 10 matches against solid competition. Coach Paul Stevens' squad is now ranked No. 85 in the nation by PrepVolleyball.com, behind only Walton (No. 36) amongst Georgia teams. The Titans met and defeated the Class AAAAAA No. 1 Raiders 25-10, 25-22 earlier this season.
In Northview's 2-0 win over Class AAAAA No. 6 Sequoyah on Thursday, Amanda Dachs had eight kills, Rachel Rice had six kills and Kelly Rockers had 18 assists.
Class AAA No. 3 St. Pius split eight matches in the Ironman Tournament in Huntsville, Ala. The Golden Lions beat Class AAA No. 2 Woodward Academy in the tourney 25-18, 28-26. St. Pius defeated Hartselle, Ala., Guntersville, Ala., and Bob Jones, Ala., while losing to Ravenwood, Tenn., Brentwood, Tenn., Huntsville, Ala., and Grissom, Ala.
In the Huntsville tournament, Woodward Academy defeated Bob Jones and Cookeville, Tenn., while losing to Centennial, Tenn., Huntsville, Brentwood and Guntersville in addition to the Golden Lions. Sydney Cooper led the War Eagles in the tournament with 42 kills while Rachel Ware had 34, Lindsey Johnson had 29 and Lexie Norfleet had 28. Norfleet and Maddie McCool led Woodward Academy with six service aces. Elizabeth Muse had a team-best 31 digs in the tournament.