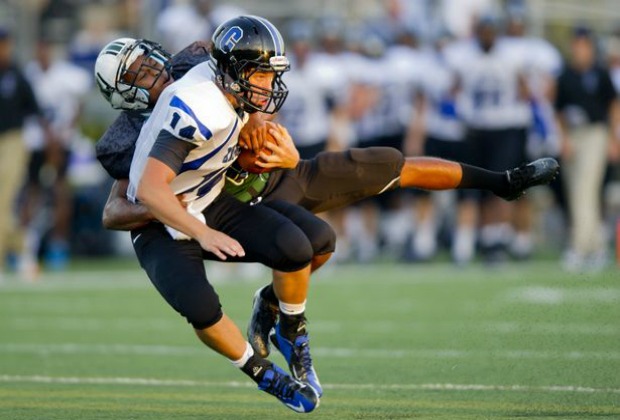 Elisa Herring
The Roswell Hornets and Etowah Eagles have both gone through coaching changes over the past two seasons with Justin Sanderson taking over at Roswell before the 2011 season and Dave Svehla taking over the Etowah program before this year. Sanderson suffered through a rough first year on the job before rallying to win the opening game of the year. The turnaround can likely be attributed to a renewed focus and a sense of urgency displayed each day at practice over the summer.
"The players have shown great leadership and have worked hard every day to improve themselves and get the bad taste of 2011 out of their mouths," said offensive coordinator John Ford. "They are competing and working to win each day."
The offense is led by quarterback Ryan Monty, running back Andrew Kwateng and a seasoned offensive line. Kwateng posted 236 yards in the season opener against Centennial, a 42-13 Roswell win, and Monty has played well through the first four games of the year. Kwateng has eclipsed the century mark in Roswell's first four games while Monty has found the end zone with his legs and his arm. Kwateng nearly ran Roswell to a victory last week against Milton, churning up over 250 yards on the ground with three scores. Bennett Barton was expected to have a strong season at receiver and he has not disappointed so far, hauling in one score against Lambert and another against Johns Creek.
Defensively, look for Scott Simons to be strong up front with Richard Delphin and Grant Deidel making plays from the linebacker spot. Alex Brandeis and Toby Scott will be playmakers in the secondary.
NEW-LOOK EAGLES
Etowah has switched to the I-formation under Svehla after running the veer under former coach Bill Stewart. Jakob Hassan anchors the offensive line with Reeves Johnson under center. Johnson had a touchdown pass to Bryce Coroi against Lambert and the two would hook up again on a 23-yard score against Centennial. The running game also found traction against Centennial as Brandon Engle rushed for 102 yards on 15 carries and Stanlee Logue and Raishod Devezin each scored as Etowah piled up 265 yards on the ground. Johnson had to leave the Pope game with a right leg injury, so it will be interesting to see if Robbie Knox and John Oliver can continue to find magic in the passing game.
Defensively, Michael McCauley leads an Eagle attack that also features Maveric Rechsteiner, Pierce Blanchard, Ayden Bonilla and Ben Rowell.