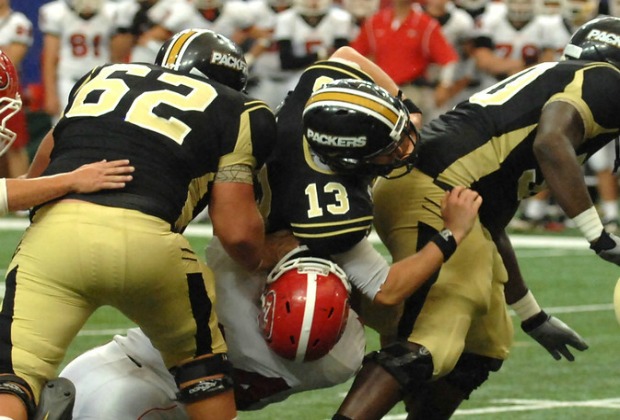 Sonny Kennedy
The Lassiter Trojans are ready for the third East Cobb Super Bowl this Friday (on GPB.org), but the highly anticipated quarterback battle between Lassiter's Eddie Printz and Walton's Parker McLeod will have to wait until possibly the playoffs. After missing Walton's 24-7 win over Woodstock two weeks ago, McLeod faced Cherokee last week and suffered an injury that could keep him out for 4-6 weeks. Likely starting in his place will be junior Price Wilson, who was 14-for-19 for 142 yards and one score against Woodstock. Tyren Jones ran for 129 yards in that win over Woodstock and followed it up 184 yards last week against Cherokee as he is now over 1,000 for the season. Wilson did not attempt a pass in the win over Cherokee.
After Colquitt County's Rush Propst said the Packers "out-physicaled" Lowndes in last year's win, the Vikings made sure that wouldn't be the case this season. Lowndes managed just 219 yards, but held Colquitt County to only 164 in the 17-14 victory. The Vikings also sacked Colquitt County quarterbacks five times and picked off three passes.
While it looks as though the University of Georgia is happy with its field goal kicker, perhaps one of its current recruits could audition for a role as backup if the quarterback position doesn't work out. Camden County's Bryce Ramsey nailed a 35-yard field goal in the Wildcats' 43-6 win over Valdosta. Ramsey and teammate J.J. Green, who returned the game's opening kickoff 95 yards for a touchdown, have both committed to Georgia. Ramsey passed for 109 yards and two scores while Green also recorded a rushing touchdown. Camden County has now won 90 straight region games over Region 3-AAAAA and Region 1-AAAAAA combined.
Crisp County entered its game against Dougherty 0-4, having been shutout in each of its first four games. Senior Roy Hamilton made certain that the Cougars would dent the scoreboard with an early score and the defense also chipped in with a score en route to a 28-8 win.