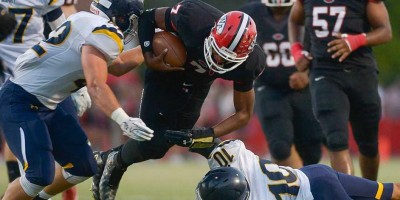 By: Craig Sager
The game of football has experienced a lot of changes since the last time I suited up a decade ago with everything from technology, advancements in equipment, analytics, sports science, rule changes, nutrition, offseason regimens, concussion protocols and other increased safety measures all driving its evolution over this span. When I was playing varsity football back in 2003-05, coaches still had to physically meet up with other coaches at an agreed upon location to trade game film after each game. Hudl did not exist either and creating a highlight tape as a player was quite the process at that pre-digital time. I often think about how dramatically different my own experience of playing football would be if I were in high school playing in today's world. Now, I am trying to imagine what it would be like to be a high school football player right now during this pandemic and what my mindset would be in regards to the added risks is creates.
Following high school, I walked on at the University of Georgia for three seasons. While I was there, I pushed my body to the limit physically and had suffered from a ton of different injuries by the time I was done playing. There has never been a time in my life where I was less concerned for my safety. As a walk-on, I had a 'whatever it takes' attitude—especially because I knew that being injured or sitting out of practice could jeopardize my spot on the team. I know now that I could've been much wiser about my approach and much more responsible about my health and safety. At the time, however, I do not think anything could have changed my mind and I would be more concerned about catching the football than I would be about catching this coronavirus if it had existed when I played.
I did not start a football game until midway through my senior season of high school and graduated with a grand total of six career catches and zero touchdowns before I boldly decided that I would do whatever it takes to play college football. If not for my senior season, I would have never experienced starting in a football game, I never would have gained the confidence to keep playing and I would have ended my playing career without ever catching a football in a football game. If this upcoming season were to be cancelled due to the virus, I would be especially heartbroken for all the seniors and seeing all the seniors that had their spring sports seasons cancelled during this past semester remains deeply upsetting.
Strategies to make sure that sports happen this fall are being talked about throughout the country right now. The first steps that will be laid out will be created specifically to give teams the invaluable acclimation phase this summer. Certainly, there will risks during this time with the potential spreading of the virus, but I also think that there will be a phased approach that will lead players and coaches into that period. Working on position specific drills or following potential protocols like participating in workouts with just 25 percent of my teammates rather than the entire team at once in order to reduce the risks would be a mild interruption if I were a student athlete going through it. I think it would also make me feel less vulnerable to catching the virus if we were adhering to the new policies and I'd see it as a practical way to navigate this situation.
Playing football games and having full contact practices during a global pandemic would be a much different set of concerns. For starters, the possibility of having a teammate test positive and the possibility of myself testing positive and potentially missing out on a game or games would be an incredibly stressful thing to have to worry about during a season. This situation could clearly produce massive disruptions during a season and coaches would have to plan for a variety of scenarios that no other season has had to consider. That being said, I also know that being able to play the game would be more gratifying than ever and that working hard with my teammates to win football games this fall would be a rewarding escape from all the challenges that this pandemic has caused.
Coronavirus aside, I believe that the game of football has never been safer than it is right now and that is because the health and safety of players has become such an emphasis from the NFL all the way down to pop warner. I think there is a way to ease into the acclimation period this summer and then start the football season on time. My chief concern is the possibility of massive disruptions occurring once the season starts. It is not hard to consider how an uptick in cases this fall in the state, within a certain geographical area, in a certain school or among a team could bring the season crashing down.
As a high school athlete, you can only control what you can control. It is much more difficult to be the coaches, teachers, parents or administrations that are responsible for looking out for the health and safety of its students—especially during this ongoing crisis. Still, I have confidence that all these forces can come together this fall to go forward in the safest way possible and if we dedicate ourselves to our approach and give it our best efforts, then we'll have nothing to regret.