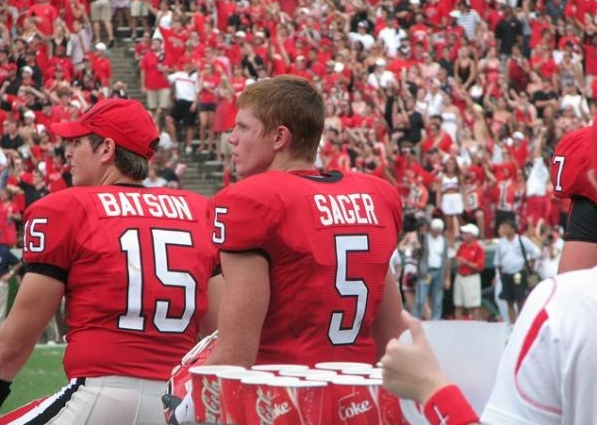 Craig Sager II was born and raised in Atlanta and has grown up in the world of sports. He earned his degree at Grady College of Journalism and Mass Communication at the University of Georgia, where he also walked on the football team for three seasons (2008-10). Craig has worked for Score Atlanta since 2012 and has performed the duties of managing editor since the 2014 high school football season.
Eight years have passed since I put on a Georgia football uniform for the first time at the annual G-Day spring scrimmage. With each passing year, I seem to yield more lessons from my experience as a walk-on, and by now, it has become clear to me what worked and what didn't work during this chapter of my life. How did I go from proudly running out of the tunnel for the first time eight Springs ago, to feeling sick to my stomach watching a football game for almost a year after my playing days at Georgia were over? How did the fulfillment I felt as I took my first steps between the hedges of Sanford Stadium evaporate by the time I left? And how did my original joy and pride resurface years later? Let me try to explain.
Participating without a purpose is meaningless and unfulfilling. In order to take something away from an experience, there must be a purpose to your participation. That sounds simple, but getting stuck going through the motions is a habit that the most driven and goal-oriented people can fall into when they start to focus only on finish lines and not on the purpose of each action. (Just look at most failed relationships).
Having goals and having dreams can seem like the essential source of our inspiration, but my experiences taught me that the purpose or intent we put into each action is the most rewarding facet of our lives. Placing more meaning in the 'little things' and present moment, rather than the goal itself is not only more rewarding, but it is the most effective way to improve as a player and person.
Purpose provides seed-like guidance to our growth and can illuminate meaning in all areas of our lives. What do I mean by a seed-like guidance? Plant a pumpkin seed and that seed contains all the systematizing power within it to grow into a pumpkin and nothing else. It may rain, it may storm, there could be other seeds all around it and the seed may never physically reach its full potential due to the endless obstacles life can throw its way, but that seed is still fated by its underlying purpose or path no matter what gets in its way- To be a pumpkin. Purpose can guide our actions and shape the world around us with that same capacity. Purpose is the seed that grows into an accomplished goal.
Hard work feels rewarding when it's over and accomplished, but then the cycle starts over again with the next 5 a.m. wakeup call. A purpose must be more than just working hard and getting on the playing field. A purpose can and should be more than just getting the grades to graduate (going through the motions). We have to start going a step further in our lives and crafting our fulfillment. Each day, each drill and each action can have meaning that transcends the temporary rewards when you craft that approach correctly. Goals are easy to see and obsess over, but the most successful athletes and people consciously focus their attention on bringing purpose to the little things to get the most out of them. The difficult days and the successful days will all provide priceless empirical lessons for growth with this understanding.
LOST DAWG…
I always had goals ahead of me, but my college football experience lost meaning when I only focused on the goals, and what I thought I still had to prove. My attention was never on the experience itself and I spent everyday unknowingly distancing myself from my own enjoyment. After my second season ending surgery, I was so determined to prove that I was back to full strength, that it consumed my every thought. I began to worry about my health from all my injuries and my professional future when the stress of graduation grew with each passing day.
Rather than deliberately adapting to a more balanced set of goals, my goals had to grow bigger and bigger to invoke the same passion that once encompassed every football-related thing that I did before I got to the University of Georgia. Otherwise, my heart was not in it. I went full speed ahead down this path and improved in size, speed and strength, despite the long list of physical setbacks I had to overcome. I never felt any lasting sense of enjoyment as I went through the motions of team film and monotonous drills. The more I focused on my goals, the further away they seemed and the worse off everything around me began to seem. I had so much to prove to myself with my window of opportunity getting smaller each day and I could not ignore the inevitability of my dwindling time.
Once I had battled my way back to the playing field for my last season, I tore my shoulder on the final play of practice before the LSU game trying to crack block NFL sack master Justin Houston. I had the best week of practice of my entire career leading up to the play and even earned my first scout team player of the week (although I was robbed several times).
Deep down, I knew that there was a good chance I was never going to be able to play again. Months later, I was recovering from the subsequent shoulder surgery hoping to give it one last try. I was doing belt squats during practice with the other injured players. The weight was positioned at my waist because I could not put a bar on my back yet with my healing shoulder. I had destroyed my body by having to do leg workouts everyday and I was pushing myself way too hard physically and mentally. As I went to stand up with the contraption of six 45-pound plates swinging at my hips, my left knee buckled. I felt my kneecap slide and lock up as my meniscus tore. I fell to the floor in a heap of chains and rusty iron plates. This was the last workout I ever did at the University of Georgia.
Before I arrived in Athens, my only goal was to have the experience and the experience itself filled my heart with joy and excitement for the next day, and the next day, and the next day of opportunity. Once I knew this routine inside and out, I shifted focus on breaking weight room records and trying to knock the hell out of someone. I always wanted more and every routine day of practice and rehab that I spent trying to prove my body was healed and back to full strength became less fulfilling than the previous day. Any day where I did not prove something spectacular or see a measurable improvement, was a day of failure in my mind. My football career spiraled into an exhausting chase of the initial high I felt making the team for the first time and running out of that tunnel. I was convinced that only a touchdown or something 'heroic' would bring me back to that feeling, and I'd consume this belief as I gripped all the weight I could and ran fearlessly into collision after collision.
I think back to my life before college football when my only goal was to make the team and when every action and everything I did to reach the goal was driven by a purpose to improve any possible way I could. Every football game I watched on television was an opportunity to learn and every trip to the gym was an opportunity to prepare myself for that first snap at spring practice I dreamed about day and night. Even turning the corner of a hallway, or walking up a flight of stairs could seem like breaking off a dig route or striding into the end zone when you were as dedicated as I was to achieving this initial goal. There really was meaning in everything I did.
I know that other athletes get lost down similar paths and it is why so many struggle when they have to walk away from the game. There is so much to learn and grow from in the world of sports, but individual goals and thirst for short-term success is a path to a harsh wake-up call. When I started covering football again in 2011, my restoration process began. I was able to associate football with something positive again. It was amazing how quickly my positive memories began to resurface and the failures that I thought defined my experience became nothing more than lessons for me in the real world.
I watch thousands of high school athletes go off to college each year to work towards similar goals and dreams that I once had. I wonder how many will have what it takes to continue to find meaning in their actions through the ups and downs. How many will be able to handle the external and internal pressure of collegiate sports and just enjoy the ride? How many will let their goals consume them and overshadow the joy of the experience?
So for those taking this step, remember that without purpose to your participation, your participation will be purposeless to you. Also, remember that even our past can change when we change the way we choose to see it.