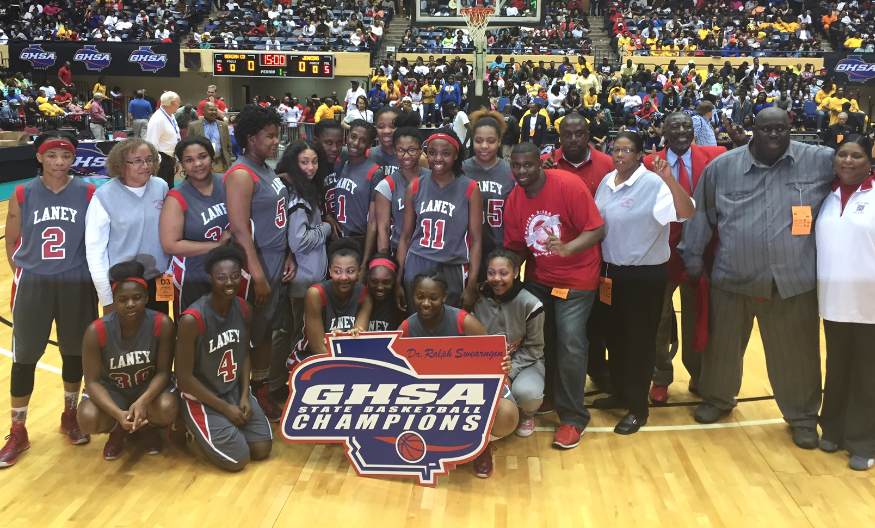 Photo by Craig Sager II
AAA Girls: Laney 70, Beach 55
Laney's Aliyah Collier put together another incredible postseason performance as the Wildcats outpaced Beach 70-55 for their first-ever state title.  Collier netted a game-high 24 points and added a career-high 19 rebounds. The senior also added eight assists, seven steals and four blocks.
"She [Alliyah] is ready for the next level," said Laney head coach Otis Smart following the game. "She is a great leader, a great teammate and her effort is even  better."
Collier's surrounding cast got going early and the Wildcats took a 19-11 lead into the second quarter but once Beach started to chip away at the lead in the second quarter, Collier would time and time again be the answer. Collier finished with 11 of the team's 13 final points in the first half and found Gemyia Brown for one of her eight assists for the other two points.
With a 35-21 lead entering the third quarter, the momentum quickly shifted as Beach piled on a 13-2 run in the opening 6:39 of the quarter. Aubriana Bonner took back-to-back steals in for Laney layups to kill the scoring run and Collier added a late free-throw to maintain a 44-35 Wildcats' lead.
Beach brought it within six points (53-47) after one of Ilyn Spann's three made three-pointers but the Wildcats outscored Beach 17-7 to ice the game. Laney netted 26-39 free-throw attempts as Collier led the way with 16-of-20 shooting. Beach used 7-of-14 shooting from beyond the arc to make up for the discrepancies in points in the paint (Laney 32-18) and fast break points (Laney 12-2). . Jacqueline Anderson finished with 22 points to lead Baech and Spann finished with 15 before fouling out midway through the fourth.
De'Sha Benjamin (18) and Bonner (16) joined Collier in double-figures for Laney.
AAA Boys: Jenkins 62, Morgan County 60
Senior Eric Johnson drove left and hit a contested left-handed layup with 3.6 seconds remaining to lift the Warriors (29-3) to their first ever state championship, 62-60. It was an intense atmosphere from the tip. Morgan County star Tookie Brown went to shake Georgia State-signee Malik Benlevi's hand pregame, but it went unacknowledged. Brown then nodded as to recognize that the following 32 minutes would be an all-out war.
Just a minute into the game, Benlevi who wore a knee brace after injuring his knee earlier in the season, took a jumper and came up lame, grimacing and limping on the court. He subsequently would be subbed out and had his ankle worked on instead of his knee much to the relief of everyone in attendance. Benlevi returned at the 4:17 mark with Jenkins down 7-3. The Warriors trailed 19-9 after the first quarter while struggling to contain Mississippi State-signee Tookie Brown. The electrifying Brown who scored 36 in last season's state championship, got off to a hot start for defending champion Morgan County (24-8). A steal and a coast-to-coast dunk highlighted the action in the first quarter with the Bulldogs attempting to play above the rim. Morgan County closed out the quarter on an 8-3 run.
Less than a minute into the second quarter at the 7:22 mark Benlevi, now healthy, threw down a dunk for his first points of the game. The Warriors would go on to outscore the Bulldogs 18-10 in the second quarter to cut into the Morgan County lead heading into the half at 29-27. Jenkins managed to hang around thanks to the three ball. They canned five of their nine 3-pointers led by Eric Johnson and Dimetri Chambers. Morgan County negated all of Jenkins' three pointers by dominating the paint. The Bulldogs outscored Jenkins 20-to-10 in the paint and took 10 trips to the foul line while Jenkins took none.
The Warriors carried their momentum from a successful second quarter into the third. They trailed 31-27 before ripping off a 17-3 run to find themselves in front 44-34. Jenkins' grabbed its first lead since the first quarter after Eric Johnson scored a basket at the 4:51 mark. The complexion of the game changed at a crucial juncture with 1:46 remaining in the third. Morgan County trailed 37-34 when Tookie Brown attempted to make a play on a jump ball toss at half court. He collided with Jamori Bryant and was whistled for his third foul. Displeased, Tookie could not control his emotions before he was tagged with a technical foul which counted as his fourth personal. Bryant calmly stepped to the line and sank four consecutive free throws. The Warriors also retained possession after the technical and made Morgan County pay even more. Dimetri Chambers, who finished with 12 points, drained his third 3-pointer to give the Warriors a 44-34 lead after a 7-point possession. Jenkins would head into the fourth up 46-39 after outscoring the Bulldogs 19-10.
Before the fourth quarter, the leadership and confidence emerged from Johnson. "I told the team there's eight minutes left in your high school career, how do you want to do it?" Jenkins would have to withstand one last flurry from Tookie and the Bulldogs. The fourth quarter which has been deemed "Tookie Time" by Morgan County fans and spectators alike, witnessed the diminutive dynamo heat up again. Brown, who finished with 25 points and nine rebounds, hit and and-1 in the lane and fouled out Trevion Lamar at the 5:09 mark. Minutes later Brown pickpocketed Nick Severado at midcourt and finished at the other end to cut the Jenkins lead to one, 54-53 with 2:45 remaining.
After a Malik Benlevi scored two of his 12 points with just over two minutes left, Tookie Brown slashed to the bucket and fouled out Severado, who scored all six of his points in the second period.  Brown converted both free throws and locked the game up at 57 with 1:12 remaining. Johnson would get fouled with one minute left and would split his pair of free throws for the second time late in the game. Malik Benlevi would connect on two at the line to give the Warriors a 60-57 lead with 44.7 remaining, but Jailyn Ingram, who finished with 18 points and eight rebounds, would convert an and-1 to tie the game with 31 seconds.
That set the stage for Johnson. After Johnson struggled at the line, he told Coach Bakari Bryant, "Let me redeem myself". He would do just that as he laid the ball up off the glass for his team-high 17th-point of the night. Asked afterwards about the chance to live out a dream and score the game winning bucket to win a championship, he said "I told coach give me the ball and I'll find a way to make a play".
With 3.6 seconds to go Morgan County had one last gasp, but Jailyn Ingram threw an errant pass out of bounds and Jenkins would regain possession and dribble out the clock after the inbounds. Head Coach Jamond Sims was proud of his Morgan County group even though they came up short. "We played hard. I love my guys. My senior class won over 100 games." Though Tookie Brown scored 25 points, it did not come easily as Jamori Bryant and Eric Johnson held him to just 7-of-21 shooting. Devorious Brown stepped up big time for the Bulldogs as Tookie struggled to find his stroke. Brown would finish with 12 points and 12 rebounds which included a thunderous dunk. The Warriors' calling card all season had been their defense and they brought home their first ever state championship after forcing 16 turnovers and keeping one of Georgia's most prolific scorers in check.
Eric Johnson with the game winner for Jenkins!! 62-60. 17 points in the win for EJ. pic.twitter.com/SyA6EirmCx

— Kyle Sandy (@KyleSandy355) March 8, 2015