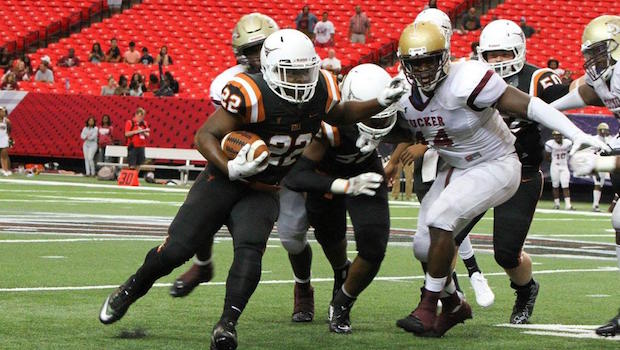 Dre Houston of Kell carries the ball in last year's Classic vs. Tucker. Credit: Kell HS
Kell and Tucker, which meet at 9 a.m. Saturday morning at Georgia State Stadium, squared off in last year's Corky Kell Classic in what marked their first-ever meeting. Kell went on to take a 20-13 victory in that Saturday showcase at the Georgia Dome, but it was Tucker that would find its way back to the Dome by winning its next 13 games. The Tigers dominated the regular season, including a hard-fought 21-20 win at Colquitt County on Sept. 3. They later survived a playoff gauntlet that included Harrison, Mays and Northside-Warner Robins to set up a showdown with Valdosta in the Class AAAAAA championship but suffered a 17-7 loss.
Meanwhile, Kell strongly contended for Class AAAAA's crown and produced a stellar 11-3 season and trip to the semifinals. A 34-14 loss to Carrollton in Region 7-AAAAA play during the regular season, however, was worsened by a three-way tie it forced with Carrollton and Rome for playoff seeding. Kell, which defeated Rome 33-30 in the regular season, lost the tiebreaker and took a No. 3 seed into the postseason, while Rome took the top seed. The Longhorns survived their first three road playoff tests, but their fourth-straight road trip sent them to Buford, while Rome hosted Stockbridge in the semis. Kell fell to Buford 28-16 and later watched as Rome celebrated its first state championship.
After reaching the playoffs in each of his nine years as Kell's head coach, Derek Cook has passed the torch to Brett Sloan to lead the Longhorns. The former Walton assistant takes over after serving as the Raiders offensive coordinator and quarterbacks coach the past two seasons. Before coming to Walton, Sloan spent five seasons at Chapman High School in South Carolina and also worked with former Walton head coach and current Colquitt County defensive coordinator Mo Dixon at Byrnes High School in the Palmetto State. Sloan aims for continuity and will continue to run Kell's spread offense with Jonathan Gordon retaining his position as offensive coordinator. Gordon has been on the Longhorns staff for 10 seasons, and this past season he earned his second Cobb County Touchdown Club Offensive Coach of the Year honor.
The offense's biggest test this offseason has been priming a replacement for John Lampley at quarterback and preparing for a more up-tempo pace. Wide receivers Michael Luckie and Zane Williams will certainly open up the playbook and add much-needed firepower. The defensive side of the ball is coordinated by Joe Tousignaut for the fifth-straight season. Tousignaut will have to find a way to replace the production of Class AAAAA Defensive Player of the Year Solon Page III this season. The Tennessee Vol produced a team-high 161 tackles with 22 tackles for loss, an interception and four forced fumbles last season. This is nothing new to Kell, however, as Page was the fourth Kell defender to win Player of the Year honors since 2010.
Bryan Lamar carries a 55-13 all-time record into his sixth season as Tucker's head coach. Tucker has made the playoffs 10 straight seasons and has had at least one playoff victory in each of the 10 postseason berths. Last season marked the fourth time since 2008 that Tucker has advanced to the state finals.
Tucker is not only a perennial playoff machine, but is a factory for collegiate talent and weekly display of Georgia's wealth of prospects. Dylan Wonnum is one of the top-ranked offensive tackles in the nation at 6-foot-5, 279 pounds. At receiver, Tucker features 4-star Josh Vann, who is ranked by 247 Sports as the No. 20 overall prospect in the state. Linebacker Michael Harris is a 6-foot-2, 213-pound Auburn commit who transferred after an all-state junior season at Lovejoy. Harris registered 137 total tackles and strengthens an already loaded defense. Cam'Ron Carter, Antonio Showers, Gerry Vaughn and Tre Leslie are all highly recruited linebacker prospects. Malachi Buckner is a 6-foot, 185-pound safety, and defensive tackle Terrell Paxton is also on the recruiting radar. Taurean Taylor returns to the backfield after leading Tucker with 93.9 rushing yards per game and running in 16 touchdowns last season.