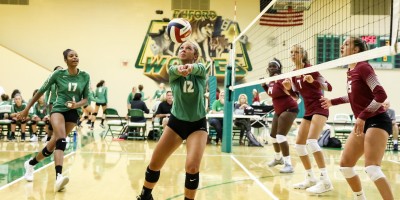 David McGregor
On the football field, the Fitzgerald Hurricanes held Early County to just 3 points to claim the 21-3 win and pick up their third region win of the year. They remain undefeated in class AA region 1. North Atlanta came out on top of a 47-32 barn-burner with Dunwoody to claim their second region win of the season. Whitewater took on Riverdale as the Wildcats searched for their first win of the season. On the opening kickoff, Whitewater's Adavion Ray's solid kickoff return helped set up Senior Elijah Roland for a 5-yard rushing score. Riverdale was quick to answer with a two-play drive to tie the game that ended with a score from Junior Phalon Daniels, but Roland struck again on the next possession for his second score of the night. Riverdale scored again with a 32-yard run from Daniels but failed to capitalize on the point after to kept Whitewater ahead by 1. Before the first half could end Whitewater tacked on two more touchdowns from Roland and Hunter Williams to go up 35-13.
Now in the third, Riverdale's offense began to click in part to a quarterback change to Sophomore Fred Collins. The Raiders scored on back-to-back possessions to come within eight before taking the lead with a rushing score from Sophomore Derwin Burgess Jr. to go up 35-33 heading into the fourth. Riverdale put the game away with Daniels third touchdown of the night with 3:48 left in the game. The Raiders' 36 unanswered points in the second half proved to be enough to hold Whitewater from achieving their first win of the season.
On the volleyball court, the state volleyball championship first rounds sent some unfamiliar faces to the sweet sixteen. Lumpkin County defeated Ringgold 3-1 to advance past the first round for the first time in school history. After winning last year's class AAAAAA state title, the Harrison Hoyas fell to Pope 3-0 after knocking them out of last season's semifinals. Trinity Christian defeated St. Vincents, last year's class AA runner up, to advance to the next round where they'll face off against Holy Innocents'. Effingham County advanced to the elite eight in last season's class AAAAAA championship, but fell short this year to Greenbrier by a score of 3-2.
Saturday Final Scores
Football
B.E.S.T. Academy 36, McNair 25
Fitzgerald 21, Early County 3
Hephzibah 33, Laney 6
North Atlanta 47, Dunwoody 32
Riverdale 49, Whitewater 35
Volleyball
Allatoona 3, Chattahoochee 0
Alpharetta 3, Sequoyah 0
Apalachee 3, Tri-Cities 0
Armuchee 3, Dade County 0
Athens Academy 3, St. Francis 1
Atlanta International 3, Brookstone 0
Blessed Trinity 3, Ridgeland 0
Brookwood 3, Peachtree Ridge 0
Buford 3, Southwest DeKalb 0
Calhoun 3, East Jackson 0
Calvary Day 3, Strong Rock Christian 0
Carrollton 3, North Springs 0
Cartersville 3, Madison County 0
Chamblee 3, Johnson-Gainesville 0
Columbus 3, Luella 0
Coosa 3, Gordon Central 0
Creekview 3, Dunwoody 1
Cross Creek 3, Spalding 0
Decatur 3, Kell 0
Drew 3, Northside-Warner Robins 0
Eagles Landing Christian 3, Savannah Country Day 0
East Coweta 3, North Paulding 0
East Hall 3, Lakeview-Fort Oglethorpe 0
Eastside 3, Shaw 0
Elite Scholars Academy 3, Union County 0
Etowah 3, Tift County 0
Fellowship Christian 3, Prince Avenue 0
Gainesville 3, Douglas County 0
Glynn Academy 3, Evans 0
Gordon Lee 3, Model 0
Grady 3, Rome 2
Greater Atlanta Christian 3, Groves 0
Greenbrier 3, Effingham County 2
Harris County 3, Dutchtown 1
Hebron Christian 3, Mt. Bethel Christian Academy 0
Holy Innocents' 3, Stratford Academy 0
Houston County 3, Mt. Zion-Jonesboro 0
Islands 3, Redan 0
Jackson 3, Savannah 0
Jackson County 3, Sonoraville 0
Jefferson 3, Adairsville 0
Jordan 3, Chattahoochee County 0
Kennesaw Mountain 3, Westlake 0
LaFayette 3, White County 0
Lake Oconee Academy 3, Therrell 0
Lakeside-Evans 3, Brunswick 0
Lakeview Academy 3, Pinecrest Academy 0
Lambert 3, Archer 1
Lassiter 3, Lowndes 0
Lee County 3, Lovejoy 0
Locust Grove 3, Warner Robins 0
Loganville 3, Clarkston 0
Lovett 3, Southeast Bulloch 0
Lumpkin County 3, Ringgold 1
Marist 3, Gilmer 0
McIntosh 3, New Hampstead 0
Mill Creek 3, Lakeside-DeKalb 0
Morgan County 3, Haralson County 0
Mt. de Sales 3, Galloway School 0
Mt. Paran Christian 3, George Walton Academy 0
Mt. Vernon Presbyterian 3, First Presbyterian 0
Newnan 3, Hillgrove 0
Norcross 3, Mountain View 0
North Cobb 3, Wheeler 0
North Cobb Christian 3, Providence Christian 0
North Gwinnett 3, Parkview 0
North Hall 3, North Murray 0
Northgate 3, Dacula 0
Northside-Columbus 3, Druid Hills 0
Oconee County 3, Central-Carroll 1
Oglethorpe County 3, KIPP Atlanta Charter 0
Pepperell 3, Chattooga 0
Perry 3, Baldwin 0
Pike County 3, Johnson-Savannah 0
Pope 3, Harrison 0
Rabun County 3, Drew Charter 0
Richmond Academy 3, Upson-Lee 0
Richmond Hill 3, Grovetown 0
Riverwood 3, Villa Rica 0
Roswell 3, Camden County 0
Savannah Arts 3, Kendrick 0
Savannah Christian 3, Landmark Christian 1
South Forsyth 3, Shiloh 0
St. Pius X 3, Sandy Creek 0
Starr's Mill 3, South Effingham 0
Statesboro 3, Fayette County 0
Temple 3, Brooks County 0
Thomasville 3, Lamar County 0
Trinity Christian 3, St. Vincents 1
Troup 3, North Oconee 2
Valdosta 3, Morrow 0
Walker 3, Wesleyan 0
Walnut Grove 3, Arabia Mountain 0
Walton 3, Colquitt County 0
West Forsyth 3, Grayson 0
West Laurens 3, Burke County 0
Westminster 3, Windsor Forest 0
Westside-Augusta 3, Dublin 0
Winder-Barrow 3, South Paulding 0
Woodville-Tompkins 3, Butler 0