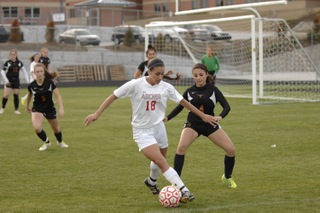 Sonny Kennedy
By Stephen Black, Sean Conway and Fletcher Proctor
While Friday night featured the boys quarterfinals of the state soccer playoffs, Saturday was the girls' day. See who won, how they won, and what players starred for teams in today's action in our recaps.
Class AAAAA
Harrison 1, Mill Creek 0: The Hoyas took advantage of an early free kick as the Mill Creek keeper stopped Monica Herrera's attempt, but Jessica Sperry buried the rebound. Allison Leone would make the lead stand for the host Hoyas as she stopped two shots, both coming off free kicks.
Collins Hill 4, Lassiter 0: Four different Eagles scored and goalie Halla Jibreen kept a clean sheet. Margaret Bruemmer, Mariah Dickey, Taylor Donohue and Paige Hoover also found the back of the net for visiting Collins Hill.
Class AAAA
Marist 7, Greenbrier 1: The visiting War Eagles took a 4-0 first-half lead behind two goals each by Mary Beth Bleekrode and Frances Monardo. Bleekrode would finish with three, while Marie Athaide and Stephanie Krouskos also scored.
McIntosh 7, Heritage-Conyers 1: The host Lady Chiefs jumped out to a 3-0 half-time lead thanks to goals from Amanda Bartholomew, Jackie Gray and Cecily Hartman. Gabby Seiler added an assist and a pair of goals in the second half.
Union Grove 4, Richmond Hill 1: Union Grove scored three times in the game's first 25 minutes and held Richmond Hill at arm's length. Ashley Nagy had a goal and an assist for the visiting Wolverines. Sarah Goolsby scored the Wildcats' only goal.
Whitewater 7, Chattahoochee 0: The visiting Wildcats were led by Savannah Jordan's hat trick and received two goals each from Teegan VanGunst and Brook Colangelo. Goalie Christa Strickland kept a clean sheet with three saves.
Class AAA
Allatoona 4, Woodward Academy 0: Willough Davis tallied four goals as the Bucs bested Woodward Academy at home. Davis broke a scoreless tie with 39 minutes left in the game as Ashtah Das assisted. Davis then scored three goals in the final 11 minutes.
Columbus 1, Heritage-Catoosa 0 (5-4 PK): Anna Scogin made eight saves during regulation and two scoreless overtime periods, leading to penalty kicks. Scogin stopped two more shots for the host Blue Devils before freshman Lane Burbrink buried the game-winner.
Gainesville 1, Carrollton 1 (6-5 PKs): Goalkeeper Rebecca Webster had 12 saves for the host Red Elephants. Laramy Head scored Gainesville's final penalty kick, and Liza Carpenter scored the Red Elephants' only goal in regulation.
Oconee County 2, St. Pius 1: Anna Kate Brown redirected a corner kick from Taylor Andrews with 25 minutes remaining to spark the upset for the visiting Warriors. Goalkeeper Alley Howell keyed the win by stopping 15 shots.
Class AA
Blessed Trinity 4, St. Vincent's 0: The visiting Titans scored all four of their goals in the first half. Maddie Burdick scored first for Blessed Trinity, followed by back-to-back goals by Delaney Fechalos. Julia Gaston scored the Titans' final goal.
Buford 9, Jackson County 1: Lindsey White recorded a hat trick and Ceely Coker added a pair of goals as host Buford dispatched Jackson County. Ann Schmidt and Caitlyn Dawkins also scored as the Wolves notched the game's first eight goals.
Greater Atlanta Christian 7, Dawson County 0: Greater Atlanta Christian was led by Rachel Garcia's hat trick. Taylor Wagnon scored a late goal and provided two assists while Elizabeth White made one save in goal for the visiting Spartans.
Westminster 2, North Oconee 0: The visiting Wildcats controlled possession throughout, as goalkeeper Wyn Ponder was never tested and finished without a save. Ellie Lee and Liza Linginfelter each had first-half goals for Westminster.
Class A
Fellowship Christian 7, Aquinas 0: The host Paladins jumped out to a 4-0 half-time lead, and goalkeeper Anna Sunderland kept a clean sheet with four saves. Emily Sonnett, Ashley Webb and Elizabeth Johnson scored for the Paladins.
First Presbyterian 3, Galloway 0: The Scots' first quarterfinals berth came to an end in Macon as the host Vikings scored twice in the first half. Galloway goalie Aubrey Stone, a senior, played admirably with a whopping 23 saves.
Holy Innocents' 2, Calvary Day 1: Grant Wilmer scored a pair of first-half goals with Julia Bird assisting on each as visiting Holy Innocents' advanced to the semifinals. Wilmer notched her first goal 15 minutes into the first half.
Pace Academy 3, Savannah Country Day 1: Sisters Haley and Lindsey Zwecker led host Pace Academy as Lindsey, a junior goalie, had eight saves while Haley, a senior, scored two goals. Kate Morrisroe scored just two minutes into the second half to break a 1-1 tie.