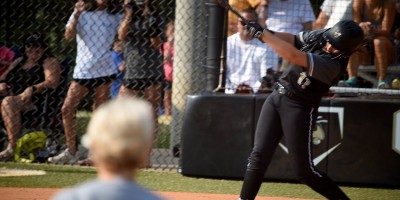 There was action across the state on Saturday night in football, softball and volleyball.
In football, Westlake lost to Florida's Deerfield Beach.
On the court, Hebron Christian defeated Marietta ( 25-14, 25-18). Kennesaw Mountain (25-12, 25-21), Apalachee (31-29, 23-25, 16-14) and McIntosh (25-19, 25-19) got the best of Hebron. Arabia Mountainwon the Conyers Classic silver bracket over South Gwinnett. The Lady Rams won in three sets (25-16, 23-25, 15-5.On the softball field, undefeated Grayson added two wins. The Lady Rams defeated Franklin County (3-1) and Oconee County (9-4).
Football
Deerfield Beach, FL 40, Westlake 16
Softball
Alexander 10, LaGrange 4
Alexander 7, Pepperell 3
Allatoona 4, Archer 3
Apalachee 14, Mary Persons 4
Archer 9, South Forsyth 1
Bacon County 6, Bleckley County 2
Bleckley County 5, Metter 3
Brairwood Academy 10, Effingham County 6
Bremen 13, Hillgrove 7
Bremen 8, Columbus 4
Central-Carroll 6, Columbia 3
Chamblee 10, Mt. Vernon Presbyterian 5
Cherokee Bluff 5, Lanier 2
Coahulla Creek 13, Southeast Whitfield 1
Coahulla Creek 14, Southeast Whitfield 0
Coffee 8, Lanier County 2
Colquitt County 3, Bacon County 2
Colquitt County 6, Lanier County 4
Columbus 4, Flowery Branch 1
Commerce 11, Central Gwinnett 0
Decatur 10, Greater Atlanta Christian 5
East Jackson 5, East Hall 4
Effingham County 4, Evans 2
Forsyth Central 17, Eagles Landing Christian 0
Georgia Military 10, Oconee County 2
Gordon Lee 2, Alexander 1
Gordon Lee 8, Chapel Hill 6
Grayson 3, Franklin County 1
Grayson 9, Oconee County 4
Greenbrier 13, Cross Creek 0
Harlem 11, Thomas County Central 3
Harlem 3, Thomas County Central 2
Jeff Davis 13, Wheeler County 2
Jefferson 5, Ola 4
Jefferson 6, Banks County 0
Johnson County 5, Calvary Day 4
Lanier 8, Monroe Area 2
Madison County 6, Banks County 5
Metter 10, Wheeler County 4
Milton 7, Apalachee 3
North Oconee 10, Elbert County 2
Pelham 17, Turner County 15
Pepperell 8, Flowery Branch 4
Pinewood Christian 9, Jeff Davis 5
Sandy Creek 15, Fayette County 1
Southwest DeKalb 11, Clarke Central 3
Southwest DeKalb 18, Clarke Central 0
Sprayberry 12, Walton 3
Sprayberry 6, Walker 0
St. Pius X 6, Mt. Vernon Presbyterian 5
St. Pius X 9, Chamblee 2
Stephens County 1, East Hall 0
Stephens County 15, Central-Macon 0
Stephens County 2, Georgia Military 1
Tattnall Square 9, Forsyth Central 5
Walton 16, Walker 4
West Forsyth 9, Sequoyah 1
Volleyball
Allatoona 2, Apalachee 0
Allatoona 2, Marietta 0
Apalachee 2, Hebron Christian 1
Apalachee 2, McIntosh 1
Auburn, AL 2, Shaw 0
Clarkston 2, Miller Grove 0
Coosa 2, West Jessamine, KY. 1
East Hall 2, Clarke Central 0
East Hall 2, Hart County 0
East Hall 2, Oglethorpe County 0
East Jackson 2, Dawson County 1
Elmore County, Ala. 2, Shaw 0
Gate City, Va. 2, Coosa 0
George Walton Academy 2, Monroe Area 0
George Walton Academy 2, South Gwinnett 0
Grovetown 2, Arabia Mountain 0
Hebron Christian 2, Marietta 0
Holy Innocents' 2, Landmark Christian 0
Holy Innocents' 2, Mt. Bethel Christian Academy 1
Kennesaw Mountain 2, Allatoona 0
Kennesaw Mountain 2, Hebron Christian 0
Lakeside-Evans 2, Clarkston 0
Lakeside-Evans 2, George Walton Academy 0
Lakeside-Evans 2, Warner Robins 0
Locust Grove 2, Norcross 0
Locust Grove 2, North Cobb 0
Marion, Va. 0, North Forsyth 0
McIntosh 2, Allatoona 0
McIntosh 2, Kennesaw Mountain 0
Mt. Bethel Christian Academy 2, Landmark Christian 0
Roswell 2, Gibbs, Tenn. 0
Roswell 2, Science Hill, Tenn. 0
Shaw 2, Goshen, AL. 1
Southeast Whitfield 2, Fannin County 1
Stewart's Creek, Tenn. 2, Coosa 0
Troup 2, Shaw 0
Union Grove 2, Walnut Grove 0
Walker 2, Holy Innocents' 0
Walker 2, Landmark Christian 0
Walker 2, Mt. Bethel Christian Academy 0
Warner Robins 2, Grovetown 0