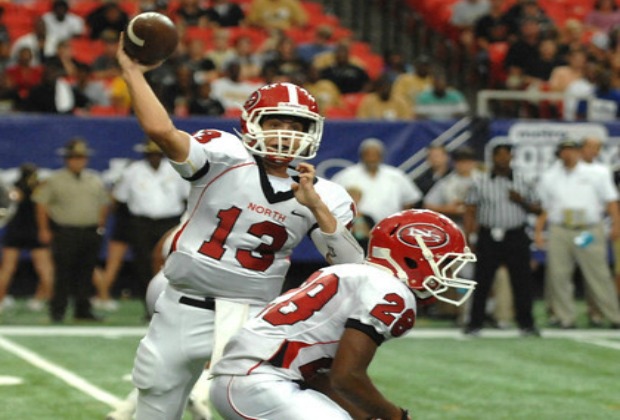 Terance Johnson
The Score 44 is a fluid list that aims to honor the best forty-four seniors in Georgia high school football on a week-to-week basis. These players are some of the most highly-recruited players in the state as well as some of the best players that may not get to play at the next level. The list changes gears though as from now on it will only honor players whose teams made the playoffs. As long as a player's team qualified for the playoffs, he is eligible, but if he failed to punch his playoff dance card, he will be omitted from the list. The players are also not in any particular order. After the season, we will put the players in order in the Score Final 50.
Even though his prep career came to an end last week, North Gwinnett quarterback Michael Haynes played like a champion. Haynes suffered what turned out to be a broken leg in Week 9 against Mountain View. He was able to compete despite the broken leg and led his team to the quarterfinals. Colleges have noticed his strong, gritty play and several additional offers appear to be coming his way, according to his father.
Several players will have chances to show off tonight in the semifinals. Dooly County's Montravious Adams, Norcross' Alvin Kamara, Colquitt County's Bobby Hill and Cole Segraves and Sandy Creek's Shaq Wiggins will all be in action tonight, along with the nine other active members of the list.
Carlos Burse, Alpharetta (Alpharetta), WR
Kamani Thomas, East Paulding (Dallas), RB
Brandon Kublanow, Walton (Marietta), OL
Tray Matthews, Newnan (Newnan), S
Alvin Kamara, Norcross (Norcross), RB
Keyante Green, ELCA (McDonough), RB
Reginald Carter, South Gwinnett (Snellville), LB
Donnie Miles, North Gwinnett (Suwanee), RB/DB
Tyren Jones, Walton (Marietta), RB
Kelsey Griffin, Mill Creek (Hoschton), DT
Eddie Printz, Lassiter (Marietta), QB
Brice Ramsey, Camden County (Kingsland), QB
Robert Nkemdiche, Grayson (Loganville), DE
Josh Mercer, South Effingham (Guyton), RB
Taylor Lamb, Calhoun (Calhoun), QB
Kyrin Priester, Brookwood (Snellville), WR
Wayne Gallman, Grayson (Loganville), RB
Bobby Hill, Colquitt County (Moultrie), WR
Arshad "A.J." Jackson, Lovejoy (Lovejoy), TE
Chris Jordan, Thomson (Thomson), RB
Joshua Dobbs, Alpharetta (Alpharetta), QB
Myles Willis, Marist (Atlanta), QB
Brendan Douglas, Aquinas (Augusta), RB/FB
Devondre Seymour North Gwinnett (Suwanee), OL
Michael Haynes, North Gwinnett (Suwanee), QB
Keshun Hill, Northside-Warner Robins (Warner Robins), WR
Cole Segraves, Colquitt County (Moultrie), QB
JJ Green, Camden County (Kingsland), WR
Makail Grace, Wilcox County (Rochelle), QB/CB
Anthony Jennings, Marietta (Marietta), QB
Cameron Sutton, Jonesboro (Jonesboro), ATH
Shaq Wiggins, Sandy Creek (Tyrone), CB
Peyton Barber, Milton (Alpharetta), RB
Demarcus Robinson, Peach County (Fort Valley), WR
Travis Custis, Lovejoy (Lovejoy), RB
Juwaan Williams, Tucker (Tucker), QB
Carl Lawson, Milton (Alpharetta), DE
Montravious Adams, Dooly County (Vienna), DT
Alejandro Bennifield, Lovejoy (Hampton), QB
Jacorey Lewis, Mill Creek (Hoschton), RB
Jalen Myrick, Savannah Christian (Savannah), ATH
Brendan Langley, Kell (Marietta) DB
Vonn Bell, Ridgeland (Rossville), S
A.J. Erdely, West Forsyth (Cumming), QB