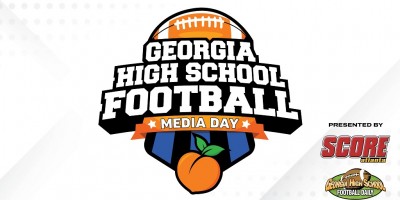 The first annual Georgia High School Football Media Day, which will take place on Wednesday, July 26 at the International Brotherhood of Electrical Workers campus downtown across from the Georgia State Convocation Center, is introducing an enormous new platform to celebrate the upcoming 2023 season at an unrivaled scale.
The selected date of July 26 occurs less than a week after SEC Media Day (July 17-20) and will have a similar feel with live programming beginning at 9 a.m. on the National Federation High School Network and the Atlanta News First App. 92.9 The Game FM will also be hitting the airwaves live from the event all day.
Media Day is a partnership between Score Atlanta and The Georgia High School Football Daily, which includes three former Atlanta Journal-Constitution sports veterans: Todd Holcomb, Chip Saye and Ted Langford. Along with those three, Score Atlanta president I.J. Rosenberg spent 13-plus years at the AJC.
Hosting an event of this scale required a venue that could offer parking and necessary space and the IBEW campus checked off all the accommodations needed. There will be five total stages set up and teams will take each of the five stages every 45 minutes. The head coach, along with the offensive and defensive coordinators for each school will be highlighted, and each team will be asked to bring all of its seniors as well as the top underclassmen that will contribute on varsity this season. In doing so, each school will get to shine a spotlight on guys that are not as heavily recruited or well-known. All high school football teams in the state are invited. There is no charge to participate.
The event is expected to attract television, radio, and newspaper media from around the state as well as recruiting experts throughout the South. Georgia Athletic Coaches Association Hall of Famer and former Brookwood football coach Dave Hunter, whose name was just added to the Corky Kell Classic, will also play a role in the event. IBEW, GeorgiaConstructionCareers.com and GSMACNA will be just a few of the unions that will sponsor the event.
The Georgia High School Football Media Day is taking place during the GHSA's acclimation week that limits teams to just two hours of practice per day and the goal is to make media day a part of each team's Wednesday schedule. Georgia continues to be the hotbed for the top high school football in the country and this event will be another component that is setting the state apart from the rest of the country.
Live coverage of the event will be provided by a team of high school football analysts and commentators, including 247Sports' Rusty Mansell, Score Atlanta's Craig Sager II and Najeh Wilkins and Drive for the GHSA State Title gameday host Kaylee Mansell.
"No other state gives the exposure to high school football players like the state of Georgia,'' said Mansell. "It is only fitting that we dig deeper into these teams and go next level with a state wide media day that will again raise the bar of why the state of Georgia has the best football players, football coaches, and football communities on the high school level, nationwide.''
Added Rosenberg of Score Atlanta, "We are going to do 36 high school football games on television this year as well as the second year of the Georgia High School Football Hall of Fame and we needed a way to really kick off the season. But what I like most about this event is teams will be able to bring all their seniors. If they want to go on and play football in college, we will have the recruiting media which can help them in addition to the broadcast which college coaches can watch. If a senior wants to be a college student, we will have colleges represented there to talk to. And if a senior wants to find a job or trade right after high school, we will have many of the unions represented such at IBEW, the sheet metal workers, plumbers and so many more. This is not just about exposure for the teams but an opportunity for a student-athlete to help himself on whatever track he is on.''
The popular Georgia High School Football Daily, a free e-newsletter published weekday mornings during the football season, will do a special newsletter previewing the event. Holcomb, a co-founder of the Georgia High School Football Historians Association and the historian for the new Georgia High School Football Hall of Fame, says, "High school football is truly a statewide event in Georgia, with teams and players that are well-known from north to south, and it needs a statewide event like this to showcase the sport and to get the excitement started for the new season. And it will be something that the high school players attending will always remember."
Score Atlanta, which co-owns the Corky Kell + Dave Hunter Classic as well as brands like The Great Atlanta Bash, Sheriff's Cup Invitational, Drive for the GHSA State Title and the Georgia Elite Classic, continues to extend its brand and platform across all high school sports and will run the event.
"First of all, this doesn't take away from some of the counties that have media days,'' said Rosenberg. "This is different because it has a chance to grow and bring everyone from around the state. While our office is busy every day with the other part of our sports marketing business which includes the pro sports teams in town, our entire company realizes the importance of high school sports and how it continues to become more popular with the mainstream. Just recently we added a webcast dedicated to just girls high school sports and it has become very popular. I would love to get to a point where we did media days across the state for all the sports.''
If your team is interested in attending the event, please call Graham David at 513-600-6557 or email him at GDavid@ScoreATL.com.