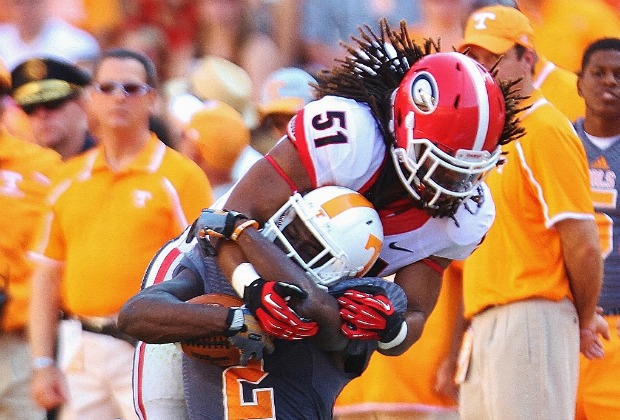 Photo by Rob Saye
HOOVER – Tennessee is trying to get back a bowl game for the first time since going to the Music City Bowl in 2010. This also marks year two of the enthusiastic Butch Jones era in Knoxville.
This time of the year breeds optimism for all 14 programs in the SEC and throughout all of college football. As was said with Mississippi State, the Volunteers had a certain confidence to them as they stepped into the interview rooms at the Wynfrey Hotel in Hoover, Alabama.
There is a good news and bad news scenario with the Vols in 2014. The bad news is that all five of their offensive linemen were not starters in 2013. The good news is that most of their playmakers on offense are back and the defense is returning some fire power.
The defensive firepower that is returning this season starts with linebackers Curt Maggitt and AJ Johnson. The second named linebacker even made the decision to put off trying for the NFL, until after this season.
"Two things that really sold me on coming back were to build the build the program back up to a winning program, leave a wnner and the other big decision was to graduate in December," Johnson said. "I get to leave with a degree and that's going to help me throughout life."
Johnson also gets to finish under head coach Butch Jones, as he enters his second season in Knoxville.
As the Volunteers enter their second season under the tutelage of Butch Jones, the next step in the growth of the program is to win those close games. Perfect example is their near upset of Georgia last season at Neyland Stadium. Jones is trying to help his guys turn the corner to do that.
"We always talk about that inches make the champion and you're searching for the inches," Jones said. "In a football game, two to three plays can make a difference and four to six plays can make a difference in an entire football season."
Curt Maggitt says that games like the Georgia loss will still come up in offseason conversations every once in a while. However, it's not something they're dwelling on in Knoxville.
"Last season is behind us," Maggitt said. "We learned from it, peak at it, but we don't stare back in the past moving forward."
Maggitt will be looked at as sort of a defensive 'Swiss Army Knife' this season for the Vols defense, getting reps as a linebacker and also at times a hand down defensive end.
Tennessee is feeling confident coming into this season and again a huge step forward for the program will be if they can win enough to make it back to the postseason.