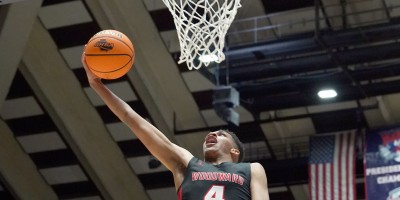 The second round of the GHSA basketball tournament is split between Friday and Saturday nights and we will have recap coverage in each of the rounds leading up to the finals.
On Friday, Chip Saye will be covering the Langston Hughes at Kell girls game and S. Thomas Coleman will be covering Windsor Forest at Sandy Creek boys.
See the Friday night recaps below.
7A
Boys:
North Gwinnett 67, East Coweta 57
Host North Gwinnett was led by R.J. Godfrey's 16 points to go with six rebounds, four blocks and four assists. Dylan Gary added 15 points and four rebounds for the Bulldogs, Amaru Grosvenor scored 13 points and had four assists and Thomas Allard had nine points and four rebounds.
Grayson 69, Mountain View 63
Grayson was led by 20 points from Tyrese Elliott and outlasted visiting Mountain View. Gicarri Harris scored 15 points for the Rams, and Chauncey Wiggins had 12 points. C.J. Johnson scored a game-high 30 points for Mountain View, making seven three-pointers.
Girls:
Brookwood 48, Peachtree Ridge 39
Brookwood had a balanced scoring effort in its win, getting 11 points from NeKaya Williams, 10 points from Diana Collins, eight points from Kate Phelan and seven points from Madison Boadu. Williams also had six rebounds, four assists and four steals. Nedisha Ford had 10 rebounds for host Brookwood.
Campbell 56, West Forsyth 42
Host Campbell had three players score in double-figures, with Jaida Fitzgerald leading the way with 14 points to go with four rebounds and three steals. Laila Battle scored 12 points for Campbell and Nia Bozeman scored 11 points and also had five assists and three steals.
Grayson 51, North Forsyth 40
No. 3 Grayson knocked off No. 1 North Forsyth on the road, getting a game-high 22 points from Catherine Alben. Tatum Brown added 14 points, five rebounds, five assists and two steals for Grayson, which also got nine points, five rebounds and three assists from Erin Rodgers. 

Pebblebrook 61, Collins Hill 42
Visiting Pebblebrook had four players score in double-figures, as Kania Seymour had 15 points and Nia Morgan, Taniya Ballard and Kelcei Rivers each scored 12 points. Collins Hill got a game-high 19 points from Gabby Pass.
6A
Boys:
Wheeler 63, Westlake 62
No. 1 Wheeler, the Class AAAAAA defending champion, defeated No. 2 Westlake at home, as Arrinten Page had the game-winning dunk with 11 seconds remaining and Westlake missed a shot as the clock expired. Isaiah Collier led Wheeler with 22 points, and Jalal McKie led Westlake with 23 points.
Girls:
Lovejoy 69, Sprayberry 53
La'nya Foster led Lovejoy to a home win with 25 points, making seven free throws in the fourth quarter to help seal the victory. Also for Lovejoy, which led just 31-30 at halftime, Bryanna Preston scored 15 points and Bryana Hardy scored 13 points.
Brunswick 68, Buford 55
Jamya West led the Lady Pirates with 18 points and Shané Jackson had 16 points and 16 rebounds in their home win. Shamya Flanders also had a double-double with 11 points and 10 rebounds for Brunswick, and Shania Jones scored nine points.
5A
Boys:
Tri-Cities 60, Lithonia 59
No. 1 seed Tri-Cities jumped out to a 36-28 halftime lead that was fueled by Simeon Cottle's 19 points. Cottle dominated the first half, but the second half belonged to Lithonia's Josh Daniels and Cade Taylor—who helped spark a scoring 13-5 burst that eventually tied the game 41-41 with 4:51 left in the third quarter. Lithonia's momentum continued and the Bulldogs led Tri-Cities 51-48 heading into the fourth. Tri-Cities regained a 58-56 lead with 25 seconds left and was able to hold on for the win. Lithonia's Taylor scored 14 of his team-high 16 points in the second half.
Calhoun 78, Veterans 61
Calhoun advanced to the Elite Eight with a road win over No. 1 seed Veterans. Dylan Faulkner (23) and Peyton Law (22) combined for 45 of the Yellow Jackets' points and Emaree Winston (17) and Jaylan Harris (14) also notched double-figures.
Girls:
Warner Robins 63, St. Pius 48
Top-seeded Warner Robins picked up its 16th-straight victory at home against No. 3 seed St. Pius. Junior Jada Morgan led the Demons with a game-high 21 points and 16 rebounds.
4A
Boys:
Dougherty 66, Fayette County 65
No. 3 seed Dougherty stunned top-seed Fayette County with a game-winning shot that came with just two seconds left. Fayette County earned the top seed by serving No. 1 ranked McDonough a defeat in the Region 5 championship game, but was unable to pull away from the Trojans in Friday's Sweet Sixteen showdown. Indiana-commit Kaleb Banks netted 12 points in the first half and Fayette County claimed a 34-25 lead. Dougherty fought back and trailed 57-56 with 4:46 left before closing out the victory in the final seconds.
Girls:
Marist 31, Hardaway 19
No. 1 seed Marist outscored Hardaway 21-10 in the second half to return to the Elite Eight. The War Eagles' win-streak grew to 13-straight with the victory and this marks the sixth time this season that Marist has held an opponent to fewer than 20 points.
3A
Boys:
Burke County 70, Ringgold 63
Burke awaits the winner of White County/Beach after moving past Ringgold. The Bears led 19-6 at the end of the first quarter and nursed a 38-29 lead early in the third quarter. With 2:13 left in the game, Burke held a 62-50 lead.
Girls:
Cross Creek 52, Murray County 31
The defending-champion Razorbacks will have a likely meeting with top-ranked Lumpkin County in the quarterfinals after moving past Murray.
2A
Boys:
Butler 60, Pace Academy 56
Kendrell Glanton fueld Butler to a road win over No. 1 seed Pace Academy with a game-high 26 points. Teammate Zy'Quan Grant added 12 points in the victory. Pace Academy's Josh Reed finished with 25 points and fifteen rebounds.
Girls:
Callaway 42, Dodge County 41
Dodge County led 25-15 at the half and 34-22 at the end of the third quarter before Callaway rallied back for a thrilling victory. The Cavaliers sparked a 9-0 run to open the fourth quarter that cut the deficit to 35-31 with 5:30 left and eventually tied the game 37-37 with a Gabrielle Johnson three-pointer at the top of the key with 3:04 left. Callaway took its first lead at 40-39 with 1:29 left. Kayunna Maddox scored to put Callaway up 42-41 and then Dodge County's potential game-winning shot fell short at the buzzer.
Josey 41, Banks County 31
Top-seed Josey was led by Aqoyas Cody's game-high 17 points and a nine-point night by Ari Booker. Banks County's Kamyrn Grier finished with a team-high 16 points.
A Public
Girls:
Commerce 47, Clinch County 33
No. 2 seed Commerce took a 13-12 lead after the first quarter and a 25-20 lead heading into the half. Clinch County was held to just five points in the third quarter and trailed 33-25 before Commerce closed out the victory in the fourth.
A Private
Boys:
St. Francis 55, Paideia 52
No. 4 seed St. Francis scored a narrow road win over No. 2 seed Paideia to advance to the Elite Eight. 6-foot-6 junior Chris Phillips led the Knights with a game-high 14 points to go with his six rebounds. St. Francis was also led by Jase McCullough's 11 points, seven rebounds and five assists and Drew Robinson's eight points, five rebounds and two assists.
Girls:
Trinity Christian 62, Fellowship Christian 22
No. 1 seed Trinity Christian followed up its 64-19 trouncing over Paideia in the first round with a massive 62-22 win over Fellowship Christian Friday night to advance to the Elite Eight. Madison Morge led all scorers with 28 points and teammate Zsófia Telegdy finished with 11 points.
Hebron Christian 59, Savannah Country Day
Hebron Christian improved to 24-5 with a road win over top-seeded Savannah Country Day. Nickyia Daniel led the Lions with a game-high 20 points, Amiya Porter finished with 14 points and Jessie Parish finished with 10 points.