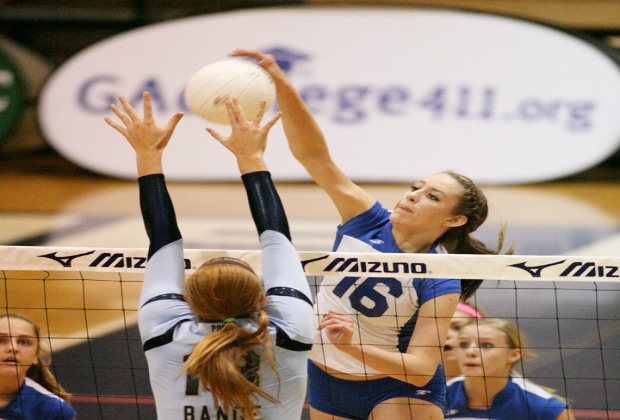 GHSA
Three polls have seen a change in the top spot in the latest Georgia high school volleyball rankings. After a strong week, Whitewater takes over the Class AAAAA No. 1 spot, pushing previously top-ranked Pope down to No. 2.
Veterans is the new No. 1 in Class AAAA, dethroning Sandy Creek, and Landmark Christian took the top spot in Class A from Eagle's Landing Christian.
Northview and Creekview moved up in the Class AAAAA rankings while Ola and Hiram made their debuts. Mill Creek climbed the Class AAAAAA rankings up to No. 4, sitting behind Walton, Harrison and new No. 3 North Cobb. Johns Creek and Hillgrove round out the top 10 in the state's highest classification.
Jonesboro and Heritage-Catoosa were the biggest movers in Class AAAA while Walnut Grove slips in as Perry dropped from the poll.
In Class AA, Jefferson jumped up to No. 6 while Johnson-Augusta and Westside-Augusta dropped towards the bottom of the rankings.
George Walton Academy continued its blistering start and moved up to No. 5 while Strong Rock Christian entered the latest poll at No. 10.
Class AAAAAA
1. Walton
2. Harrison
3. North Cobb
4. Mill Creek
5. North Gwinnett
6. Chattahoochee
7. Roswell
8. South Forsyth
9. Johns Creek
10. Hillgrove
AAAAA
1. Whitewater
2. Pope
3. McIntosh
4. Starr's Mill
5. Northview
6. Sequoyah
7. Creekview
8. Northgate
9. Ola
10. Hiram
AAAA
1. Veterans
2. Sandy Creek
3. Columbus
4. SE Whitfield
5. Heritage-Catoosa
6. Jonesboro
7. Marist
8. Shaw
9. Walnut Grove
10. Carrollton
AAA
1. Woodward Academy
2. Blessed Trinity
3. St. Pius X
4. Sonoraville
5. West Hall
6. North Oconee
7. Lakeview-Ft. Oglethorpe
8. Ringgold
9. Hart County
10. Oconee County
AA
1. GAC
2. Westminster
3. Wesleyan
4. Calhoun
5. Lovett
6. Jefferson
7. Johnson-Augusta
8. Westside-Augusta
9. Chattahoochee County
10. Spencer
A
1. Landmark Christian
2. ELCA
3. Holy Innocents'
4. Walker
5. George Walton Academy
6. Gordon Lee
7. Our Lady of Mercy
8. Darlington
9. Savannah Country Day
10. Strong Rock Christian