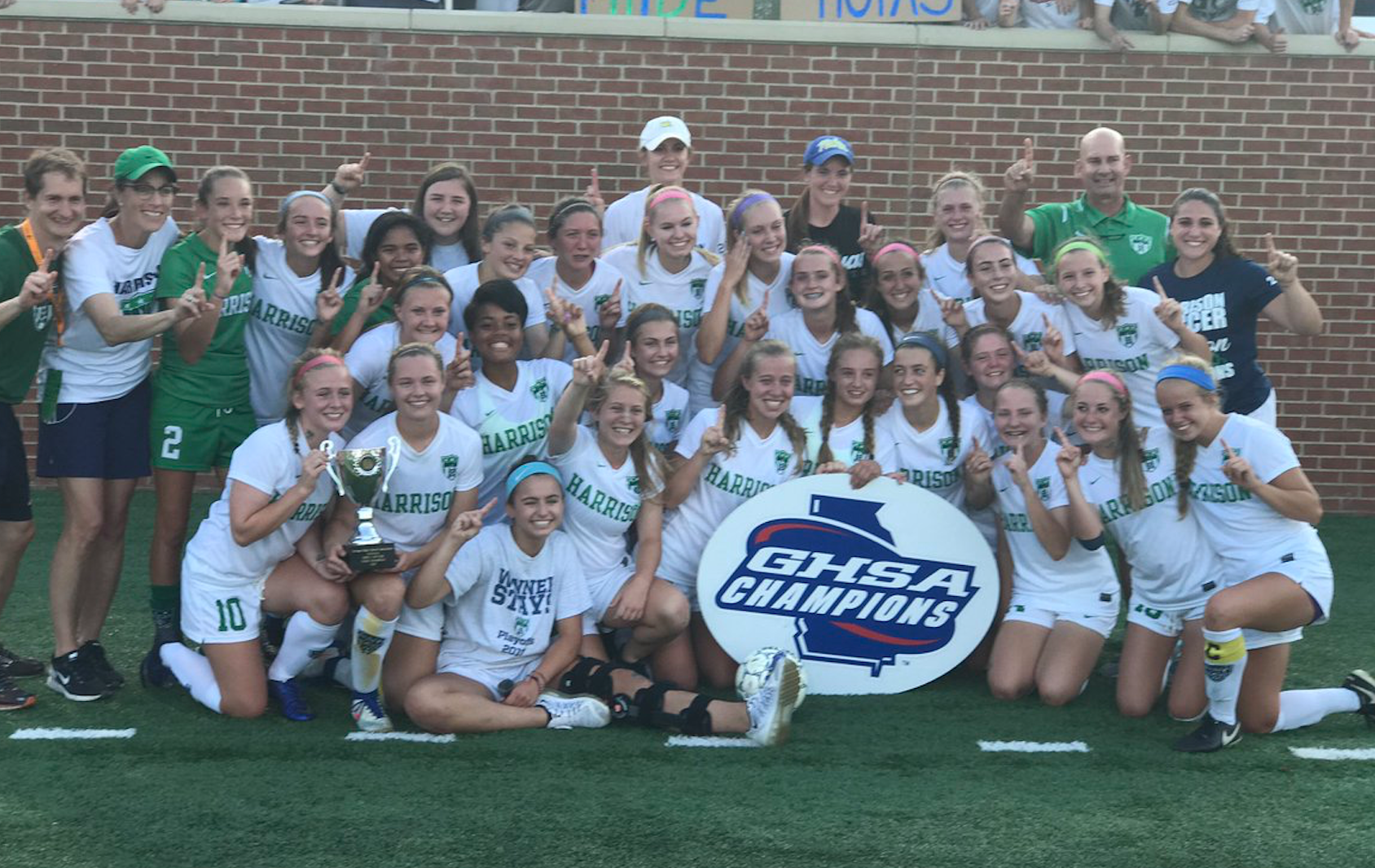 By Seth Ellerbee
Class AAAAAA Boys Championship: Chattahoochee 2, Gainesville 0
Chattahoochee controlled the pace from the opening whistle and proceeded to outrun Gainesville all night Saturday to win their second boy's state title at Mercer University in Macon.
"We knew we could do 90 minutes easily," said Chattahoochee coach Les Meenan. "We knew that we had to play smart with the ball and if we could, make Gainesville do some of the running as well."
"Coach preached conditioning all season," said senior forward Nicholas Troyer. "It worked out and we can out-run teams. Just the past few years we have been working so hard towards this."
The Cougars were led in scoring by Troyer and junior Ryan Kapper, who each had a goal each. Troyer struck first just 10 minutes into the game on a six-yard glancing header into the right corner of the net.
At the 17:15 mark in the second half, Kapper found a crease and placed the ball perfectly into the bottom left corner of the net to pad the lead.
Gainesville did not go quietly, however, as they kept offensive pressure on the Chattahoochee throughout the second half. But, the Cougars lead was kept intact by an impressive performance by junior goalkeeper Jack Corriga, who denied several Gainesville attempts from within the box.
"We are just playing for our seniors," said Corriga. "We knew we were playing for our seniors and had to get it done. We have eight seniors graduating and last year we made the playoffs but couldn't do it."
"Jack is fantastic," explained Meenan. "That is the best game he has played all year. Any ball that is in the air or comes near him in the air, that is where he is good. He is aggressive and tonight was a perfect game for Jack. When they come at him like they did, that is his cup of tea, that is what he wants to do all night long."
Class AAAAAA Girls Championship: Harrison 1, Johns Creek 0 (Harrison 4-2 in PK's)
It took every bit of time available, but in the end the Harrison Lady Hoyas grabbed their third girls state title Saturday after besting Johns Creek 4-2 in penalty-kicks.
"Well my girls are very tough," said Harrison head coach Steve Riccard. "As you saw, there was a bit of a size disparity between us and Johns Creek. My girls are like a bunch of little napoleon-complexes running around out there."
Both teams struggled to find any shred of a rhythm throughout the first two halves and the game entered extra time tied 0-0. Johns Creek, who was vying for their first title, had every opportunity as it controlled the ball for both five-minute overtime periods but could not find the net.
Once it reached PK's, it was all Harrison's ballgame.
Junior Madison Yokely struck first for the Lady Hoyas with a shot in the left side of the net to take a 1-0 lead. Senior defender Amanda Moore went first for Johns Creek and missed as her shot ricocheted off of the crossbar.
Senior Forward Isabel Hickman converted her shot to grab a 2-0 lead for the Lady Hoyas. Toni Williams converted her attempt to pull Johns Creek to 2-1. Brooke Brownlee added to the Hoya lead with a shot right up the middle to make it 3-1. Johns Creek sophomore Chloe Kim knocked in her attempt to pull the lead to 3-2. Pace Stephenson was next for Harrison and had her attempt careen off of the crossbar, no good.
Julia Nicholas was next for Johns Creek and had her attempt blocked by sophomore Lindsay Mathis. Up next for Harrison was sophomore forward Kenzie Bonham, who converted her attempt and sealed the win for Lady Hoyas.
"Honestly, this is really the best feeling ever," said an elated Bonham. "We have been working so hard for this. It was so stressful getting taken to the last minute. It was the worst feeling and the best feeling ever back-to-back."
Class AAAAA Boys:  McIntosh 2, Clarkston 1 (2OT)
The McIntosh Chiefs won the school's sixth boy's state title in double-overtime Friday on a corner kick with 1:21 remaining at Mercer University in Macon after being down 1-0 early.
"It means more than I can express," said McIntosh head coach Bunky Colvin. "We have played in a lot of championship games but right now, I feel like this is the greatest comeback we have ever had."
Clarkston, who was trying for its first state title, took a 1-0 lead at the 25-minute mark in the first half off a Lionel Tourodo strike from 30 yards but held the lead for only a few minutes. At the 14:12 mark, McIntosh senior Dylan Keysar scored on header from a corner kick to tie the game.
"We have taken almost 100 corner kicks and struggled all year," explained Colvin. "We spent the last month practice after practice working to get better. In the quarterfinals we scored two, in the semis we scored one and it was the difference tonight."
With 1:21 remaining in the second overtime McIntosh faced yet another corner kick and executed it to perfection. Jacob Donaldson hit a low-arching shot from the left corner perfectly into the box.  After a bounce or two, the ball found the net off of the foot of Logan Brown from just a few yards.
"I just knew I was going to finish it," explained Brown. "Before the game I told my grandmother that I was going to score for her and I did. Jake Donaldson hit it to me perfectly."
Class AAAAA Girls: McIntosh 2, Buford 0
McIntosh, the defending state champions, will add another trophy to the case after moving past Buford.
Senior forward Taylor Malasek led the way with both goals on Friday. The Lady Chiefs have now won back-to-back titles, three of the last four titles and five of the last seven titles. Buford was vying for their first.
"What concerned me about Buford was knowing how hungry they were," said McIntosh coach Marcia Clark. "They have never had a state championship. I told the girls that Buford has a chance to make history but you have a chance to do, well, what you're supposed to do. So which is the biggest motivator?"
Neither teams seemed organized in the opening minutes of the game, and both were searching for a rhythm. After an uneventful first half, McIntosh hit its stride and mounted an attack. The Lady Chiefs attacked offensively, adding to their already smothering defense.
"Our defense did not let anyone in," explained Clark. "I don't know that they have been shut out all year, even by 7A teams."
They had not as the Chiefs held Buford scoreless for the first time this season.  The game, however, could have been a blowout as Taylor Malasek found the crossbar twice within four minutes.
The first came at the 31:15 mark on a right to left try from 15 yards. The second came at the 27:58 mark where she hit the bar on a penalty-kick and then knocked the rebound into the net, but the goal was disallowed due to early movement by a teammate. Two minutes later, sophomore forward Tariah Miller also found the cross bar on a 5-yard try.
"I do not like the bar, it is my personal enemy. It is like a magnetic pull towards it but I am trying to get away from it," laughed Malasek.
At the 9:55 mark, Malasek got away from it and scored with a 15-yard rocket from the left of the box to the upper right corner of the net. Just six minutes later, she scored again from 25 yards out to put the game away.
"Most defenses just have no answer for (Malasek)," explained Clark. "They did a great job staying with her today but eventually, you are going to slip up and let her in. She is a senior, she is a captain, and is one of the hardest working players on the team. Her work ethic and attitude of 'I am not quitting, this is going to happen,' makes me really proud of her."
Class AA Boys: Benedictine 4, Coosa 1
Benedictine overcame an early 1-0 deficit to win its first boys title in school history on Saturday. The Cadets relied on two goals each by juniors Ross Monson and Drew Lisicia to take the crown.
Coosa struck first on a 25-yard blast from senior Eric Chavez but only held the lead for roughly 10 minutes. At the 24:05 mark, Monson found the lower left corner of the net from 25 yards to even the score. With 5:36 left before halftime, the ball found the net off of the foot of Lisicia off of a Gavin Stewart assist to take the lead.
"I just think it was our hard work and at halftime we got a great speech by coach Charlie," explained Lisicia. "He was telling us that we needed to play our game and that we were better than (Coosa) if we played our own game."
At the 32:48 mark in the second half, Munson got taken down in the box and converted the penalty kick to pad the lead.
"Our team worked so hard for the entire season," said Munson. "We worked so hard, we earned it."
With 24:59 left in the game, Lisicia connected from just a few yards out to put the game out of reach.
"We have been starting slow all season," explained Cadet coach Charlie Moore. "In the end we were just the better team. The better team. I think that was the first real game they have had all year.  We just pulled it out."
Class AA Girls Championship: St. Vincent's 10, East Laurens 0
After being runner-up last season, the St. Vincent's Saints captured the Class AA girl's championship Saturday, the school's first for the girls' team.
The Saints were led by freshman Lizzie Horn, who scored in the first two minutes on an 8-yard rocket into the bottom right corner of the net. Just six minutes later, senior forward Sarah Stewart scored on a short shot after slipping past the East Laurens goalkeeper.
Horn scored again at the 30-minute mark and only took four more minutes to get the hat-trick on a 20-yard shot from left of the box.
"I just I couldn't have done this without my team," said Horn, who finished with four goals.
After finishing second in the state last season, St. Vincent's head coach Tess Tvrdy was reduced to tears as the clock struck double-zero.
"This has been five years coming and four years with these seniors," explained and emotional Tvrdy. "Last year we came in second place and we knew this whole season that we were working towards this."
The Saints had three players with multiple goals including Horn (4), Stewart (2) and junior Cara Diaz (2). Junior defender Elyssa Bogue added one goal.
"Oh my gosh, I feel amazing right now," said Stewart. "It is a total team effort and it wasn't just me making the goals, it was a total team effort.
Class A Boys: Whitefield Academy 2, Walker 1
Whitefield Academy rallied back from a 1-0 deficit with two second-half goals Friday to clinch the program's first state title.
"I cannot believe that we are where we are right now," said Whitefield coach Steve Hellier following the game. "This has just been and unbelievable ride and there are so many things that could have happened and kept us from this, but here we are state champions."
The teams remained scoreless as the second half opened and Walker struck first with a goal by freshman Nick Rath just two minutes in. Whitefield Academy readjusted their second-half game plan following the Rath goal and successfully stole the momentum with a pair of goals just minutes apart.
"The adjustment we made was a disaster because they came out and scored within two minutes of the game. So then, we adjusted back to the original lineup that we had," explained Hellier.
The tying goal came at the 31-minute mark on a penalty kick from the coach's son, senior William Hellier.
"It is incredible to see the growth of this program," said William Hellier. "From not having a team to having a team our freshman year that went 4-12 and now state champions. I am so proud of these guys."
The game-winning goal came at the 29:30 mark on a give-and-go from Hellier to West Peterson and Walker could not answer in the final 30 minutes.
Walker had scoring opportunities throughout the second half but Whitefield's junior goalkeeper John Matherne, who had seven saves on the day, kept the one-goal lead intact.
Class A Girls: Wesleyan 4, First Presbyterian 1
Wesleyan outscored First Presbyterian Day 3-0 in the second half of Friday's Class A final to clinch the victory and the program's first-ever title.
"We are so excited," said Wesleyan head coach Lacy Gilbert after clinching the program's first-ever title. "This has been a long time coming. It is my 20th year and 16th as a head coach and to be able to win is just amazing. I am so proud of our girls, especially our seniors. They worked hard and made adjustments in the second half. I am so pleased at how they played. Our seniors set the stage for our program when they came in as freshmen and to get to this point is great."
The Wolves started the scoring at the at the 9:37 mark in the first half with a goal from Lucy Mitchell. First Presbyterian answered just four minutes later on a penalty-kick goal by Kate Patterson and the teams remained tied at 1 entering the second half.
Just five minutes into the second half, Sutton West scored on a perfectly executed give-and-go from Mitchell from just inside the box to push the lead to 2-1.
"We always talk about that you only focus on what you can control," said Mitchell. "In this game, each individual focused on what they had control over and we used that to get the win."
With 19 minutes left in the game, First Presbyterian was called for a handball in the box which led to a T.J. Anderson goal off of a penalty kick. The frustrations continued for First Presbyterian with nine minutes left in the game as two players, Kate Patterson and Karsten Herron, were ejected for a rough play and dissent, respectively.