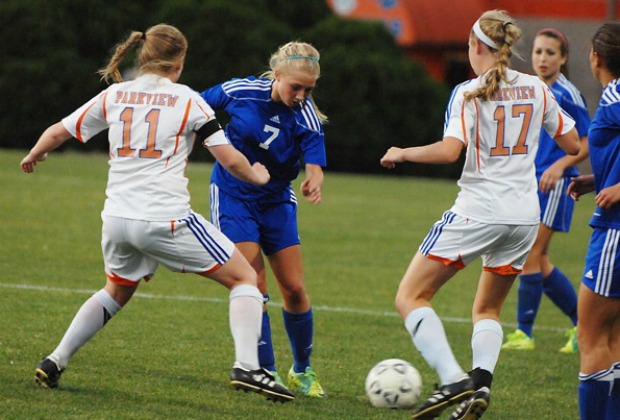 Sonny Kennedy
The state soccer finals take place this weekend at Kennesaw State University and the University of West Georgia. Each final provides its own storylines, and many of them are included below.
Also, see the weekend schedule below the story for the times and locations of each match.
Class AAAAAA
Boys
Berkmar vs. Collins Hill
Although a battle between Gwinnett County schools, it is also a war between the have's and have not's in the world of soccer. Collins Hill (16-5) is in its sixth consecutive title game and has won three of the past four state championships. Berkmar, meanwhile, is in its first finals appearance. The semifinal win over East Coweta ended when Juan Carlos Lopez, the Berkmar keeper, saved East Coweta's seventh penalty kick to send the Patriots (15-5-1) to the finals.
Collins Hill got here despite losing eight key players just before the start of the season. Six went to the U.S. Development Academy and two to the Jamaican national team.
Girls
Harrison vs. Parkview
The Hoyas (19-1) advanced to the final by winning a penalty kick shootout over Brookwood in the semifinals after a 0-0 draw. This is Harrison's third finals appearance in six years under coach Steve Riccard.
The Panthers (19-3) have won seven state titles, with the last coming in 2009.
The teams played on April 13 at Parkview with Harrison taking a 2-1 victory, the Panthers' last loss.
Class AAAAA
Boys
Houston County vs. McIntosh
This final has a similar storyline to the AAAAAA final, as one team is accustomed to being here while the other is experiencing it for the first time.
Houston County (21-0) advanced to its first state final in any boys sport by thrashing Starr's Mill 5-0 in the semifinals.
McIntosh, on the other hand, has been here five times since 2007 a year in which the Chiefs won the state title. The Chiefs (22-0) shut out 20 opponents this season, including Pope in the semifinals. McIntosh's Saloman Lorenzano was named the Gatorade Georgia Soccer Player of the Year after scoring 23 goals and totaling 28 assists.
Girls
Northgate vs. Whitewater
Northgate (15-3) arrives on the heels of two consecutive dramatic 1-goal wins. In the semis, a shot caromed off a McIntosh player and into the net for the game-winning goal in overtime.
Gatorade Volleyball Player of the Year and Georgia Tech volleyball signee Teegan Van Gunst leads a strong Whitewater (19-2-1) offensive attack.
The teams are Region 4 rivals. Whitewater finished undefeated in the region, including a 1-0 win over Northgate on March 15.
Class AAAA
Boys
Dalton vs. Southeast Whitfield
This is an all-Whitfield County showdown between two Region 7 rivals. Dalton (21-0) tore through the competition this season including three wins over Southeast. Northwest Whitfield made the semifinals giving Region 7 and Whitfield County three of the four semifinalists. Dalton has outscored opponents 29-1 in the state playoffs.
Girls
Columbus vs. Marist
Columbus (16-5) arrives in the state final for the second year in a row. The Blue Devils suffered a 2-1 defeat to Allatoona last year in the AAA championship. The Blue Devils lost five games this year, but just one was against AAAA competition (Alexander).
Marist, 7-time state champ, has been the odds-on favorite to win another title for much of the season. The War Eagles (21-0-1) have outscored the competition 35-0 thus far in the playoffs and have shut out 17 opponents overall.
Class AAA
Boys
St. Pius vs. Woodward Academy
An intense soccer rivalry, the programs have combined to win 12 boys state soccer titles, including the last two in AAA. Woodward (13-6-1) won last year's state title, but lost 10 players off the team to college programs.
St. Pius, the 2011 champion, is in its third final in five years. The Golden Lions (18-0-2) have not yet allowed a goal in the playoffs.
Girls
Blessed Trinity vs. St. Pius
Blessed Trinity (17-2-1) has outscored opponents 24-2 in the playoffs including a 4-1 defeat of Woodward Academy in the semifinals. Grace Damaska, a Georgetown signee, leads a strong Titans attack.
In their last five games, the St. Pius Golden Lions (18-1-3) have totaled 32 goals, including 12 combined in the quarters and semis. Goalie Hannah Smith provides a strong backstop. Oddly enough, the Region 6 rivals each won state titles in 2011: the Golden Lions in AAA and Titans in AA. Each program has captured five state titles.
Class AA
Boys
Calhoun vs. Westminster
This is one of three boys finals that feature one team with rich tradition in soccer and the other just getting started.
While the Wildcats (15-6) have won 10 state titles, Calhoun (20-2) is playing for its first. Westminster advanced here by edging arch-rival Lovett 4-2 in penalty kicks Wednesday night. Calhoun, meanwhile, shocked No. 1 Greater Atlanta Christian in the semifinal by advancing after a 4-2 win in penalty kicks.
Girls
GAC vs. Westminster
Like AAA, the Class AA final features teams from the same region. While GAC (19-1) is the defending AA champion, Westminster (15-5) has won seven girls soccer state titles.
The Spartans won both regular-season meetings with Westminster, the first 5-1 on April 2 and the second 2-1 on April 23.
Class A
Boys
Hebron Christian vs. Paideia
The winner of this game will have captured its first boys state soccer title.
No. 1 Paideia (20-1) has won 10 straight games including three blowouts in the playoffs. Eli Pinner has led Paideia with 40 goals in his career.
Hebron Christian (16-2-1) has won 13 straight since a four-game stretch midseason during which the Lions won just one time.
Girls
Fellowship Christian vs. Paideia
Paideia (15-3-1) qualified for the finals after a narrow 2-1 win over 2-time defending champion First Presbyterian. The Pythons have won two state titles, the last coming in 2001.
Fellowship Christian (13-6) is hunting its first state soccer championship. The Paladins made the finals last season, but lost eight starters off that squad.
At Kennesaw
Friday
AAA
Girls: Blessed Trinity vs St. Pius, 5 p.m.
Boys: St. Pius vs. Woodward Academy, 7:30 p.m.
Saturday
A
Girls: Fellowship Christian vs. Paideia, noon
Boys: Hebron Christian vs. Paideia, 2:30 p.m.
AAAAAA
Girls: Harrison vs. Parkview, 5 p.m.
Boys: Berkmar vs. Collins Hill, 7:30 p.m.
At West Georgia
Friday
AAAA
Girls: Columbus vs Marist, 5 p.m.
Boys: Dalton vs. Southeast Whitfield, 7:30 p.m.
Saturday
AAAAA
Girls: Northgate vs. Whitewater, noon
Boys: Houston County vs. McIntosh, 7:30 p.m.
AA
Girls: Greater Atlanta Christian vs. Westminster, 5 p.m.
Boys: Calhoun vs. Westminster, 2:30 p.m.