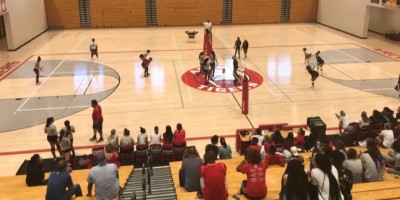 Volleyball matches continued across the state on Thursday and Class AAAAAA No. 6 Harrison took advantage with a 2-0 victory over Class AAAA No. 4 Blessed Trinity. The Hoyas won the first set 25-23 and commanded a 25-20 victory in the second set. Pope, No. 3 in Class AAAAAA, weathered a three-set match against River Ridge. In the first set, Pope edged the Knights 26-24. In the second set, River Ridge forced a decisive third set with a 25-18 victory. Pope controlled the third set, however, and sealed the win, 15-4. Columbus, ranked No. 3 in Class AAAA, defeated Class AAAAAA Lee County 2-0. The Blue Devils won the first set 25-19 and took a 25-22 victory in the second set.
On the softball field, Class AAAAA No. 9 Buford defeated Class AAAAAAA No. 10 South Forsyth 6-2. Ansleigh Hollifield pitched five innings and was credited with the win. Riley Reese picked up the save, controlling the final two innings for the Wolves. Buford moves to 4-2 on the season.
See the rest of the fall scores below.
Softball
Alpharetta 18, Johns Creek 5
Banks County 9, Jefferson 0
Blessed Trinity 11, Denmark 3
Brantley County 10, Glynn Academy 2
Bremen 14, Lithia Springs 0
Brooks County 16, Early County 0
Brookwood 2, Archer 0
Buford 6, South Forsyth 2
Callaway 1, Bowdon 0
Cambridge at Centennial, late
Campbell 7, Walton 6
Carrollton 5, Villa Rica 4
Cass 9, Kell 2
Central-Macon 15, Westside-Macon 0
Cherokee Bluff 8, North Hall 0
Clarke Central 8, South Gwinnett 3
Crawford County 8, Hawkinsville 7
Creekview 7, Allatoona 0
Dacula 4, Habersham Central 1
Dodge County 36, Northeast-Macon 1
Eagles Landing Christian 10, Mt. Vernon Presbyterian 3
East Paulding 16, Rome 1
Eastside 17, Salem 0
Elbert County 4, Oconee County 3
Emanuel County Institute 4, Johnson County 0
Fayette County 23, Riverdale 1
Gilmer 7, Ridgeland 3
Gordon Central 8, Coosa 4
Greenbrier 10, Grovetown 2
Harrison 9, River Ridge 1
Houston County 9, Mary Persons 1
Howard 2, Monticello 1
Jackson County 8, Monroe Area 0
Jenkins County 10, Claxton 2
LaFayette 13, Pickens 9
Luella 26, North Clayton 4
Madison County 14, St. Pius X 1
Marion County 3, Brookstone 0
Marist 12, West Hall 0
Miller County 10, Pataula Charter 2
Mountain View 6, Collins Hill 0
North Atlanta 15, Northview 4
Northwest Whitfield 13, Southeast Whitfield 0
Pope 21, Chattahoochee 0
Riverwood 17, Westlake 2
Rockmart 8, Chattooga 6
Schley County 2, Taylor County 1
Sequoyah 14, South Cobb 2
Shaw 26, Spencer 1
Social Circle 10, Newton 6
Sonoraville 6, Coahulla Creek 3
Southwest DeKalb 17, Lithonia 1
Spalding 10, Jackson 2
Telfair County 19, Turner County 4
Towns County 15, Providence Christian 0
Upson-Lee 15, Troup 1
Wesleyan 11, Strong Rock Christian 5
Winder-Barrow 5, Lanier 4
Woodland-Cartersville 10, Cartersville 6
Woodland-Stockbridge 10, Eagles Landing 4
Volleyball
Arabia Mountain 3, Jackson-Atlanta 1
Brookwood 2, Denmark 0
Centennial 2, Riverwood 0
Columbus 2, Harris County 0
Columbus 2, Lee County 0
Coosa 2, Coahulla Creek 0
Coosa 2, Gilmer 0
Eagles Landing 2, Jackson 0
Eastside 3, Rockdale County 0
Fellowship Christian 3, Cambridge 1
Grovetown 2, Islands 0
Habersham Central 2, Hart County 0
Habersham Central 2, Hart County 0
Lambert 2, Brookwood 0
Lambert 2, Denmark 0
Lovett 3, Mt. Bethel Christian Academy 2
North Cobb 2, Hiram 0
North Cobb 2, Paulding County 0
Pope 2, River Ridge 1
Pope 2, Starr's Mill 0
Ridgeland 3, Dade County 0
Riverwood 2, Creekview 0
Shaw 2, Callaway 0
Statesboro 2, Grovetown 0
Tallulah Falls 2, Hart County 0
Troup 2, Shaw 1
Woodville-Tompkins 2, Beach 0
Woodville-Tompkins 2, Bradwell Institute 0
Woodville-Tompkins 2, Savannah 0