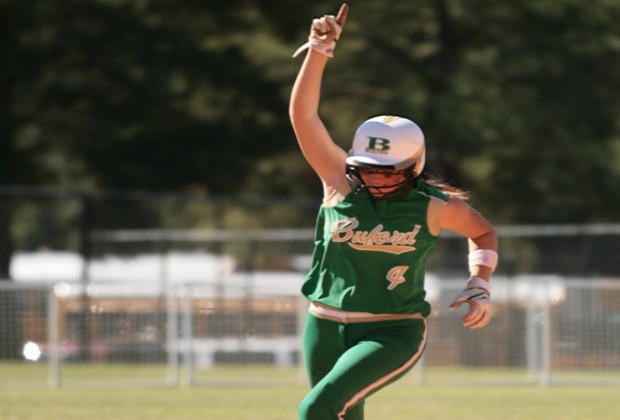 GHSA
Class AAAAAA
Collins Hill 2-7, Harrison 4-1: Collins Hill took home the Class AAAAAA title after what was a thrilling day for Harrison. The Hoyas edged Lassiter 5-4 then beat Collins Hill in eight innings before trailing just 2-1 in the sixth inning of the decider. That's when the Eagles broke it open with five runs. Aeshia Miles went all seven innings for Collins Hill and all three of Harrison's hits came in the first two innings.
Class AAAAA
Ola 9-9, Northgate 5-6: An exhausting day, especially for Ola, ended with the Mustangs on top of Class AAAAA. They won four games—2-0 over Pope and 2-1 over Houston County before beating Northgate twice. Game 2 of the championship series went nine innings before being decided by a Jessica Couch 3-run homer in the top of the ninth.
Class AAAA
Northwest Whitfield 4-11, Heritage-Catoosa 6-6: In Class AAAA, Northwest Whitfield led 4-1 in the first game of the championship series, but lost it and was pushed to a second game. The Bruins scored three runs in the fifth and four in the sixth. Jamison Payne, Colbie Thomas and Macy Weeks each had two hits for Northwest Whitfield. Payne reached base four times and scored four runs.
Class AAA
Buford 4, Central-Carrollton 0: The Wolves captured their seventh consecutive state softball championship by defeating Central-Carrollton in the Class AAA final. Wolves' pitcher Bria Bush improved to 18-1 for the season by going all seven innings while allowing just four hits. Morgan Walters and Remington Hasty hit home runs for Buford.
"She was a one-person wrecking crew the entire state tournament," head coach Tony Wolfe said of Bush. "I also felt we had the most balanced team we've ever had. We certainly got to show some of that today."
Class AA
Calhoun 7, Harlem 0: Harlem fought its way to the Class AA championship with a pair of victories, but it ran into a buzzsaw in the form of Calhoun's Alyssa Shawgo. The senior pitcher allowed only a single hit over seven innings as the Yellow Jackets handled Harlem. Ryan Brzozoski provided more than enough offense for the Yellow Jackets, going 4-for-4 with a triple and three runs scored.
"I'm proud of the players, coaches and fans," head coach Diane Smith explained. "This is for every girl that has ever played softball at Calhoun."
Class A-Public
Gordon Lee 3-2, Georgia Military 1-1: Gordon Lee won three games in a single day to cap off its run to the Class A-Public championship. After trouncing Seminole County 7-0, the Trojans earned a pair of victories over Georgia Military. Emily Armour went all seven innings in the decider for Gordon Lee while striking out eight and allowing only three hits and one run.
"It's not easy," head coach Dana Mull said of her team's task today. "The first one was the biggest. After that, we always had the momentum."
Class A-Private
Eagle's Landing Christian 3, Prince Avenue Christian 1: In Class A Private, Eagle's Landing Christian sent Prince Avenue Christian to its second straight runner-up finish. The Chargers raced to 3-0 lead through three innings on the way to their first state championship since 2009. Prince Avenue Christian answered in the top of the fourth with a home run by Jordyn Smith, but the Wolverines could get no closer.