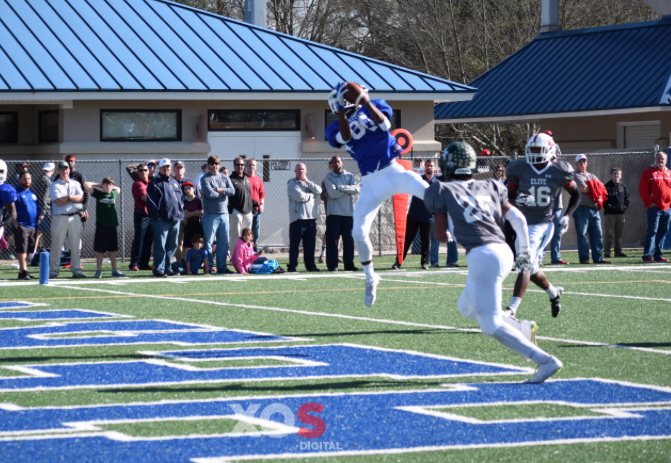 Photo by Jeff Martin @Jeff_XOS
The stars aligned at Walter Cantrell Stadium at McEachern High School for the first ever Sophomore all-star game a part of the Georgia Junior Sophomore Elite Classic. The American Team led by head coach Kevin Whitley (Stockbridge) met the National Team guided by Mark Fleetwood (Peachtree Ridge). With scouts littered across the stadium, the Peach State's best sophomores put on a show, but it was the American Team shining the brightest to secure a dominant 38-3 victory.
The Americans outgained the Nationals 419 to 86 in total yardage and led from the opening drive. Buford's Anthony Grant was named the Offensive MVP thanks to some tough running and big-play drives. He bulldozed his way to 165 yards on 22 carries and scored on a 1-yard run to open the game at the 7:35 mark of the first quarter. Less than four minutes later, Christopher Rodriguez of Ola plowed in an 8-yard run in which National defenders were draped all over him.
Up 14-0 entering the second quarter, the Americans were in control. The National Team added a 28-yard field goal from Norcross' Jake Camarda. The American Team quickly answered back using a 5-play, 79-yard drive capped by Rodriguez's second score of the day. He finished with 46 yards on nine carries and the two touchdowns.
Linebacker Zakoby McClain of Valdosta garnered Defensive MVP honors as a key cog of the American defense. He finished with a team-high six tackles, four solo and two for loss. The Wildcat also forced and recovered a fumble. It was one of three forced fumbles on the day created by the hard-hitting defense. Freshman Nolan Smith of Calvary Day scored on a fumble recovery from 30 yards out to make it 28-3 before Mitchell Fineran of Brunswick connected on a 47-yard field goal to give the American Team a commanding 31-3 lead at the half.
Woodstock quarterback Garrett Bass hit Centennial's Blane Mason on a 14-yard touchdown pass to finish the scoring with 7:53 remaining in the third. Bass rotated in with North Gwinnett's Cade Fortin. Bass finished 5-of-8 for 91 yards, one touchdown and one interception. Fortin, who started, went 4-of-10 with 82 yards and an interception.
The National Team was under duress all game long, passing for just 50 yards and being sacked seven times. JJ Peterson (Colquitt County) and Dar'Jarri Coleman (South Atlanta) both corralled two sacks apiece. While Kierron Smith (Fitzgerald) and Nolan Smith both tallied one.
The Nationals were led on offense by Taylor County's Lyn J Dixon. The shifty back finished with 50 yards on 10 rushes. Defensively, freshman JD Bertrand of Blessed Trinity led all defenders with eight total tackles and an interception that was returned for 38 yards.