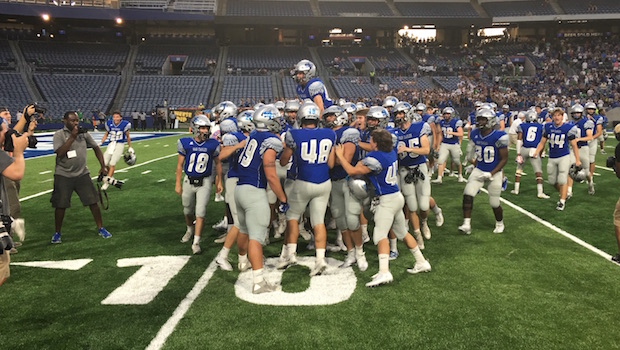 South Forsyth overcame a slow start and a 7-0 deficit entering the fourth quarter to defeat Roswell in double-overtime in the first-ever football game in the newly configured Georgia State Stadium at the MetroPCS Corky Kell Classic in Atlanta.
"I tell you what, it is a huge win for our program," said South Forsyth head coach Jeff Arnette. "When you tackle somebody like Roswell that has played for [a championship] two years in a row and the kind of program that they have, it is huge. That is where you want to be. So, you have to play teams like that.
"We didn't make some plays early or even in the second half. But I think our kids believed they could win this game and believed that they should be here, and in the end, that is what happened."
The first half saw both teams struggle for a rhythm, and the game was scoreless until 5:04 in the third quarter when Roswell's Cordel Littlejohn connected with Walt Warren on a 34-yard touchdown pass to put the Hornets up 7-0. South Forsyth answered shortly after in the fourth quarter on a 17-yard run by Jared Honey to tie the game at 7-7, where it would remain until the end of regulation.
It didn't take long for Roswell to take control in the first overtime period when, on first down, Littlejohn scored a 15-yard scramble to the left pylon, making the lead 14-7. South Forsyth needed a touchdown and extra point to continue the game, and Arnette explained the importance of the way his team responded to allowing the first score of overtime.
"There were two plays that showed what our two teams are made of," Arnette said. "We go out there in overtime and give up a first-down scramble for a touchdown and that can make you hang it up pretty quick and our kids did not. They kept fighting and made the plays in the last two series that we had to make to win it. "
The War Eagles responded with a 10-yard touchdown run by senior quarterback Cal Morris to tie the game at 14-14. Morris, who was 11-of-21 for 93 yards passing, was proud of his team's effort in overcoming several deficits.
"We could definitely hit them and I was just missing them early," Morris said. "There at the end we kind of settled down and made some plays. That is what we are capable of doing. "
South Forsyth had the first possession of the second overtime, and Quinn O'Grady converted a 23-yard field goal to bring the game to its final tally, 17-14.
A fourth-down defensive stop by South Forsyth on Roswell's possession kept the lead intact and ended the game.
"Hats off to our field goal kicker," Arnette said. "That is a pressure situation and he made great kicks. But it came down to a few plays in the end. Anybody could have won the game.
The War Eagles' senior running back and defensive lineman Ryan LaFlamme elaborated on the offseason preparation for the opener against Roswell.
"It was just a game that, since the beginning of the offseason, it has been on our calendar," LaFlamme said. "We have just been working toward this first game that we had because we knew it was going to be a tough one. As soon as it went to overtime, we were talking that now is the time and we can't let up."
For LaFlamme and South Forsyth, the experience of playing in what was formerly Turner Field was a memorable one.
"It is really exciting," he said. "It is just an awesome stadium. This is something I have never experienced and I am pretty sure that no one else on the team has. We are pretty humble just to be invited to it. And we are just happy that we were the first game out here and came away with a win."