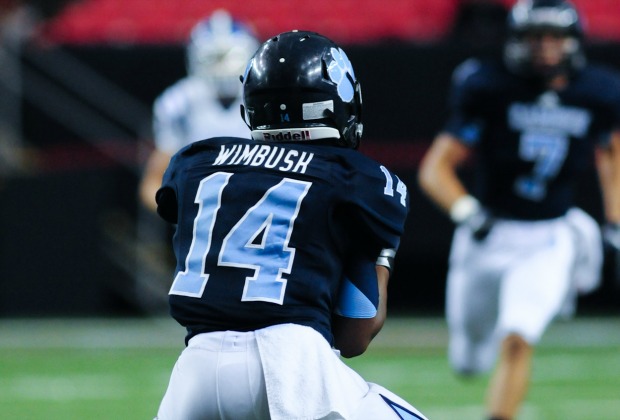 Sonny Kennedy
The South side features a pair of 2013 state champions in Griffin's Keyston Fuller and Jordan Colbert. Griffin's high-powered offense helped the Bears outscore Carrollton 56-35 in the Class AAAA title game. Fuller caught two passes for 111 yards and one touchdown an 80-yarder and Colbert made two solo tackles to go along with one assist in the winning effort. A threat all over the field, Fuller blocked a punt and returned it for a touchdown during a second-round playoff win over Statesboro. He has scholarship offers from Georgia Tech and North Carolina. Colbert, a linebacker, recorded more than 70 tackles for Griffin in 2013 while tallying five sacks and four interceptions.
QUALITY QB'S …
Cal King of Mary Persons and Coffee's Tyree Paulk will share quarterback duties for the South in this game. King, who transferred from Thomasville after his sophomore year, led the Bulldogs to a 10-2 record and a berth in the second round of the Class AAAA playoffs. Focusing on both books and ball, King is a member of the National Honor Society and he attended 13 different college football camps over the summer. Paulk was named to the all-region first team for Region 1, one of the most competitive regions in all of GHSA football. He finished the season with 24 touchdowns, 1,693 passing yards and 134 rushing yards.
With one season still to play, Paulk is already the all-time leader in career touchdowns and passing yards for Coffee. One interesting dynamic on both the Coffee squad and the South team at the Elite Junior Classic is that Paulk and his brother, tight end Jalen Wilkerson, are teammates. Wilkerson, not surprisingly is one of Paulk's favorite targets throughout this past season, also played his way onto the all-region first team.
"Playing with my brother is awesome," Paulk said. "This is something that we always dreamed about as we were growing up. We have been playing sports with each other ever since we played [recreational] ball, so we have a bond that can't be broken. It has been an honor to play with him."
Two Region 4-AAAAAA rivals, Marietta's KirVonte Benson and McEachern's Taj Griffin will be sharing part of the workload in the backfield. Benson rushed 208 times for 1,430 yards (6.9 yards per carry) and 16 touch-downs this season while also catching 20 passes for an additional 256 yards. He gained more than 100 yards on the ground in 10 of the Blue Devils' 11 games. Griffin stands at just 5-foot-9 but is one of the fastest players in the state.
With less than a minute remaining in the Indians' quarterfinal game against Collins Hill, Griffin returned a punt 85 yards for the game-winning touchdown. Another dangerous offensive weapon on the South squad comes in the form of Willie Jordan. The Northside-Warner Robins running back is coming off a 2013 campaign in which he rushed 139 times for 1,067 yards and 19 touchdowns. He also turned 11 receptions into 145 yards and three more scores.
DAUNTING DEFENDERS …
On the other side of the ball, Lakeside-Evans defensive back Rashad Roundtree will be part of the effort to stop the North's passing attack. Roundtree had 97 tackles, four interceptions, three forced fumbles and two fumble recoveries this season and was named the Region 2-AAAAA Defensive Player of the Year. Joining Roundtree in the secondary is Camden County's Antonio Wimbush, who was named Athlete of the Year in Region 1-AAAAAA. Camden County captured the region title before falling to Hill-grove in the second round of the playoffs.To say the South has a decided Region 1 flavor would be an understatement. Lowndes linebacker Nathan Brantley is also on the squad. Brantley (honorable mention) earned all-region honors.
Among those battling in the trenches on defense for the South are Quinton Hampton and Cordarro Stoute. Hampton and Colquitt County reached the semifinals of the Class AAAAAA playoffs before losing a close game to eventual-champion Norcross. Stoute led Glynn Academy's defensive line this season with 33 tackles to go along with four sacks and 16 quarterback hurries.