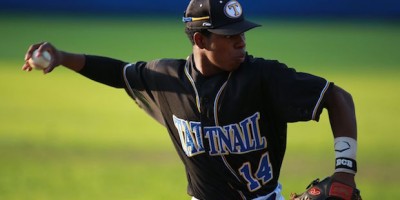 Tattnall Square defeated St. Anne Pacelli 11-1 on Saturday behind a solid performance from its two pitcher Hunter Alexander and Russ Miller.
Tattnall got the scoring started in the first innings with a Carter Fink single on a 3-1 count to score a run. The Trojans added three runs in the third inning and one run in the fourth inning before rallying in the fifth inning. In that inning, the Trojans scored five runs behind doubles by Brooks Gorman and Fink. Trey Ham added a single in the inning. Alexander, who earned the win for the Trojans, pitched one and one-third innings and allowed zero hits and one run. Miller pitched for three and two-thirds innings out of the bull pen.
Tattnall amassed ten hits with Fink leading the way with four hits in four at-bats.
Baseball
Baconton Charter 4, Irwin County 3
Banks County 5, Stephens County 1
Calvary Day 16, Jenkins 7
Cartersville 8, Sonoraville 1
Center-Carrollton 3, Paulding County 0
Chamblee 10, Columbia 0
Charlton County 14, Bradwell Institute 6
Eastside 4, George Walton Academy 1
Heritage-Conyers 10, Lakeside-Evans 0
Johns Creek 10, Schley County 3
Kendrick 11, Stewart County 3
Lakeview Academy 10, Clarke Central 0
Landmark Christian 10, Eagles Landing Christian 2
Mary Persons 8, Cook 4
Morrow 14, Lovejoy 2
Mt. Zion, Carroll 6, New Manchester 5
Rockmart 4, Cedartown 1
Savannah Country Day 19, Baldwin 10
Social Circle at Rabun County, late
South Paulding 6, Paulding County 5
South Paulding 9, Central-Carroll 3
Strong Rock Christian 5, First Presbyterian 2
Tattnall Square 11, St. Anne Pacelli 1
Tattnall Square 2, Trinity Christian 0
Treutlen 2, McIntosh County Academy 1
Trinity Christian 2, St. Anne Pacelli 1
Upson-Lee 11, Rutland 4
Walnut Grove 5, Oconee County 3
Boys Soccer
Dougherty 2, Coastal Home School 2
East Hall 10, Stephens County 0
Georgia Military 5, Academy For Classical Education 2
Gilmer 2, LaFayette 0
Girls Soccer
Adairsville 1, Southeast Whitfield 1
First Presbyterian 8, Brookwood-Thomasville 0
Fort Payne 8, Southeast Whitfield 4
Houston County 10, Rutland 0
Mann 5, Lovett 1
Stephens County 4, East Hall 1
Boys Lacrosse
Creekview 10, River Ridge 7
Evans 12, May River, S.C. 2
Greenbrier 9, Grayson 7
Lakeside-Evans 8, Irmo 2
Lassiter 15, Blessed Trinity 9
Pace Academy 7, McIntosh 6
Westminster 4, McCallie, TN 3
Girls Lacrosse
Cherokee 17, Dalton 6
Columbus 15, Locust Grove 0
Johns Creek 10, Starr's Mill 9
Ola 16, Stratford Academy 1