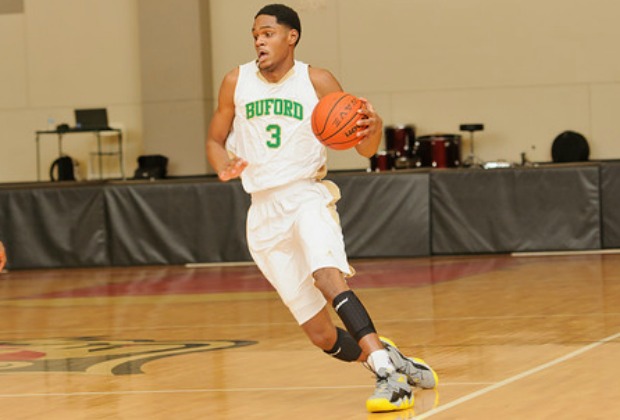 Ty Freeman
The St. Pius X girls defeated Chapel Hill and will return to the finals for the first time since the state championship season of 2007. Meanwhile, the Buford boys fell to Savannah and will not get a shot at the program's first-ever state championship.
Johnson-Savannah beat North Hall to advance to the finals where the Atom Smashers will face cross-town rival Savannah, and the Dawson County girls beat Southwest Macon to make the finals for the first time since 1991.
Read recaps of all of those games below.
Each of these games was played at Armstrong State University in Savannah.
BOYS
Class AAA
Johnson-Savannah 56, North Hall 34: Johnson-Savannah used runs in the second and third quarters to distance itself from No. 7 North Hall and romp into finals.
Eight points by LSU-signee Tim Quarterman keyed a 15-4 second-quarter run that helped give the No. 3 Atom Smashers a 22-17 half-time advantage. To start the third quarter, Johnson-Savannah went on a 10-2 run to take a commanding 32-17 lead with 5:25 left in the period.
Senior guard Greg Mortimer led the Atom Smashers with 20 points, while Quarterman finished with 18. Johnson-Savannah advances to the finals with a chance to win its first state championship in basketball since 1992.
Savannah 54, Buford 50: The Savannah Blue Jackets advanced to the state finals for the second consecutive season.
Jamal Norman scored 16 points and 10 rebounds to lead Savannah, which led almost the entire game including a 13-point edge in the first half. Buford cut the lead to two at 44-42 after a 6-0 run midway through the fourth, but could come no closer.
Javonte Spivey added 14 for Savannah, while A.J. Davis led all scorers with 21 for Buford. Kyle Doyle had 13 for the Wolves. Savannah starting forward Chris Cokley was out with a concussion.
Savannah will attempt to win its 13th state championship Saturday in Macon against cross-town rival Johnson. Last season, the Blue Jackets lost to Milton in the Class AAAAA finals after a surprising run through the playoffs.
GIRLS
Class AAA
Dawson County 66, Southwest-Macon 50: Dawson County started the second half on an 11-2 run and attained a commanding 41-31 lead midway through the third quarter. No. 9 Dawson County led 19-12 lead after one period and 30-29 at the half. The Tigers expanded their lead in the third by outscoring Southwest-Macon 19-11 in the quarter.
Sophomore post Sheyenne Seabolt led the Tigers with 27 points and 14 rebounds, while senior guard Carly Gilreath, a USC-Aiken signee, scored 24.
No. 9 Dawson County, in its first state playoff appearance in 11 seasons, advances to the finals looking for the first basketball state championship – regardless of gender – in school history. The Tigers are in their first final four since 1992 and clinched their first championship game appearance since 1991.
St. Pius 59, Chapel Hill 51: St. Pius battled back from a 22-12 deficit at the end of the first quarter and pulled away from Chapel Hill in the final period. Sophomore guard Asia Durr, who has offers from more than 30 colleges already, made a 3-pointer early in the final period to give the Golden Lions their first lead of the game at 36-35. St. Pius led the remainder of the game.
Durr led all scorers with 27 points while junior guard Jasmine Carter added 17. Chapel Hill received 14 points from Kaneisha Mixon, 12 points and 10 rebounds from Earnicia Washington, a Stillman College signee, and nine points, seven rebounds from Jazmine Lawrence.
Coach Kyle Snipes' team clinched its first championship game appearance since 2007, the last year of a 4-year stretch in which the Golden Lions won three state titles.