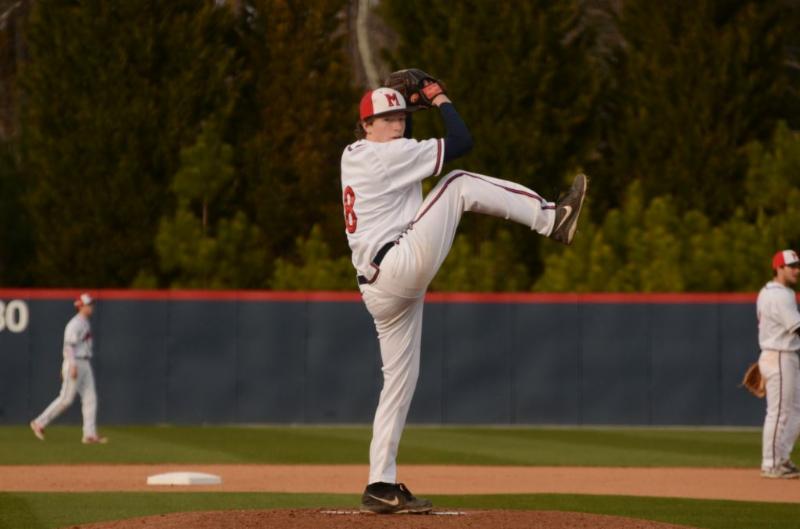 Photo by Duane Farkas
Georgia may be known as a football state (it certainly is in the fall), but springtime means baseball around these parts and we are about to find out again that high school athletic talent is prolific on more than just the gridiron. Roaming the championship diamonds on this Memorial Day weekend are a plethora of performers who have realistic dreams of taking their talents to the next level and beyond.
MILTON'S CEASE FIRE …
In Class AAAAAA, Milton has played its way through to the championship series without the loss of a single game during the state tournament. That cannot come as a surprise to anyone given the stacked roster of the Region 5 champions. They are led by Dylan Cease, one of the top prospects in the entire country. An elbow injury, however, has reduced the senior right-hander off the mound and into a hitting role. It has also put his draft status in jeopardy, which Vanderbilt where Cease has signed to play college baseball will not mind.
Among the Eagles' other standouts are outfielder Dalton Ewing (signed with Clemson), Ryan Gridley (signed with Mississippi State) and pitcher Alex Schnell (signed with Clemson). Lambert will hope to answer with star sophomore Seth Beer. Heralded by several media outlets as the best in his class in Georgia Beer was dominant on the mound during the regular season, but has since been focusing on hitting. He is an outfielder first and foremost and heading into a semifinal sweep of Parkview, he was batting .646 in 2014 with nine home runs, 21 doubles, 55 RBIs and 46 runs scored to go along with an incredible .709 on-base percentage.
The Longhorns managed to get past Parkview and Mac Marshall, a likely draft pick in either the late first round or the second round. Louisiana State University hopes Marshall decides not to sign with whatever team selects him. The senior southpaw went through the majority of the 2014 with a perfect 0.00 ERA before being scored upon by Grayson in the regular-season finale, which the Panthers still won 4-3.
"It's not a worry, just a challenge for him," head coach Chan Brown told the Atlanta Journal Constitution prior to the Grayson game, referring to Marshall's streak. "He's one of the biggest competitors I've ever coached. He's competing against a team and among himself to keep it alive…. He's grown up a lot as a pitcher. He was thrown into the fire as a ninth- and 10th- grader, pitching against the big boys. He's figured it out. He's not overthrowing and locating all three pitches for strikes."
Perhaps no one is more coveted than Gainesvile's Michael Gettys, whose team lost Game 3 Tuesday to Houston County. Gettys, whose raw talent makes him a likely first-round pick in this summer's Major League Baseball draft, is headed to the University of Georgia if he does not sign a professional contract.
FUTURE JACKET …
Houston County, meanwhile, counters with Georgia Tech-signee Blake Jackson. The third baseman homered in Game 1 against Gainesville. He may not be as physically gifted as Gettys, but Jackson's hitting skills are already well-polished.
The Crisp County vs. Carrollton finale in Class AAAA features Taylor Walls of Crisp. Walls is no stranger to taking the mound, which he did in a semifinal opener against Alexander and tossed a complete game while allowing only two runs. The shortstop, though, projects as an infielder and hitter at the next levels. Walls, who adds value in the field and as a switch-hitter at the plate, signed with Florida State in the fall.
Buford and star pitcher Jake Higginbotham lost Game 3 to defending champion Cartersville Tuesday eliminating the Wolves from the playoffs. Higginbotham is a potential draft pick who may be more likely to honor his commitment to the Clemson Tigers. The lefty is not an overpowering pitcher, but he locates and changes speeds with the best of them. He was 9-0 with a 0.60 ERA on the season after beating Cartersville in Game 1.
The Class AA semifinalists boast none of the very top prospects in the state, but they are sending plenty of kids to play college baseball and perhaps to fine-tune their games for runs at the professional ranks. Arguably the best of the bunch is Greater Atlanta Christian right-hander Justin Lewis. The Kentucky signee is an imposing figure on the mound at 6-foot-5. He sported a 1.97 postseason ERA heading into the Spartans' semifinal series at Westminster and he lowered it at the Wildcats' expense. Lewis tossed a complete game in the opener while allowing just three singles and striking out eight (the first two games were split). He was also batting .348 with three home runs through his team's first three playoff series. Westminster's top prospect, Will Benson, is regarded as one of the nation's best sophomores.