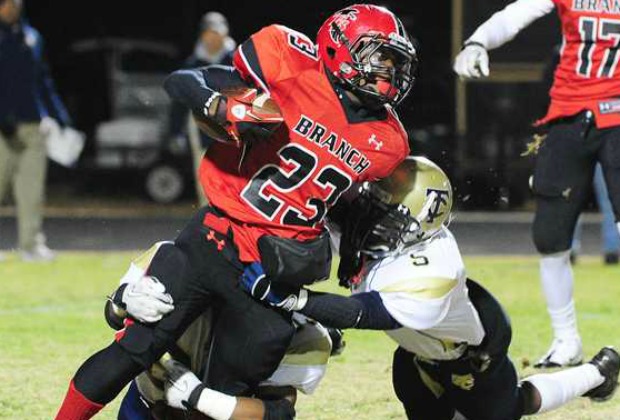 Sara Guevara/The Times
Yesterday we highlighted the five toughest schedules in Class 6A so today we are looking at Class 5A's toughest roads.
While Gwinnett County schools made up three of the top five in 6A, Colquitt County, a South Georgia school, took the No. 1 spot. South Georgia again takes the top spot today as Thomas County Central, ranked No. 3 in the preseason, is our toughest slate in 5A.
Here is the complete list:
1. Thomas County Central – The Yellow Jackets open with five straight non-region games before getting to region play. First is local rival Thomasville, which is one of the biggest rivalry games in the state.
Second on the schedule is Valdosta, the most tradition-rich program in the state, if not the country. The 6A-power hosts TCC on Aug. 30.
In Game 3, coach Bill Shaver's bunch hosts Marist, which has become a respected rival for the Yellow Jackets since 1996, as the programs have met four times in the state semifinals, according to GHSFHA.org, and seven times overall with TCC holding a 6-1 edge. Despite the lopsided series edge, every game in series history has been competitive. Marist is ranked No. 5 in the preseason Class 4A top 10.
Another Class 4A power, Cairo, hosts TCC in Week 4. The No. 4 Syrupmakers have become an important South Georgia rivalry game for TCC over the years.
And finally, to wrap up a brutal nonregion slate, Thomas County Central hosts Tift County, of vaunted Region 1-6A.
After a week off, the Jackets finally get to Region 1-AAAAA play.
2. Flowery Branch – Playing in Gainesville's region is no fun with Deshaun Watson tossing multiple touchdowns every game. It is even rougher when a team plays the non-region schedule Flowery Branch does.
The No. 5 Falcons open with Class 5A No. 2 Northside-WR, a tough way for anyone to start the season. Then, Flowery Branch hosts West Forsyth, which shocked Class 6A last season with a 10-2 record and a second-round playoff berth. In fact, Frank Hepler's Wolverines beat both Gainesville and Flowery Branch last season.
Those two mammoth non-region games set up Flowery Branch's brutal region play, which includes the No. 1 Red Elephants as well as Loganville, Apalachee and Clarke Central.
3. Gainesville – The top-ranked Red Elephants will attempt to defend their Class 5A crown with a challenging schedule. Watson and Co. open with a trip to West Forsyth before hosting Class AAA No. 1 Buford, one of the top overall programs in the state.
Couple those two games with a region schedule that includes No. 5 Flowery Branch, Clarke Central, Heritage-Conyers and Winder-Barrow, and it is a very tough row to hoe, indeed.
4. Clarke Central – The Gladiators face Class 4A No. 5 Marist and 6A's Central Gwinnett before opening Region 8 play, against the likes of No. 5 Flowery Branch and No. 1 Gainesville.
5. M.L. King – All Region 6 teams face a tough schedule every year, as nine of their 10 games are against each other. The region includes traditional powers Tucker, Stephenson, SW DeKalb, and Miller Grove.
M.L. King's schedule may be the toughest in the region this season due to a season-opening visit from Ely (Pompano Beach, Fla.). The Tigers have won three Florida state titles since 2002 and have produced players like Patrick Peterson, Corey Simon and Henri Crockett.
The Lions' schedule also includes games against No. 4 Stephenson and No. 6 Tucker.
HONORABLE MENTIONS: The rest of Region 6, Loganville (plays Monroe Area in addition to Region 8), Evans (plays Northside-WR, Elbert Co, and Jefferson Co.) and Mundy's Mill (faces Lovejoy, Whitewater and Coffee).