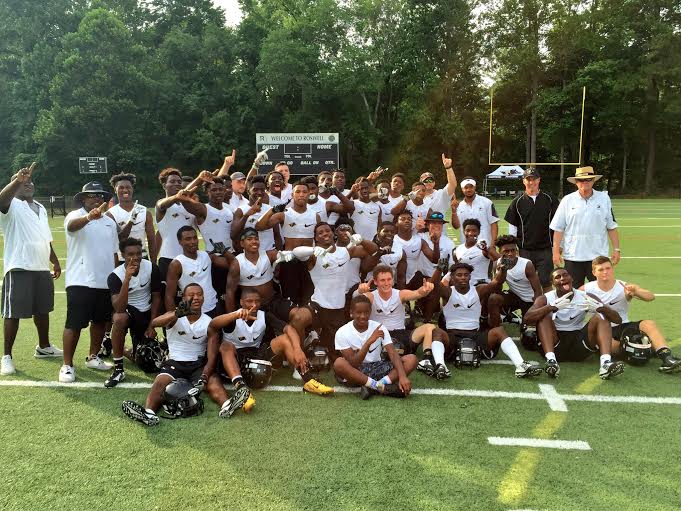 Roswell Area Parks will host the third-annual Corky Kell Classic 7-on-7 tournament Friday, June 16. Two-time defending champion Colquitt County will headline a talented 30-team pool. Included in the 30 teams will be Cartersville, which rides a state-best 30-game winning streak into the 2017 season and is led by five-star quarterback Trevor Lawrence. The 6-foot-5 passer and Clemson-commit has become one of the most accomplished quarterbacks to come through the state of Georgia along with the top quarterback prospect in the nation for this rising class of seniors.
Class 7A's Roswell, Brookwood, Mill Creek, Norcross, Walton and Colquitt County are represented in the 7-on-7 tournament along with the 2017 MetroPCS Corky Kell Classic.
The cross-classification battles will be something to look for as Class 4A Blessed Trinity and Class 5A Buford are among the teams from other classifications competing for the tournament crown.
Jones County and Lee County backend the Day 1 double-header of the 2017 Corky Kell at Mercer and could get a chance to go head-to-head less than two months before their big season opener. Roswell, South Forsyth, Buford, Kell, Tucker, Brookwood, Archer, Norcross, Colquitt County, Mill Creek, North Gwinnett and Walton join Jones County and Lee County as the 15 Corky Kell teams participating in the tournament.
Teams participating in the 2017 Corky Kell 7-on-7 Tournament
Roswell
Tucker
Lanier
GAC
Blessed Trinity
Brookwood
Archer
Gainesville
Creekview
South Forsyth
Jones County
Central Gwinnett
Kell
Mill Creek
Houston County
Norcross
Walton
Buford
Centennial
Carrollton
Peachtree Ridge
North Gwinnett
Collins Hill
Alpharetta
Colquitt County
Cherokee
Cartersville
East Coweta
West Forsyth
Mountain View