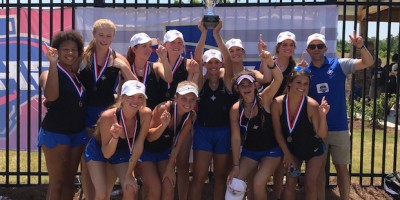 Walton's girls outlasted Lambert for their 20th title. Credit: Craig Sager
The Walton girls had swept their way through the Class AAAAAAA bracket to reach the finals, and with 19 previous state titles, they rarely had run into such an intense, important set as they did Saturday at the Rome Tennis Center with their No. 2 singles line. With the other four lines drawing a 2-2 tie, the AAAAAAA state title came down to an intense three-set battle between Walton's Noelle Mauro and Lambert's Brooke Despriet. Mauro, a junior and first-year Raider from Florida, rallied in front a riveted crowd and clinched the third set 6-4 to crown the Lady Raiders state champs for a 20th time.
"I knew I had to stay within my points and stay positive," said Mauro. "I had my teammates cheering for me the whole time, so that helped a ton, especially when I was down in the last set. It means a lot to celebrate a 20th state title, especially because I am new this year."
In the boys Class AAAAAAA championship, South Forsyth clinched its first-ever state title with a 3-1 victory over Walton. The Johns Creek boys swept region rival Dunwoody (3-0) in the boys AAAAAA championship and captured their first state title since 2012, and third all-time. The Northview girls held off Region 7 rival Cambridge 3-2 in the AAAAAA final for their first-ever state crown.
In Class 5A, the Chamblee girls defended their first-ever title with a hard-fought 3-2 win over Kell. Buford's Luke Davidson and Flowery Branch freshman Jack Thomas battled in a third-set tiebreaker, but Thomas prevailed, giving the Falcons their first state title. North Oconee swept the AAAA championships clean; the Lady Titans topped Columbus 3-0 for a third-straight title, and the boys took home their first-ever championship with a 3-0 win over Blessed Trinity.
Westminster topped Lovett 3-0 for the girls AAA title but fell 3-2 to the Lions on the boys side. The Bleckley County girls held off Berrien 3-2 in AA, and Benedictine swept Bleckley 3-0 in the boys championship.
The Irwin County boys repeated with a 3-0 win over Telfair County in the A-Public championship, and the Trion girls topped Taylor County 3-2 for their program's first. In A-Private, the Walker girls defeated Brookstone 3-2 for their eighth state title, and Stratford Academy topped Paideia for its third all-time and third in four years.