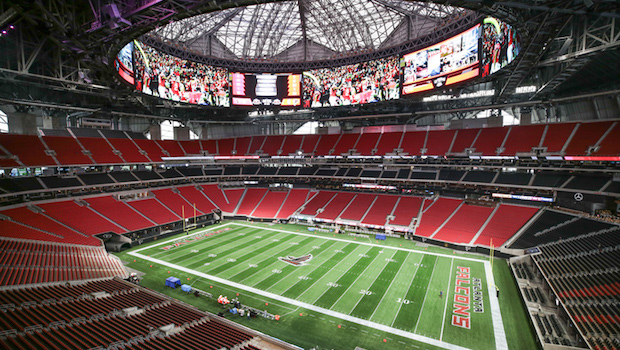 Kara Durrette/Atlanta Falcons
The three weeks since the Falcons broke in Mercedes-Benz Stadium with their first preseason game have been leading to a huge showcase weekend for the new facility. Atlanta United will shoot for the MLS single-game attendance record on Saturday against Orlando City, and the Falcons will host the Packers on Sunday in the regular-season home opener, an NFC Championship Game rematch. The Falcons game is also set to be the first event held with the one-of-a-kind roof open.
The Five Stripes sold out their first two games in MBS, wins against FC Dallas and New England in which they prevailed by a combined 10-0 margin and matched the largest margin of victory (7 goals) in MLS history on Wednesday. But Saturday's 4 p.m. tilt against Orlando, a budding regional rival, could make history as well. The AJC's Doug Roberson reported that MLS Commissioner Don Garber will attend Saturday's game, which will be an attempt to best the crowd of 69,255 that was at an LA Galaxy vs. N.Y./N.J. MetroStars game in 1996. Atlanta United will play to the stadium's full capacity of 71,000 this Saturday and in the last regular-season game, against Toronto FC, on Oct. 22.
The Falcons follow with their NBC Sunday Night Football game against the Packers at 8:30 p.m., pitting reigning MVP Matt Ryan against Aaron Rodgers in a premier quarterback duel. Both teams, who should be fighting for playoff seeding as the season wears on, won hard-fought openers. Earlier this week, the Falcons made a surprise announcement that the roof would open—and remain open, weather permitting—for the entire Sunday night game. In the offseason, head coach Dan Quinn told ESPN's Vaughn McClure that he prefers the roof open given "ideal football weather"—and this Sunday evening is shaping up to be cool and crisp.
Reviews of the stadium are pouring in. This week, the Milwaukee Business Journal gave an outsider's view of the stadium to Packers fans, and Will Leitch of Sports on Earth called the place "oddly intimate" and "almost cozy" despite its massive size.