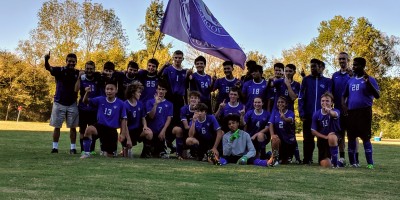 TCS VOLLEYBALL WINS FIRST CONFERENCE CHAMPIONSHIP
The Cottage School won its first AAC volleyball championship in school history on October 4th. This year in the Atlanta Athletic Conference, the team went 6-2 in conference play and 7-8 overall. A tough matchup against Mill Springs Academy in the championship was no match for the squad as they defeated them 3-1 (25-16, 7-25, 25-20, 25-12) to claim the title.
THE COTTAGE SCHOOL BOYS SOCCER'S STELLAR SEASON
The Cottage School boys' soccer team had an amazing season, featuring a second trip to the Howard School where the Cougars took on the Hawks. Early goals from Shane Hendrickson, Dalton Lantz and Larry Orsini helped fuel the offense and establish a sturdy lead. In the second half, the Cottage School Cougars continued their domination with two more goals from Dalton and a second goal from Hendrickson to put the game away and claim their third title in three years. The team went undefeated in the ACC with an overall record of 10-3.